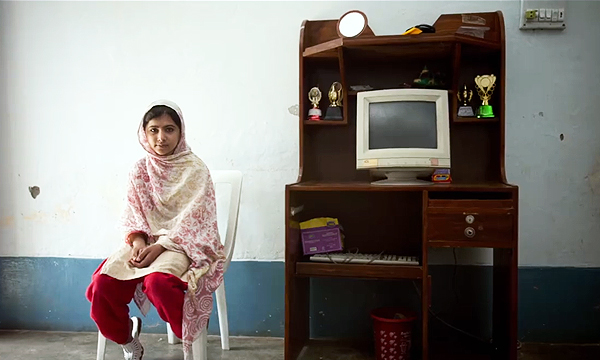 Malala Yousufzai is no new name to fame & we've all heard her story – how she was attacked and wounded by the Taliban for advocating higher education for girls. Now, her story will be shown in a documentary 'He Named Me Malala'.
The trailer of the biopic was released on the official Facebook page of Malala Fund. Watch the trailer below:
[fb_embed_post href="https://www.facebook.com/MalalaFund/videos/1098538976826620//" width="550″/]
Directed by acclaimed documentary filmmaker Davis Guggenheim (An Inconvenient Truth, Waiting for "Superman"), the film shows us how Malala, her father Zia and her family are committed to fighting for education worldwide.
He gives us a close glimpse into this girl's life telling us about her bond with her father who inspired her love and passion for education, her motivating speeches at the UN and her everyday life with family.
"One child, one teacher, one book and one pen can change the world," said Malala.
As reported by Deadline Hollywood, the documentary will be aired by National Geographic Channel in 171 countries in 45 languages.
Produced by Walter Parkes and Laurie MacDonald, it will also be featured in the National Geographic magazine, National Geographic Digital Media, National Geographic Education Programs and National Geographic Kids.
"This is a film that you leave not only feeling incredibly inspired but truly wanting to make a difference," National Geographic Channels CEO Courteney Monroe said in a statement.
"As leaders in bringing stories of global importance to the largest audience possible, it is more than just an honor to be part of this project, I feel it is our duty. That is why we are joining this project as true partners, from the global theatrical release through our eventual television broadcast, and dedicating our collective resources to bring Malala's important journey and advocacy for girls' education to millions of people worldwide."
The film will be released in October 2015.