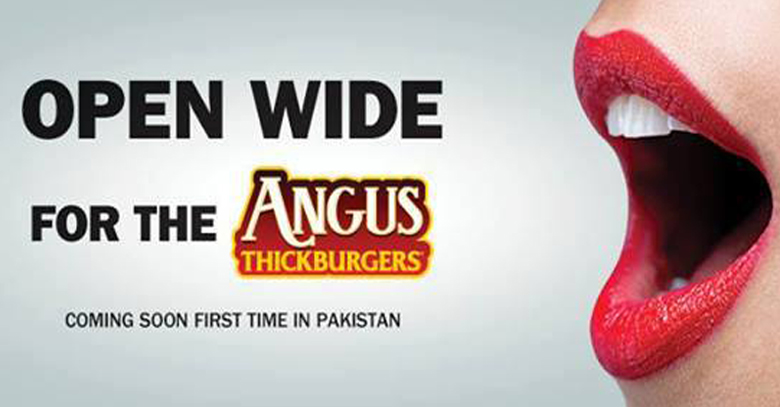 By Momina Khan
The other day in Karachi I was passing by Shah-re-Faisal when I came across some billboards that seemed quite…well, bold. It took me some time, but I eventually figured out that it was a launch campaign for American fast food chain Hardee's new product – Angus thickburger.
They launched a teaser campaign, to promote their product, on social media pages and OOH which gained immense publicity due to the not-so-subliminal taglines such as 'Unbuckle your belt', 'Use both hands' and 'Open wide'.
The Angus big thick burger is nowhere to be seen; instead one sees blown-up images of a pair of hands holding the invisible Angus, a wide open mouth and an extreme close up of an unzipped fly! The text and images conjure up images for everything but a burger.
A similar name in the fast food category is Burger King, which also used sex appeal in its promotions back in 2009 and shilled its menu items with a "Guilt Free Shower Cam" endorsed by an equally guilt-free celebrity.
The Online Advert titled 'Singing in the shower' was done by Cow PR advertising agency for Burger King in United Kingdom, and was released in the December 2009.
The campaign, called "glorious mornings" viewed on, where "the world's first guilt-free shower-cam" showed a young woman, scantily dressed (wearing a Burger King design), singing in the shower.
The site was aimed at visitors over 18 years of age, exclusively male, who were also invited to enter a daily competition to win a date with the "sizzling shower babe."
Another one of their advert was the 'Burger King' press advert, published again in 2009 which was part of a limited promotion in Singapore. Within hours of its release it faced countless complaints and criticism.
It was thought of as highly inappropriate to link the text 'blow their minds away' with the blonde girl's image and her over all alarmed expression.
The girl's widely opened eyes demonstrated how overwhelmed she is to see the 'huge seven incher' burger.
But the undisputed champion of seductive (or stimulating) food advertising is Hardee's with their 'More Than Just a Piece of Meat ad campaign' and now the Angus thickburger campaign.

However, I wouldn't entirely blame them as we live in an era where numerous brands are simultaneously competing for audience's attention but the least Hardee's can do is think about the repercussions such messages can have on a busy road like Shahra-e-Faisal.
Thus, the use of sex appeal in advertising is a two-edged sword. Although it is extremely powerful and effective to gain publicity, it often does so at the expense of losing basic sense of moral ethics and code.