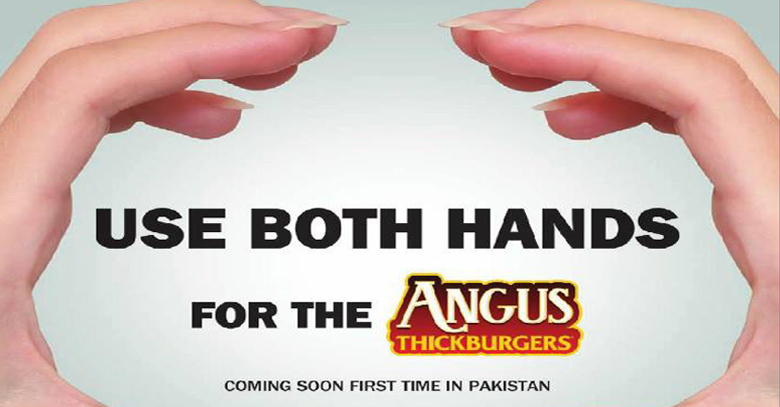 Hardees recently launched a teaser for an upcoming product by the name of 'Angus' on its social media pages. By using taglines such as 'Use both hands', 'Unbuckle your belt' and 'Open wide' the American fast food chain seeks to position the burger on its magnanimous size. 
Although Angus thick burger is going to be launched for the first time in Pakistan, it is not a new offering of the fast food chain. Being launched under the same name in different states, Angus is a beef burger with a patty famous for being fat and juicy.
The typical ingredients include sharp cheese, lettuce and tomato, grilled onions, Hardees' chipotle sauce and mushrooms making the burger rather juice.
The international version of the burger tells us that it is surely not as big as portrayed in the pictures. To be fair though, none of the burgers ever are.
Also, Angus has been widely criticized for being fattening with 810 calories from which 460 are reported to be from pure fat.
Hardee's is the fifth largest food chain in its hometown America after Subway, Mc Donalds, Burger King and Wendy's.
The first Hardee's restaurant in Pakistan opened on M.M. Alam Road, Lahore in 2009. Since then it has grown to 3 locations with more than 12 restaurants to be developed over the next three years by MDS Foods Pvt. Ltd. Hardee's is known for its Hand-Scooped Ice Cream Shakes and charbroiled 100% Beef Thickburgers.