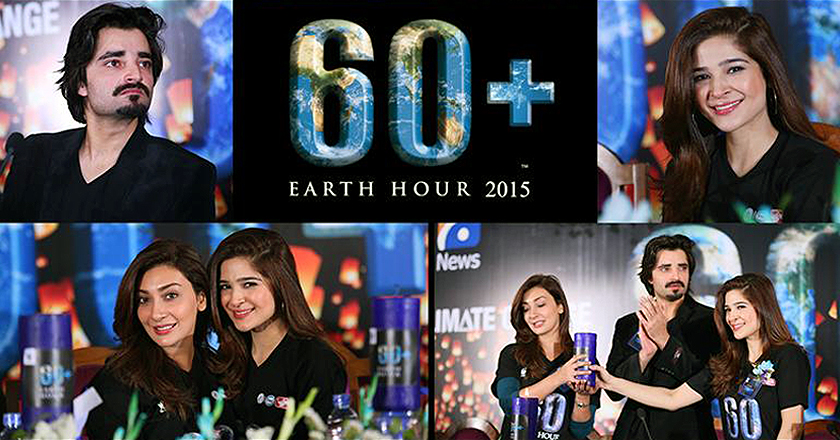 It was around 08:29pm on Saturday the 28th when the count down to Earth Hour 2015 began. The proud ambassadors of WWF, Hamza Ali Abbasi, Syed Ajmal, Ayesha Omer and Ali Noor were up on the stage with lit candles all ready to celebrate the phenomenal one hour lights out event.
The count down to zero marked the largest symbolic environmental event in Pakistan yet. The crowd of hundreds that the event had brought together in support of the cause was all holding candles presenting a spectacular view in the dark.
The event that had started at around 6pm included candle lighting ceremony, sky lantern activity, musical performances, skits by students and even a mystifying fire breathing performance by a professional.
The event was sponsored by Qarshi Industries, Tetra Pack, PEL and K-Electric while Geo News also covered the activities.
The organizers of WWF did an amazing job managing and hosting the event. Event coordinators of WWF like Sania Khan and Hamza Malik demonstrated incredible zeal and energy in organizing the event, engaging the guests and supervising the volunteers.
The dedication and commitment of the management team and volunteers from Qarshi University can in no way be ignored. There is no doubt that it was the joint effort by Qarshi and WWF which made this event a success.
The plus sign in the earth hour logo; "60+" signifies that the campaign goes beyond turning off the lights for an hour. Thousands across the country made pledges to reduce their footprint on the Earth and to do their part in sustaining the environment.
Hamza Ali Abbasi (who by the way was incredibly nice to all his fans at the event) pledged "On this Earth Hour, I'll dedicate myself to create awareness for climate change mitigation which is the most pressing issue our country faces today". 
[fb_embed_post href="https://www.facebook.com/WWFPak/videos/vb.242470175514/10155404527035515/?type=1&theater/" width="550″/]
Ayesha Omer had to leave early to catch a flight but remained passionately involved in the event the whole time she was there. Other ambassadors who could not attend but have endorsed the cause include Saba Pervaiz and Deepak Perwani.
[fb_embed_post href="https://www.facebook.com/WWFPak/videos/vb.242470175514/10155407572005515/?type=1&theater/" width="550″/]
See more pictures from the event below:
The poster for the event: