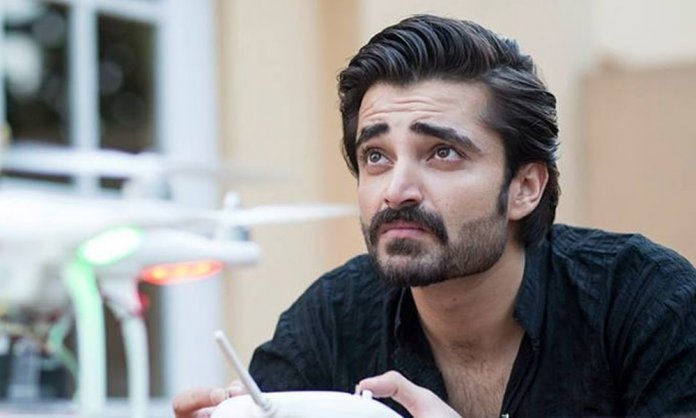 We all know how much Hamza Ali Abbasi loves commenting on current issues and Pakistani politics. He dares to speak the unspeakable and discusses the most contentious issues!
Controversy follows him everywhere he goes & every word he says becomes an issue! And yet again, the Mann Mayal hero is being slammed for his recent tweet against the 'dubious ban' on the Bollywood movie 'Padman' in Pakistan.
Last week, there was a massive social media brouhaha as the rumor of Akshay Kumar's social drama being banned in Pakistan hit the internet. And as expected, all hell broke loose on Twitter!
Based on menstruation, the movie still has not received a green signal from the nation's censor board while it will be hitting the cinemas in as many as 50 countries worldwide.
Pakistani actresses like Armeena Rana Khan and Sanam Saeed, along with various female journalists took to social media to raise their voice against the ban on the movie. The issue was bound to irk many starlets and they fiercely criticized the idea of barring its release.
But Hamza Ali Abbasi has become the first male celebrity of Pakistan to condemn the matter!
He did not shy away to lambast Central Board of Film Censors in a ferocious tweet!
So our Censor Board allowed Padmavat which portrays Sultan Allaudin Khilji as a nymphomaniac barbarian & banned #Padman which gives much needed awareness abt menstrual hygiene! I am known as a wannabe Mullah & even i find it pathetic… Grow up Censor Board!

— Hamza Ali Abbasi (@iamhamzaabbasi) February 13, 2018
The funny part is that Abbasi trolled his own self with the 'Wannabee Mullah' remark. Nevertheless, he expressed his deep concern that an educational cinematic endeavor about mensturation is facing obstacles in its release while Pamdavat gets approved for screening.
However, Twitterverse clearly did not agree with him!
Banning #Padman is a good decision, we don't need such kind of awareness in that way. There are other ethical ways too.

— Musaq® (@SaadRQ1) February 13, 2018
we can educate people by many more things, we dont have modren families like media peoples have, we cant share this film with them.

— kashaf malik (@kashafmaalik8) February 13, 2018
People believe that making a movie on periods is a ridiculous idea!
This awareness can be spread by some other means too.. Jb Islam mn kuch cheezon ko hidden rkhne Ka hukm h tw wo hidden hi rehni chahiyen…

— Midhat Maken (@MakenMidhat) February 13, 2018
Unfortunately u r not always rite. It is rightfully banned in the larger interest of Pakistani culture and norms which must follow Islam. Y dont u star in awareness compaign of condoms. Complete ridiculous tweet by u 🖓

— Ali Pirzada (@Arsh_pir) February 13, 2018
Majority stated that all Indian movies should be banned.
All Indian material should be banned….

— |♛|عبداللہ خان دراني (@abpathan) February 13, 2018
Dono he ban honi cahyein

— ISHRAT (@ishratishrat480) February 13, 2018
these movies are only meant to generate sensation nothing else film bechnay ke liye ochay hatkanday. Though your point on padmvat is valid. In fact all Indian films should be banned.

— عین (@Pr1ncess17) February 13, 2018
I am against with both movie to be shown both r wrong.peaceful movie which salman Khan makes with good message on his movie aren't been seen but stupid movies r allowed.both movies should not be allowed we Muslim country we should know our limits

— hang zainab killer (Mrs Tas butt) (@tas_butt) February 14, 2018
A debate kickstarted that a topic as sensitive as mensturation should not be discussed in public.
Padmavat should've been banned yeah.but the ban on padman doesnt make any difference since those who need awareness are not going to go to cinemas n watch the movie. Also, this kind of awareness needs to be given within closed walls, its not for open discussion @iamhamzaabbasi

— Anum Abrar (@anumabrar) February 13, 2018
How did u conclude that this info was much needed? Also is it ok for u to take ur sister and mother to cinema to watch movies on vaginal discharge. How far are we from making movies on penis, clitoris and orgasms?

— zeeshan ali (@zeeshan5k) February 13, 2018
A point was raised that the audience who  should actually see the movie can not even afford the ticket to watch it in cinemas.
People who can't afford pads, how come they can afford a movie theatre ticket. Are u guys offering a free screening for them.

— مہوش فاطمہ (@mahwishfatima23) February 13, 2018
And somebody even suggested that men should be barred from watching this movie in cinemas.
Islam also educate about female's internal problems even about menstrual.
But the movie, its very true that our society will not accept this movie.
Ya i have a solution.
I think the Cinema will open or booking will open only for females, no any men should be allowed there. 😉😉😉

— Zain Ali Qazi (@ZainAliQazi) February 13, 2018
Starring Akshay Kumar, Radhika Apte and Sonam Kapoor, the film is inspired by the life of Arunachalam Muruganantham, a Tamil Nadu social activist who introduced low-cost sanitary pads to villages in India.
As per reports, the final verdict on the movie's release will be revealed soon. Let's keep our fingers crossed and stay tuned to this space for further updates.