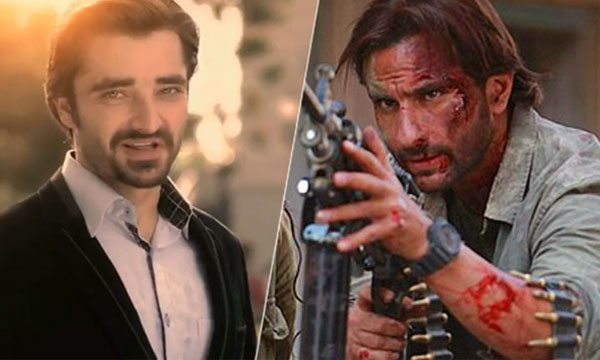 Hamza Ali Abbasi has yet again posted his opinion via Facebook regarding another current matter going on which is regarding the way Saif Ali Khan reacted to his movie Phantom being banned in Pakistan.
This is what Hamza Abbasi has posted on his Facebook:
[fb_embed_post href="https://www.facebook.com/182248258505523/photos/a.766368643426812.1073741828.182248258505523/947243148672693/?type=1&__mref=message_bubble/" width="550″/]
Hamza Abbasi, on the other hand, is very disgruntled with Saif Ali Khan and Bollywood's constant penchant of taking up topics which are defaming and offensive towards Pakistan. He believes that he is losing faith in India too because of this.
Previously Hamza Ali Abbasi had also commented on the theme and plot of the movie, in an interview to the Statesman, an Indian Publication. This is what he had to say, "Bollywood should stop making films like Phantom that would generate a lot of hatred and negate the positivity generated by Bajrangi Bhaijaan in Pakistan. I'm very disappointed with Saif Ali Khan".
The Bollywood movie starring Katrina Kaif alongside Saif Ali Khan was not released in Pakistan because it contained a thinly veiled accusation towards Hafiz Muhammad Saeed who was portrayed as a terrorist going by the name of Hariz Saeed. The Lahore High Court banned the movie claiming that it slanders Pakistan.
Related: Indian Movie Phantom Banned in Pakistan
The Interview Saif Ali Khan gave to DNA India was regarding the countries banning each other's movies and how it was not the first time in Pakistan that Saif's movies faced a ban. In the interview, Saif Ali Khan has appeared to be very disappointed with Pakistan's Censor Board and believed that Phantom would have fared better in terms of business if it had not faced a ban.