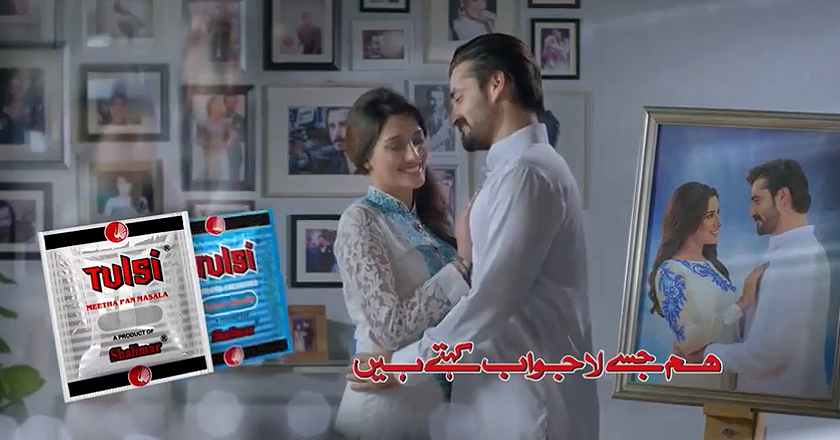 By Pashmina Zullfiqaar Ali
After a long break, Tulsi – Paan Masala, a product of Shalimar has launched its latest TV commercial starring Hamza Abbasi and Mehwish Hayat.
Directed by Saqib Malik and produced by Hamza Gillani, the song is sung by Pakistani singers Sara Raza Khan and Shuja Haider.
Complete with the love story of a damsel in distress, a charming hero, a supporting director and a series of romantic gestures that always end up with Tulsi, the 1 minute 35 seconds commercial is nothing less than a 80s Bollywood movie.
Tulsi Pan Masala, a sweet supari (snack) typically chewed after meals is famous for its aromatic flavor among Pakistanis.
The ad may not be great in creativity but the celebrity power of two famous actors combined with perfect romantic settings will definitely win the hearts of the masses.
AD CREDITS:
Suleman Razzaq – D.O.P,
Muhammad Murtaza – Production Designer
Aneela Murtaza – Styling
Gohar Hayat – Choreographer
Shuja Haider – Music Composer
Alamgir Janjua – Concept
Sheema Kemal – Lyrics
Did you like Tulsi's latest TVC? Tell us in the comment sections below: