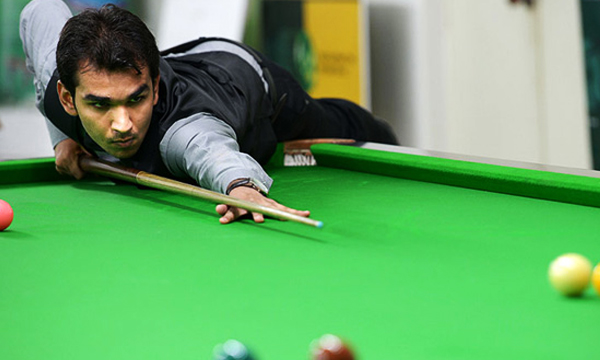 Hamza Akbar, a 21 year-old Cueist from Faisalabad, is all set to become the first ever Pakistani to play in the Snooker Professional Circuit, an honor that was even out of reach of former IBSF World Champions Muhammad Yousuf and Muhammad Asif, despite going through a whirlwind of emotional and mental ups and downs in his young life, when he came close to quitting the sport very early in his career.
Hailing from Faisalabad, the 21-year-old built an association with Snooker from a very young age, winning his first tournament while he was a young fifth-grader. He used to secretly visit snooker clubs and asked his brother to cover up for him if his parents found out about it.
Hamza caught the eye of the owner of Sherry Gold Snooker Club, Haji Akram, on his way to winning a local competition in the fifth-grade, and this was when Haji Akram decided to sponsor his training in Sargodha.
This was when Haji Akram took the responsibility of convincing Hamza's parents to let him pursue his dream and move to a different city for coaching, at a time when he was not even allowed to play snooker. The convincing worked and soon Hamza Akbar started training with Bilal Mughal in 2008.
The training proved fruitful, as Hamza qualified for the World Junior Championship in 2009 in his very first attempt at the national junior level but had to wait three years for an international event.
He stayed true to himself and continued his training while winning domestic tournaments. Despite his achievements and bulging talent, his parents pushed him to continue his studies and abandon the sport altogether.
After convincing his parents to let him try for 12 more months, and amid intense family pressure, he qualified through the Punjab Cup and got to play the finals while getting through to the national senior level. In 2013, he became the youngest ever national champion at 19 years of age.
Soon after, he received a 12-month sponsorship from an audio equipment firm and got a place in the Asian Championship, which took place in Pakistan. Following the end of the sponsorship, family pressures began to leave the sport and pursue higher education, and soon after Hamza won his second national championship in 2014, prompting the National Bank of Pakistan to give him a contractual job, courtesy of former Pakistani Test cricketer, Iqbal Qasim.
The financial stability allowed him to participate in the Asian 6-Red Championship, where he reached the semi-finals, and it has all been an upward climb from there on. He credits his family's prayers and unconditional support for his international success and recognition.
Hamza Akbar has won everything there is to win in the domestic Snooker circuit of Pakistan. He now sets his sights on reaching unprecedented heights in the international game and hopes to make Pakistan proud of his achievements!