Hajra Yamin's latest attire is not suiting the fancy of many. Read more to find out whether you find her outfit contentious or not!
Hajra Yamin's Latest Outfit
Yamin recently posted a photo in which she's donning a little black dress with a versatile denim jacket atop it. She does not support something underneath the dress, which is exactly what is bothering the Awam of Pakistan. "Neeche Kyun nahi pehna kuch?" they ask!
View this post on Instagram
What is not helping Hajra Yamin's case is also the post's caption that says she's "slaying this winter look." This has become another thing which people are shredding apart in their critique— are her legs not part of the 'winter outfit'?
One Of These Things Is Not Like The Other
Over here, the important question we should be asking is: is there something wrong with the outfit or with our mindset? What makes people think that their worldviews are automatically shared by all those they see on social media?
True, when they become a public figure, they sign up for the 'public' part. However, the issue lies in people deeming themselves morally superior, religiously intact, and socially responsible for giving their opinions. Is Hajra Yamin going to wear pants because an Instagram user with a fake icon is calling her out? No! No one will be honest.
Hilarity Ensued
Amidst the comments that fire guns of religion and fatwas on Hajra, Yamin were genuinely funny comments. The caption reads that Hajra Yamin is supporting a rocking "winter look." Many took this opportunity to throw in punch lines in the comment below. 
A person said, "one part of her is still in June, July," which had us rolling on the floor.
People Are Divided
The comments under the Instagram post are divided. There are those ready with their guns, those ready with their lanats, and those ready to attack the attackers! The comments under any controversial post are chaotic, and this proves it. Feast your eyes: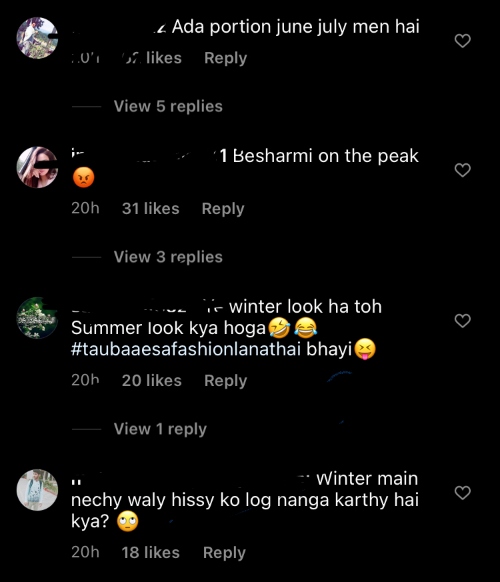 Special Treatment of Women
In a sense, to be a woman in Pakistan is to be a pedestrian who can cross an intersection in 1 hour because the signs she sees keep changing. One minute you're being encouraged to walk, and in the other, the light is red. Similarly, on the one hand, you have the most explicit movies going "Number 1" on Netflix in Pakistan while at the same time legs of a woman are intolerable.
Stay tuned to Brandsynario for the latest news and updates.