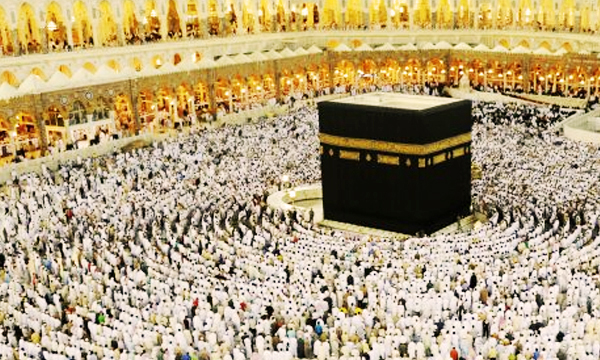 The Hajj Policy 2017 has been approved by the Prime Minister Nawaz Sharif in a cabinet meeting in Islamabad. This year will see a total of 179,210 pilgrims who will be proceeding to the holy site of Makkah to perform Hajj.
The Prime Minister has asked for the maximum amount of facilities to be provided to travelers going for the pilgrimage this year from Pakistan.
Minister for Religious Affairs Sardar Muhammad Yousaf has said that Hajj applications will be accepted from 17th to 26th of this month while the draw will be held on 28th April.
The following are the features of the Hajj Policy 2017
 The original Hajj quota of 179,210 allocated to Pakistan has been restored for Hajj Policy 2017
Hajj dues for Hajj 2017 under Government Hajj Scheme will be Rs 281,019 and Rs 272,019 for North and South regions respectively
PIACL has agreed for airfare @ Rs 94,000 and Rs 85,000 (inclusive of all taxes) for north and south zones respectively
On the persistent demand from general public, Hajj scheme 2017 shall be implemented through Government Hajj Scheme and private Hajj Group Organizers (HGOs) in the ratio of 60:40 (High Court of Sindh vide order dated 03.04.2017 directed that the defendant Ministry shall not finalise the reduction of quota of Hajj Group Organizers (HGOs) from 50% to 40% till next date of hearing i.e. 07.4.2017. Hence, finalization of the quota between the government and private sector will be in accordance with the final outcome of the case)
Shared accommodation will be provided as per Saudi laws and permits
In Madina, 100% pilgrims were accommodated in Markazia ( the area around Masjid-e-Nabvi) in 2016 which will continue for Hajj 2017
2% of the total seats under government scheme will be reserved for hardship cases as per policy including 500 seats for labor/low-paid employees of companies registered with EOBI and Workers Welfare Fund sponsored by their respective organizations under their corporate social responsibility
Each HGO is required to submit performance guarantee @ 5% of packages (package x quota) in the form of bank/cash guarantee which will be released on satisfactory performance. Detailed instructions will be incorporated in Service Provider Agreement (SPA) to be signed with HGO.
Mandatory Conditions for Pilgrims
There will be no free Hajj as per the Hajj policy 2017
the applications under government scheme will be invited within five days of the receipt of approval of Hajj Policy 2017;
A person who has performed Hajj during the last seven years will not be eligible to perform Hajj in 2017 under Government Hajj Scheme and five years for Private Hajj Scheme. This restriction will not apply on Mehram of a lady
It would be mandatory for a female pilgrim of any age to be accompanied by a Mehram with her. However, in case of Fiqah Jafria pilgrim, mandatory condition of Mehram shall be implemented in the light of Saudi teachings wherein female of 45 years of age is exempted from Mehram
Hajj-e-Badal will be allowed through private Hajj scheme only
All the Hujjaj will be provided five liters of Zam Zam (in a specially packed bottle) in KSA or upon their return to Pakistan
Hujjaj Mohafiz Scheme based on the concept of "Takaful" will continue in Hajj Policy 2017;
International machine readable passport with validity period up to 1st March 2018, computerized national identity card and medical certificate shall be mandatory
In the event of a pilgrim's demise during his/her stay in KSA, whether natural or accidental, he or she would be buried in Saudi Arabia as per Saudi Taleemat.
New Initiatives
In Makkah, accommodation will be provided in Azizia and nearby areas with availability of round the clock Salawat transport for going to Haram Sharif for prayers and coming back
Round the clock transport facility will be provided with up model air-conditioned buses for transportation of pilgrims from their residential buildings to Haram Sharif during their stay in Makkah
VIP buses of model up to 2017 will be provided to all government scheme pilgrims for inter-city (Makkah—Madinah) traveling as per practice of the last year
The ministry also intends to provide new model luxury buses from Jeddah Airport to Makkah, to redress the complaints received during last year.
Train facility in Mashaair would be provided to a maximum number of Hujjaj of Government Hajj Scheme
A comprehensive awareness campaign and training to intending pilgrims will be launched. In this regard, newly developed modules will also be included in Hajj training
Hujjaj will be airlifted through designated air carriers as per air services agreement
Fifty per cent of Government Scheme hujjaj are proposed to be transported /airlifted directly to Medina from Pakistan and vice versa as it will reduce the journey time for pilgrims, as well as the cost of traveling
Monitoring and supervision mechanism for Hajj operation in Pakistan and KSA shall be strengthened on the basis of feedback of Hajj 2016. Complaints of pilgrims of both private and government scheme will be redressed through call centre, email and special monitoring teams in KSA. The online complaint/monitoring system both in Pakistan and KSA regarding government and private scheme shall also be reinforced
Keeping in view the increased number of Hujjaj, for welfare services, Hajj medical mission comprising of 540 personnel, 450 Moavineen-i-Hujjaj, 270 seasonal staff of MORA & IH and KSA-based Moavineen-i-Hujjaj as per requirements are expected to be deputed in KSA for Hajj 2017. Actual number will be determined on need basis
There shall be a Hajj Advisory Committee to advise on planning and management of Hajj operation 2017 in Pakistan as well as in KSA.
An emergency plan is also being devised to cope up with any unforeseen emergency at Hajj 2017.
Stay tuned to Brandsynario for latest news and updates