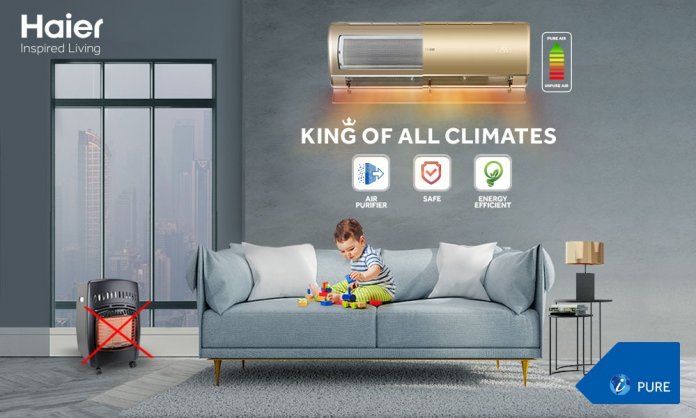 Haier Puri Inverter is a best combination of DC Inverter Air Conditioner and Air Purifier. It purifies the air of your room so you can breathe in fresh air. It provides a solution to control and regulate the indoor Air Quality by purifying the air with its advanced Super IFD filter and monitors the quality of air with its Air Quality Sensor which detects particles and pollutants. This makes the air-filtration feature of an air-conditioner to be more effective and on par with that of an air purifier and can handle small particles of PM 2.5 while cooling or heating your home.
Winter is here and so is flu and cold. Everyone living in Pakistan knows that smog also has engulfed Pakistan in recent years and has had a negative impact on our health and wellbeing. We can't control the weather and air quality outside our homes. What we can control is our indoor temperature and air quality. Haier Puri Inverter not only warms the air in winter but also cleans the smog, smoke, and pollution from the air we breathe.
Hold on and keep reading to know what else this AC has to offer you. Haier Puri Inverter is also UPS enabled DC Inverter AC, like Haier's other DC Inverter ACs. You just need to attach a small device to your AC at it will work on your UPS whether it's winter or summer. It catches dust, particles and other impurities in the air. The filter in front of evaporator impurities entering the evaporator if it is kept clean regularly. The dust that gathers on the evaporator must be cleaned regularly to maintain the efficiency and effectiveness of the AC. Now this cleaning has becoming much easier. With Haier's one-touch self-cleaning feature, get the AC's evaporator cleaned with your remote controller.