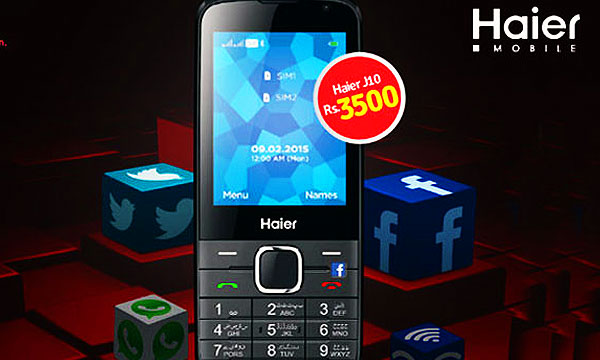 Haier in collaboration with Mobilink is all set to introduce an affordable 3G connectivity solution in Pakistan. The Haier Klassic J10 is the latest affordable smartphone that the two companies are working on to launch it in Pakistani Market. The phone has modest features and what's most surprising is the price that it costs.
Also see: Haier Esteem i70 Now Available in Pakistan: Price & Specifications
The specifications for the Haier J10 Klassic are as follow:
Dual SIM.
1450 mAh Battery.
8-inch QVGA (TFT Screen, Color LCD)
2G / 3G Network band support.
Rear: 3MP Camera Front: Smart Camera
Other key features: Dual SIM Card Dual Standby, Powerful Torch Light, Voice Recorder, Facebook, Whatsapp.
Read more: Haier Launches Klassic Pursuit Esteem Affordable Smartphone Series in Pakistan
Head of Data, Mobilink, Aamer Manzoor spoke at the launch: "The launch of 3G services in Pakistan has made inroads to consistently introduce the most appealing and innovative handsets, and this exclusive collaboration with Haier greatly enhances Mobilink's existing 3G device portfolio in the market. Haier Klassic J10 provides customers with the opportunity to experience Mobilink's superior 3G and voice services on one of the most affordable 3G phones till date."
Zeeshan Qureshi, CEO of Haier Mobile also commented, "Haier Mobile's aim is to introduce the most affordable 3G Phones for the masses in Pakistan so they are empowered to bring change in their daily lives and communities. Our Haier Klassic J10 is a similar 3G Phone, which has all the features you expect most top line 3G Phones to have."  Also, he told about the partnership of Haier with Mobilink and said: "Our decision to partner up with Mobilink for the distribution of Haier Klassic J10 was a no brainer."
Also Read: Mobilink's New TVC Pays Tribute to Nation
The most surprising thing about the Haier J10 Klassic is its price which is just Rs, 3,500 along with a bonus deal from Mobilink that comprises of Rs.800 complementary balance and unlimited Facebook, Twitter and Whatsapp usage for four months. Isn't it the most economical thing ever?
So what are you waiting for?
Grab this affordable and amazing tech-device exclusively available at all Business Centers and Franchise.