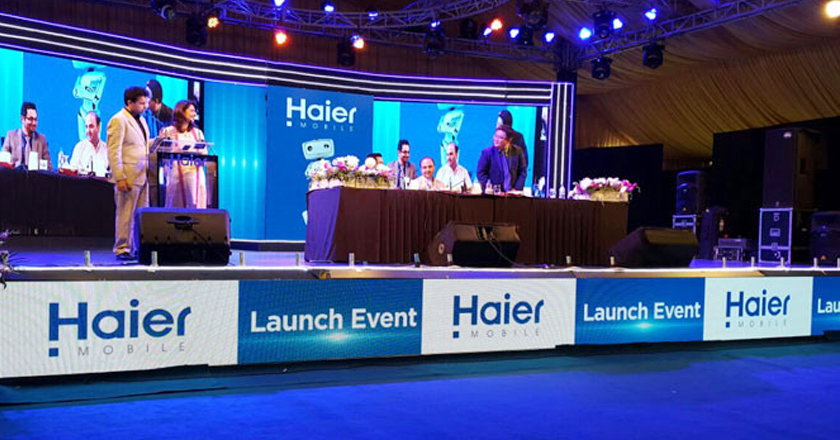 World's leading home appliance manufacturer, Haier has expanded its handset business in Pakistan with three affordable series.
Endorsed by none other than the man himself, Shahid Afridi, the full range consists of three tier series: Klassic, Pursuit, and Esteem, designed for Pakistani market as they cater to every segment seamlessly.
In a grand ceremony held in Lahore on April 9th, 2015, CEO Haier Mobile Mr. Zeshan Qureshi announced the launch of Haier mobiles phone range. The chief guest of the evening Mr. Zhangzhong CEO Qingdao Haier Telecom Co. Ltd also graced the event with his presence.
Haier Mobile will be managed in Pakistan by Ruba-SEZ Group, global partners for Opple Lighting, Real Force Group and Metallurgical Group Corporation. Haier will be the first mobile company to establish a full-fledged mobile manufacturing unit in Pakistan that will increase job opportunities in Pakistan. 
The newly launched smartphone ranges cater to different segment of the market: Esteem series is targeted towards advance smartphone priced slightly on the higher budgets, Pursuit series is for beginner smartphone users with limited budgets and the Klassic series is aimed towards feature phone market.
ESTEEM
The Esteem series comprises two advanced devices: Esteem i70 with 1.4 GHz quadcore processor and Esteem L50 with 1.2 GHz processor. These phones have 5" display and run on Android KitKat operating system.
PURSUIT
The Pursuit series also has two smartphones catered for users with limited budget. They include Pursuit G30 with 4.5 inch screen and 1.3 GHz dualcore processor and Pursuit G20 with 4 inch screen and 1.2 GHz processor.
KLASSIC
This series comprises 6 feature phones; one of which supports 3G.
Taking their big step a notch ahead, Haier also announced its Partnership with GameLoft for high end gaming experience. Also announced was the first time ever smartphone insurance claim.
This means that other than the tracking options, Haier phone users will also be able to make claim in case their phone is stolen or snatched.
It remains to be seen whether Haier will be able to capture the market share established from local and international players in Pakistan.