Rock Legends Guns N' Roses performed this Friday, 3rd March in Dubai at the Autism Rocks Arena as part of the last leg of their #NotInThisLifetime tour. And yes we were there to see it!
The iconic group has been on a world tour performing in Japan, New Zealand, Australia, Singapore, Bangkok and lastly Dubai. The tour was named after the response Axel gave to a question on whether the band would reunite.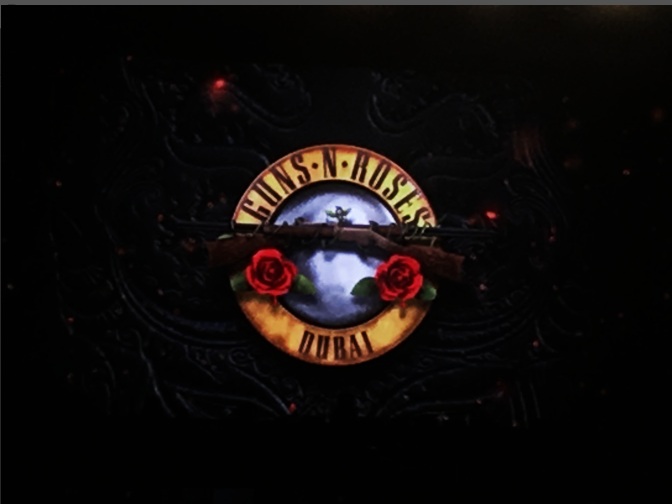 Hence an eager crowd of almost 30,000 strong waited patiently to see Axl Rose, Slash and bassist Duff McKagan perform together for the first time since 1993 and were treated to a highly energetic performance that lasted close to 3 hours.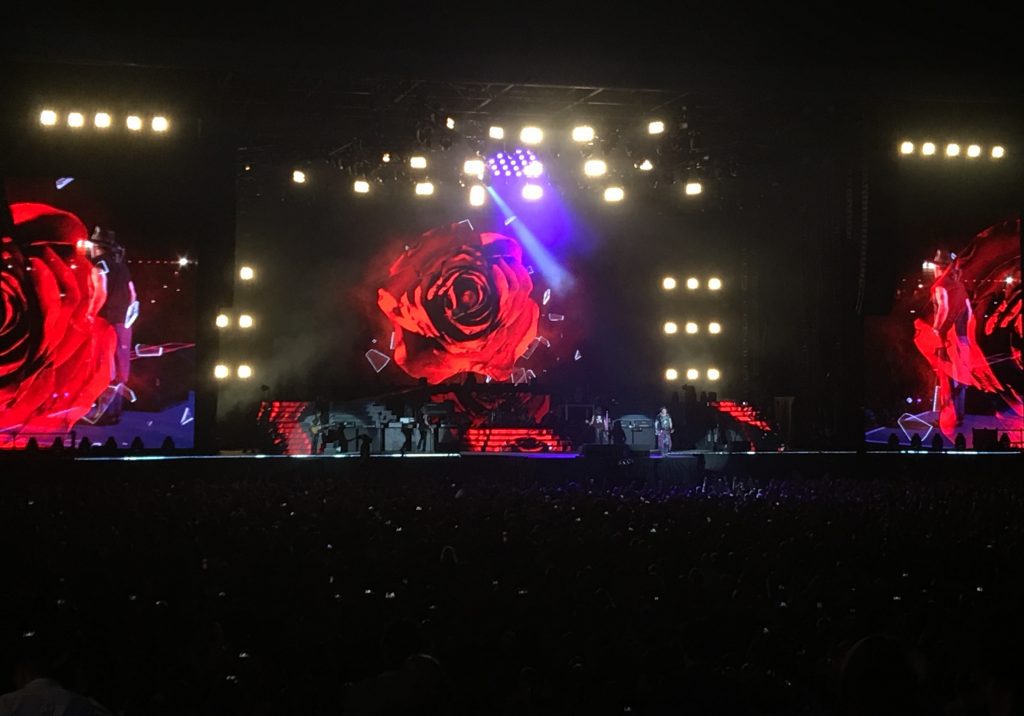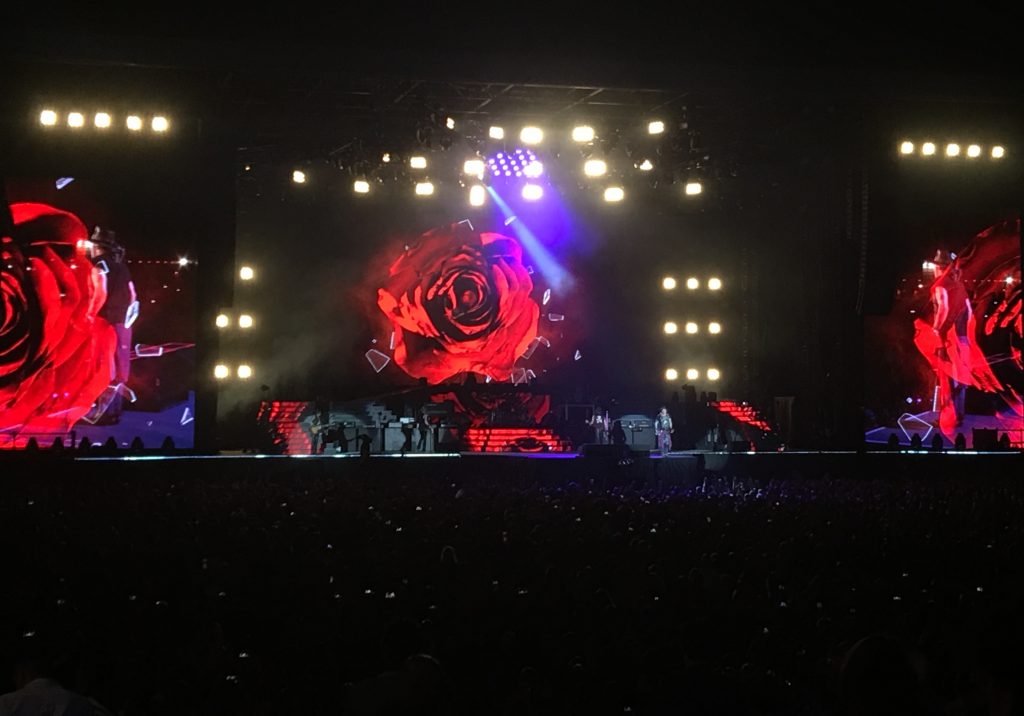 The American legendary rock band was formed in 1985, with their debut album Appetite for Destruction reaching number 1 on Billboard 200 just a year after its release.
In fact, it went on to become the best-selling debut album of all time in the US. The band rolled out 8 songs from this album in the set list for the concert with fans going crazy.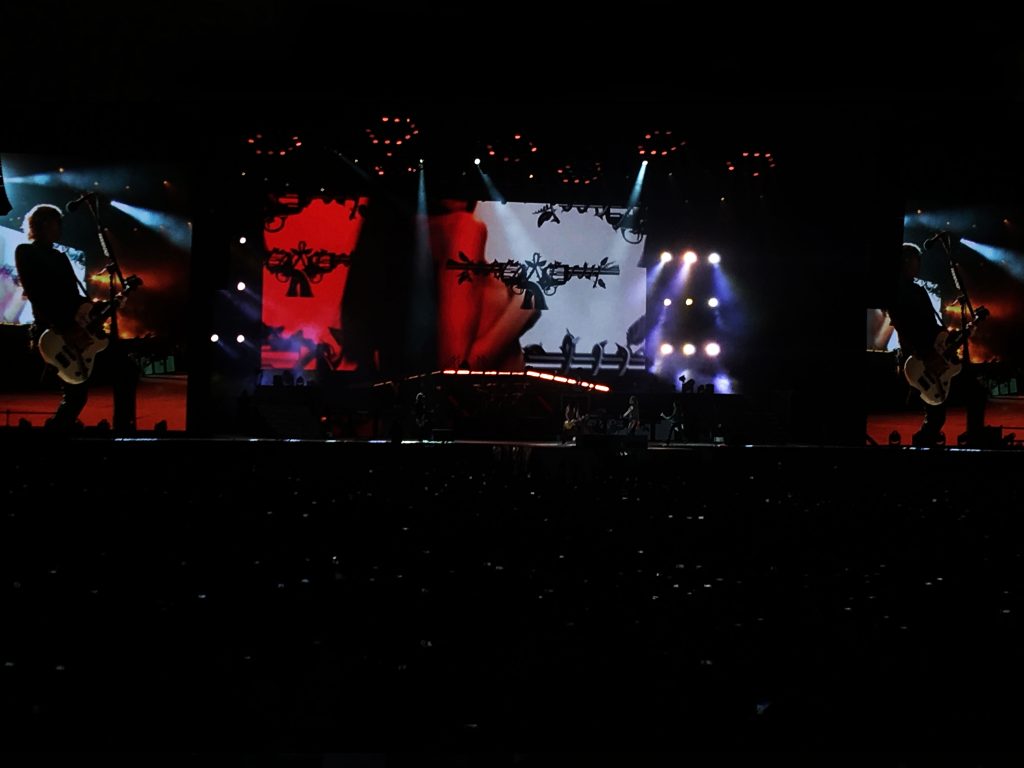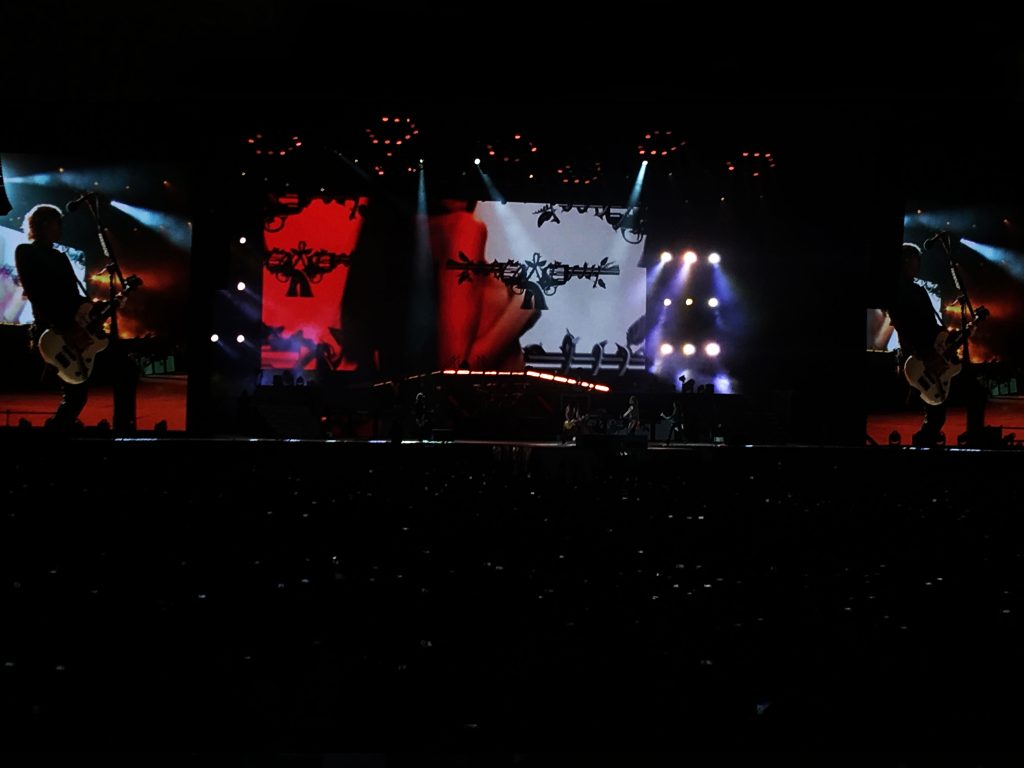 Take a look at the song line up in the set list for the concert:
Looney Tunes

The Equalizer

(Harry Gregson-Williams song)

It's So Easy

Mr. Brownstone

Chinese Democracy

Welcome to the Jungle

Double Talkin' Jive

Better

Estranged

Live and Let Die

(Wings cover)

Rocket Queen

You Could Be Mine

New Rose

(The Damned cover) (

with "You Can't Put Your Arms

…

)

This I Love

Civil War

(

with "Voodoo Child" outro

)

Coma

(

with band introductions

)

Speak Softly Love (Love Theme From The Godfather)

(Nino Rota cover) (

Slash guitar solo

)

Sweet Child O' Mine

My Michelle

Wish You Were Here

(Pink Floyd cover) (

Slash & Richard Fortus guitar duet

)

November Rain

(

"Layla" piano outro with Axl 

)

Yesterdays

Knockin' on Heaven's Door

(Bob Dylan cover)

Nightrain

Encore:

Patience

The Seeker

(The Who cover)

Paradise City

Far Away Eyes

(The Rolling Stones song)
Slash still weaves magic with his guitar and Axl's singing and energy were the perfect match.
Particularly popular were all time favourites: Sweet Child of Mine, Knocking on Heavens Door, November Rain, and Patience and of course Paradise City with which they ended this highly charged, adrenaline pumping performance.
Although personally I felt his singing in November Rain was not a match to his melodic rendition of earlier years – somehow it lacked the pain and emotion it could evoke earlier.
Getting into and out of the concert arena was however quite hellish for most people. Traffic jams had people stuck for almost 2 hours before getting into the venue.
Whilst everything within the venue was perfect, getting out was altogether another story. Lucky for us we had the car parked inside, but others who were taking public transport back had to walk for nearly 2 hours to get a cab.
For those who were in their teens in the late '80s and 90's, seeing the band together after so long was a great trip down memory lane. But it was good to see some young teenagers around too, proving that their music has passed the test of time.
The last album, Chinese Democracy was released in 2008 making history as the most expensive rock album to be produced to date. With this much-awaited reunion, fans are definitely hoping for more!
Social Media Reactions to Guns N' Roses #NotInThisLifetime Reunion!
#GNR New PIC: awesome ! @Slash & @DuffMcKagan at #autismrocksarena ,Dubai ,March 3rd. (© @htgth ); ) #gunsnroses #notinthislifetime pic.twitter.com/3Uq6ANXYpE

— InSlashWeTrust (@inSlashwetrust) March 6, 2017
GunsNFuckinRoses #NotInThisLifetime pic.twitter.com/3kKxopQaIX

— Ajay (@Ajminimalist) March 6, 2017
@Slash @DuffMcKagan @gunsnroses #notinthislifetime #GNRdubai the u 4 da memories @TheMelissaReese @richardfortus @DizzyReed @FrankFerrer66 pic.twitter.com/nqu1TLVoqP

— placido dias (@placidodias) March 6, 2017
Great shots! @Slash killing it in Dubai
(© @tako217 )#Slash #GnFnR #NotInThisLifetime pic.twitter.com/IIzzGP2CeI

— Slash Updates (@Slash_Updates) March 7, 2017
Front row at the #NotInThisLifetime #GnR show… these ladies! Image via friend who attended. #Dxb pic.twitter.com/z4pT7WOmK8

— Khizra (@KhizM) March 7, 2017
Great shot of the boss in backstage READY TO ROCK @Slash #NotInThisLifetime Tour #GnFnR #RnFnR #Slash pic.twitter.com/tDNOo46aVW

— Slashuniverse (@Slashuniverses) March 7, 2017
Slash & Duff
Photo by @KatBenzova #notinthislifetime #GunsNRoses pic.twitter.com/6aKBadDj1N

— Slash Sydney (@slashsydney) March 7, 2017
@DuffMcKagan by @KatBenzova @gunsnroses #GnFnR #NotInThisLifetime Tour Congrats my King for the great tuor. You're special N the Best 4 me pic.twitter.com/xpNa9rNBLq

— gih McKagan (@teles_gislene) March 6, 2017
Great shot! @Slash & @DuffMcKagan in Dubai
(© Meegan Hodges )#Slash #GnFnR #NotInThisLifetime pic.twitter.com/DzLCNdBvtH

— Slash Updates (@Slash_Updates) March 6, 2017
What a concert! #notinthislifetime #gnrdubai #gnr @ Autism Rocks Arena https://t.co/guJaeyGLxe

— Bara Ayche (@baraayche) March 6, 2017
Stay tuned to Brandsynario for more news and updates.