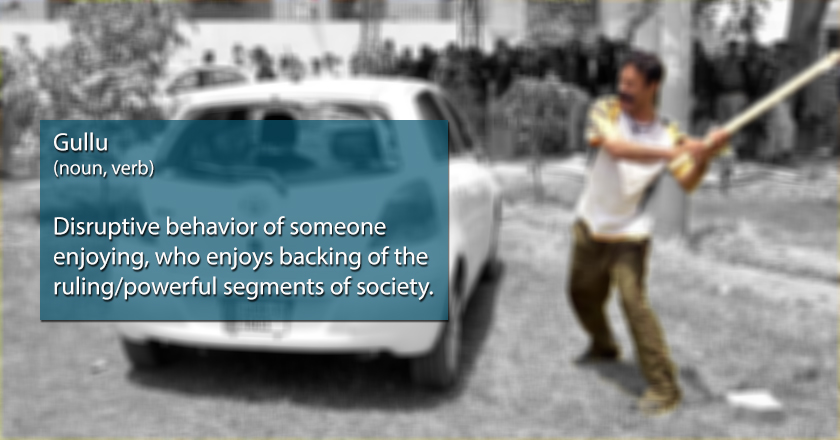 In one corner of the world – Pakistan is suffering from severe political turmoil, with characters like Gullu Butt, Pomi Butt and Billu Butt entering the scene and waning what's left of country's law and order state. Concurrently, at the other end of the world, there are people who have decided to include Gullu'Butt name in the Oxford Dictionary.
Unfortunately the news is true and the word 'Gullu' a word included in the upcoming edition of Oxford University for Pakistan and India, in view of the events that have happened in past few months.
Till now various games, titled 'Gullu' have been launched. And by far the most popular game named 'Gullu', with more 10000 downloads, have earned enough popularity to attract the western world towards itself.
The word "Gullu" gained enough fame to pave its way the Oxford Dictionary as a term defining a disruptive behavior of someone enjoying, who enjoys backing of the ruling/powerful segments of society.
Syed Shamim Azam, a linguist from Lahore, has been observing the Gullu phenomenon since it first hit the screens; he was the one who suggested including Gullu's name as a word in the upcoming edition.
Syed Shamim Azam sees a strong reason for adding 'gullu' as a common noun in dictionaries, because of its prevalent usage, pervasive appeal and understanding of a certain phenomenon in the Pakistani society.
The word 'Gullu' is used to explain a certain violent behavior, so its word category is changed from Proper to Common Noun.The word class is changed by using morphemes like gulluish (adjective); gulluishly (adverb); gullunise (verb); gulluism (abstract noun); the plural form is gullues; the past simple tense of gullu, rather than being gullued, is gulloished; the comparative form of gulluish is more gulluish (not gulloisher, as it contains two syllables).