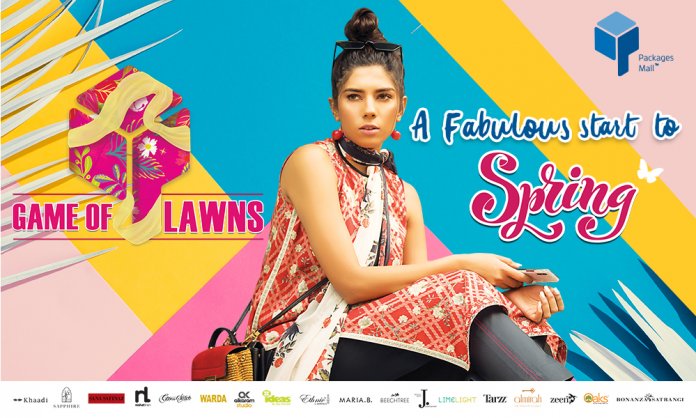 Let's welcome Spring/Summer in STYLE!
Winter is almost over and Packages Mall is all set to make Spring/Summer amazingly festive with the Game of Lawns starting from 18th February 2019. Each designer is hooked to make dedicated efforts in helping you revamp your wardrobes and flaunt a stimulating fashion statement throughout the season.
Each designer is releasing Volume 1 Spring/Summer Lawn collection almost weekly and Packages Mall is ready to make these launches exhilaratingly special for all Lawn lovers! With lots of brands participating in the Lawn festival, Packages Mall is giving away exclusive discounts, vouchers and much more at the launch of each lawn collection.
Due to exorbitant prices making it almost impossible for most of the Lawn lovers to buy their favorite branded Lawn suits without thinking twice, this time around the designers at Packages Mall will ensure every suit you lay your eyes on are in your shopping carts too!
So here we are with the GAME OF LAWNS to the rescue!
With deals so enticing, each woman will undoubtedly be filling their shopping bags with stacks of brand-new Lawn suits! The Game of Lawns has all the famous brands launching their collections with an exclusive offer all under one roof!
In addition to all of this, throughout the month, Packages Mall will be a host to a number of different breathtaking activities, giving visitors the chance to win exciting prizes! Can a Lawn launch be more sensational than this?
While the hype for Lawn extravaganza hits the mind of every woman out there, Packages Mall will leave no stone unturned to bring an avalanche of finest Lawn collections by your favorite brands with thrilling price-cuts and so much more. Get ready to bombard your Spring/Summer wardrobe with a burst of vibrant colors each of which promises to rock your look for the season!