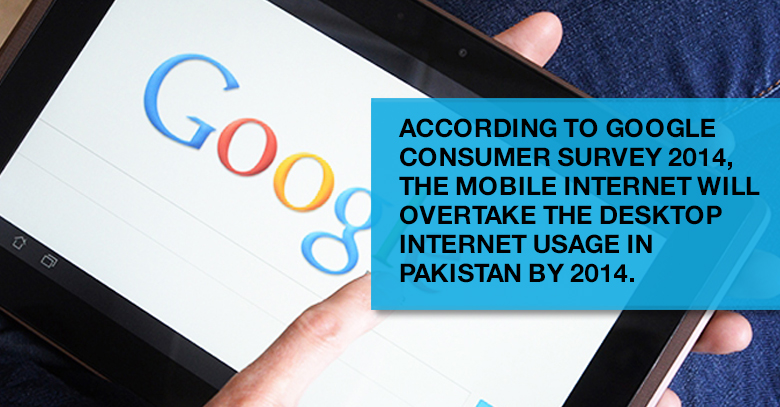 Karachi, December 3, 2013 : At a press conference held at the Sheraton this morning, Tania Aidrus, Manager for Asian growth Market, Google Asia Pacific, presented the findings for the first Pakistani Consumer survey conducted by research firm IDC on behalf of Google. Its objective was to find out what Pakistani consumers are doing on line. The main take away from this survey showed that Pakistani users will be shifting their internet usage to the mobile. In 2014, the mobile internet will overtake the desktop internet usage.
The survey was conducted using a sample size of 1000 online users, aged 18 years and above, who use the internet at least once a week. It was conducted over 7 main metros in Pakistan and used a wide selection of people with a gender ratio of 70% male and 30% female.
Some of the main findings showed that 91% owned a PC at home, 45% also owned a smart phone or tablet and 18% said the mobile was actually their main device for accessing the net. 
The use of smart phones is on the rise, with the lowering of their prices as well as the much anticipated arrival of 3G technology. Although PC's are the primary device for accessing the internet currently, this trend is seeing a shift as mobile devices are gaining momentum.
So what exactly are Pakistanis doing on the internet? The top three online activities include social networking, e- mailing and general searches. Other uses also include educational, on line banking and researching financial services and investment.
How much time is spent using the net for these activities? It was seen that once the consumer gets on line they spend the most time on the digital media as compared to any other medium: with 70 % of time spent on digital media, 40 % on TV and less than 10 % on Radio and print. On week days approximately 2.5 hours a day are spent on the net whereas on the weekends it increases to an average of 3 hours a day.  There is no "prime time "per se as with TV viewership, with the PC being used as the main device for accessing the net during office hours and the mobile thereafter. 
Google has been in Pakistan now for 15 years and the main challenges faced by consumers in this market are poor quality and reliability of the internet connections which are likely to get better once 3G comes into place.
Looking at these trends it points to the fact that the digital medium has overtaken the others and also the way to gain consumers attention is also shifting with mobile devices and their usage now gaining momentum