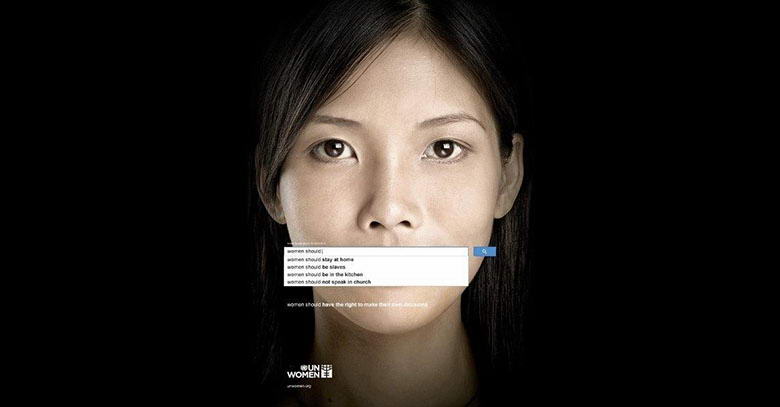 By Zoya Anwer
For anyone who thought the Internet was a more enlightened place than the world at large, or that sexism was less of a problem in the 21st century; a new series of ads from UN Women is a wake up call.
United Nation Women Wing along with their agency Ogilvy & Mather Dubai highlight the discrimination found in Google search terms and its autocomplete algorithms when you type "women should," "women shouldn't" or "women can't" into Google.
Google autocomplete is a feature that suggests what your search term might be, based on its most frequent searches and the content of web pages.
The campaign reveals just how widespread sexual discrimination is through the use of genuine Google search suggestions. It shows close-ups of women's faces with autocomplete results for terms like "Women shouldn't…" and "Women need to…" placed over their mouths as if to silence them.
The height of the existence of misogyny can be witnessed when the bar pops options like "women need to be disciplined", "women shouldn't have rights" or the cruelest of all "women should be slaves", giving an insight to the level of chauvinism that has crept in our society. The small print on each ad reads: "Actual Google search on 09/03/13."
Campaign creator Christopher Hunt said: "this campaign uses the world's most popular search engine (Google) to show how gender inequality is a worldwide problem. The adverts show the results of genuine searches, highlighting popular opinions across the world wide web."
The rising harassment cases against women can also be considered a concrete proof for such negative attitude towards them. Even the words of the options provided can put a question against the negative sentiments!
"The ads are shocking because they show just how far we still have to go to achieve gender equality. They are a wake-up call, and we hope that the message will travel far," adds Kareem Shuhaibar, copywriter.
This does not obviously put any blame on Google because the auto-search facility is just providing results based on the frequent searches done by the users all over the world. .
To counter that, similar searches for men can also be seen and results would be definitely neutral or positive as compared with the shocking results for the women.
For UN Women, the searches confirm the urgent need to continue making the case for women's rights, empowerment and equality, a cause the organization is pursuing around the world. UN Women is heartened by the initial strong reaction to the ads and hopes they will spark constructive dialogue globally.