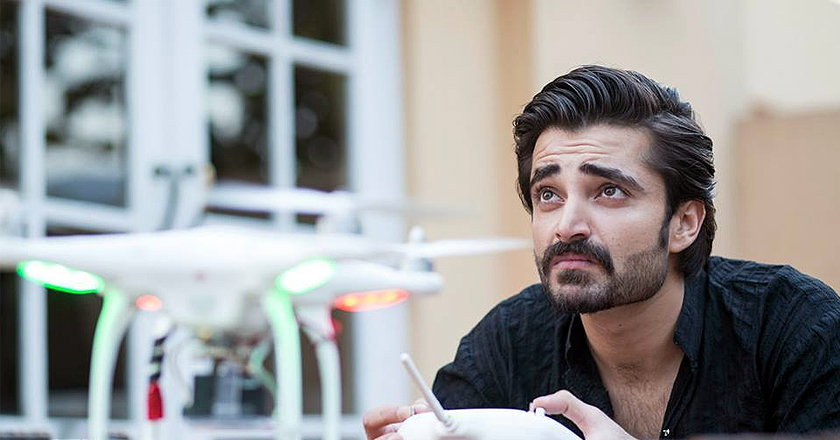 Hamza Ali Abbasi can't stop pouring his heart out to the public.
Predicting the harsh criticism he would receive on his role in the upcoming movie 'Jawani Phir Nahi Ani', the drama serial heartthrob announced his resignation as the Culture Secretary of Imran Khan's PTI, saying that he was no longer fit to hold the position.
Deeming it a mistake to appear in the movie, Hamza says he won't defend the nature of the film and refuses to stand by it.
"There is a way to make our media and films in line with our culture and our religion. Through a collective and deliberate effort, by learning from our mistakes, lets find that way before its too late." He said on his Facebook page.
Read More: Jawani Phir Nahi Ani – Official Trailer
Fans bore mixed reviews, some saying that he didn't need to quit just for playing a role in a movie – a favor to his friends, as the actor puts it – while others still believe that he was right to step down.
All that was well and fine – but now he has posted a new Facebook status – saying that he does whatever he does for himself – that he can atleast die in piece, knowing that he raised his voice when others were silent .
"I will be content that I tried to make my life a little more than me, myself and I."
In true twitterati fashion, Pakistanis took to tweeting and thus – Hamza Ali Abbasi is now trending. As if people are just sitting with their phones like it's a race to see who can tweet the fastest. Ready? Set? TWEET!
Previously he praised Zhalay Sarhadi for not showing skin in her dance performance, while condemning item songs in general – after Ayesha Omer's bold look was revealed for an item song in the upcoming movie 'Karachi se Lahore'.
Hamza later clarified his stance saying that it isn't actor's fault but the director and makers of the movie are to be blamed.
All this just makes us think that maybe people just pay too much attention to what celebs say on their social media? Cut them some slack! They're human too!
What do you think of Hamza's latest statements? Tell us your comments below.