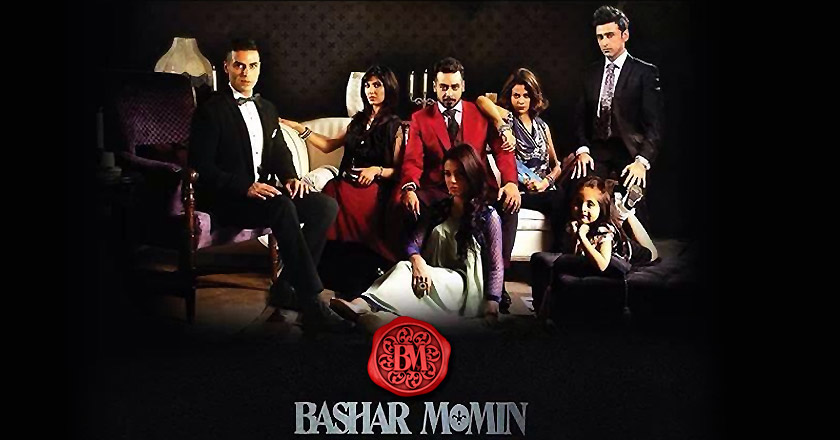 By Zoya Anwer
Finally the much awaited drama serial, Bashar Momin will be getting aired on Geo Entertainment from 14th of March and a very recent Bloggers Meet Up at Pearl Continental Hotel revealed many tidbits about the upcoming drama. 
It is the first time ever that a Bloggers Meet-Up was held for any drama and it acted as a bridge between the drama and the whole involvement of fashion, set and design in the drama itself. The event which was held on 11th of March incorporated various fashion bloggers who normally do not get a chance to attend events or interact with the designers or cast. This time however they were able to reach out to everyone. Have a look at the Serial Promo:
The drama which is said to be the most expensive in the television history of Pakistan is under A&B Productionsis directed by Syed Ali Raza Usama who directed the very popular film, "Main Hon Shahid Afridi" and the script is developed by Zanjabeel Asim Shah, famous for her work in the award winning telefilm remake,"Anjuman".
The mega cast includes the famous stars like Faisal Qureshi who will play the lead role of Bashar Momin and includes the likes of Sami Khan, Sundus Tariq, Maheen Khalid amongst others.
To be very specific about the attires of characters a special team was for this purpose only and each character had his or her own designer to craft a unique design for the wardrobe.
Faisal Qureshi's attire was designed by the famous designer Ahmed Bham while Sami Khan's wardrobe was done by the very decent brand, Cotton and Cotton. Yasir Mazhar's wardrobe was designed by Humayun Alamgir.
In the female characters, Ushna Shah's dresses were made by the leading designer Rani Siddiqui and Maheen Khalid's wardrobe was done by the talented designer, Ambreen Khan. 
The dresses catering to formal and bridal wear were especially designed by Resham Revaj and the very intricate jewelry was provided by the established name in jewelers, Nadia Chhotani.
The shoes and the remaining accessories were looked after by the popular accessories and shoe brand, Saima and Azmay.
So be ready for this one-of-a-kind drama which will be full of romance and suspense along with a great insight into spectacular fashion.