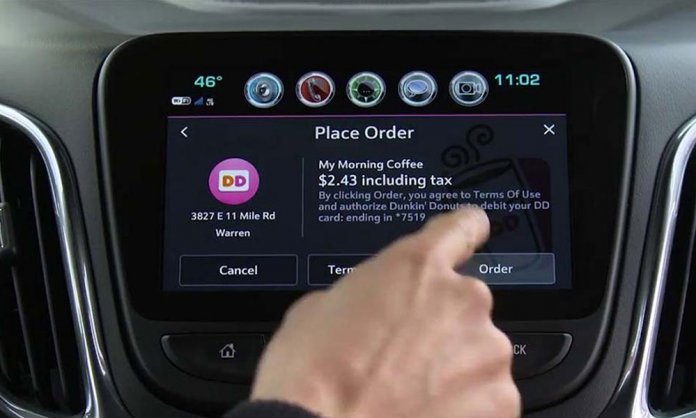 It's hard to decide if the idea of being able to pay for fuel without having to get out of your vehicle sounds pretty cool or pretty pointless.
After all, we have to get out to actually operate the fuel pump, so how much of an inconvenience is it to pay at the same time?
But if you're in a sketchy area of town or somewhere very late at night, it could possibly offer a little extra security. Either way, General Motors is trialing such a system in partnership with Shell as an expansion of its in-vehicle Marketplace app.
The system will allow drivers to pay without having to swipe a card or use a smartphone by pressing the Shell icon on their vehicle dashboard to select their preferred fuel station location.
After tapping a few buttons, entering the pump number and a pre-selected PIN number associated with their preferred payment method, a code will be generated to enter at the pump and fueling can begin. Once fueling is completed, a confirmation receipt will be sent to the Marketplace interface.
At the moment the system is going to be piloted in something like one million Chevrolet vehicles at select Shell fuel stations in the metropolitan areas of Detroit, Seattle and Houston. Assuming all goes well the system will then be further rolled out to an additional 14,000 stations nationwide in the summer.
By the end of this year GM intends to expand the feature to somewhere in excess of four million vehicles across its various brands through a remote update to the vehicle infotainment system, just like updating a smartphone app.
Marketplace was launched by GM last year as an in-vehicle e-commerce app for drivers to order and pay for goods from the likes of Dunkin' Donuts or for doing things such as booking a table at TGI Fridays, for example. The system is also designed to offer deals at local restaurants and merchants such as 7-Eleven.
At the moment, to use this system to pay for fuel will mean three different numbers or codes will have to be entered just to spare you from the "hassle" of going into a wallet or using a smartphone. Whether that saves time is debatable but expect to start seeing similar systems in most vehicles before too long.