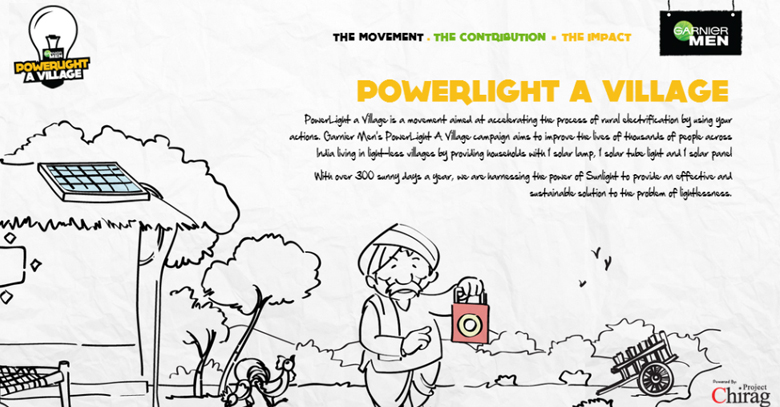 By Ufaq Ashfaque
Garnier India has launched 'PowerLight A Village' project to promote the significance of community service and stay true to its tagline "Take Care".  The initiative will provide solar electricity to areas in India which haven't seen electricity for ages.
PowerLight A Village initially has been launched on Facebook, where each share, comment and like for this project will add one solar lamp, one solar tube light and one solar panel to a household.
Social media marketing and digital solutions agency, Foxymoron, designed the Facebook campaign and with over 1.6 million fans, Garnier didn't face much difficulty in gathering "Virtual Watts".
Apart from social media activation, on ground activities will also take place to support the initiative as people will be allowed to contribute by pedaling a bicycle, etc.
An estimated 300 villages across India will be taken into consideration for the purpose, calling for some of the most crucial state-wide projects to take place.
Solar energy is the energy source that people across industries and countries are watching closely.  The ability of solar energy to sustain, provide energy and be eco-friendly is some of the few benefits that make it an attractive power source.
Solar panels and their installation maybe an expensive, one-time investment, but the results are long –term, hence, saving money and funds for major corporations and households in the long run.
Garnier India is working in close collaboration with governmental agencies in India that allowing it to become a brand promoting corporate social responsibility and stregthening its tagline, "Take Care".