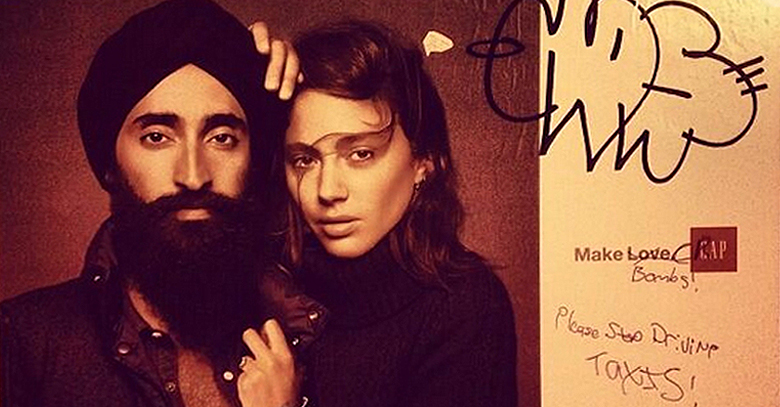 Walk into any Gap retail stores in the United States, shop online at Gap.com, or visit the company's social media pages  and you might be surprised to see the face of Indian-American designer and actor Waris Ahluwalia staring back at you.
Gap's Holiday 2013 ad campaign named #makelove, which was launched recently, drew many compliments for featuring a diverse group of personalities. The idea of this campaign was to show that we can all live in harmony despite what background we come from.
The personalities include rapper Q-tip, civil rights activist Harry Belafonte, Tony Bennett, Connie Britton, Waris Ahluwalia, Billy Porter, and Cyndi Lauper.
Singers Harry Belafonte and Q-tip both of whom support anti-violence movements are shown wearing Gap's jackets. Actress Connie Britton and her adopted son, Yoby, are shown in a joyous moment. Alexandra and Philippe Cousteau who inspire people to protect the environment, are shown sporting Gap scarves in a poster.
"Make Love is about giving love through action, whether it's a service to others or a gift that's a representation of love." said Seth Farbman, Gap's Global Chief Marketing Officer.
As a part of this campaign Gap also brought together a few students to make a series of short films featuring music icon Tony Bennet. However, things got sour when a Muslim senior editor reportedly came across a spoiled subway ad for Gap, featuring Sikh designer Waris Ahluwalia, and brought the GAP's attention to the racist messages scribbled on the ad.
Senior editor at The Islamic Monthly and founder of TheMuslimGuy.com, Arsalan Iftikhar, posted the picture of the ad on his Twitter and Facebook wall, in which the caption had been changed from 'Make Love' to 'Make Bombs', and the writer had also scrawled 'Please stop driving TAXIS' onto the poster.
Iftikhar said that when he saw the picture, he wanted the world to see how millions of brown people are viewed in America today, Huffington Post reports.
Within a day of posting the picture, Gap tweeted back at Iftikhar, asking him to help them find the location of the ad and the company even extended their support by changing their account's Twitter background to the picture of Ahluwalia.
The report said that the company's prompt action and the show of solidarity was applauded by Sikhs and Muslims alike, as some members of the community started a 'Thank you, Gap' campaign to appreciate their action.
Unfortunately, the ad isn't the only one getting anti-remarks , ahgnother ad featured as part of Gap's new "MakeLove" ad campaign featuring musician Malcolm Ford and artist Max Snow posing together was defaced with anti-gay slurs this week in Chicago.