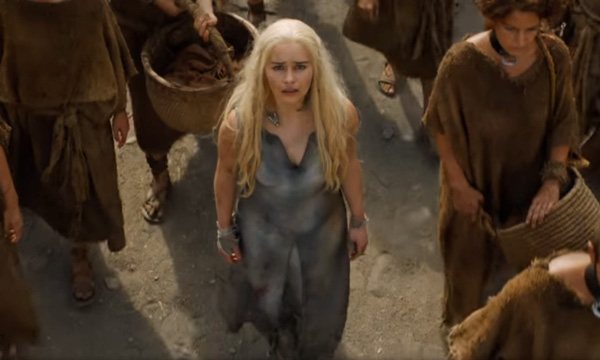 Fans desperate to know the fate of "Game of Thrones" hero Jon Snow must surely have their answer in a new trailer released Tuesday — and it's not looking good for the felled warrior.
Played by the 29-year-old British actor Kit Harington, Snow was stabbed by mutinous followers at the end of season five, sparking months of heated debate on social media about whether he really had met his end.
HBO's first full season six trailer opens and closes with what appears to be a lifeless Snow where we left him, his body lying prone in a puddle of his own blood.
"He's gone," says the knight Davos Seaworth, to the backdrop of a plaintive cover of Chris Isaak's "Wicked Game."
The 100-second whistlestop tour through the fictional continent of Westeros offers up a mouth-watering smorgasbord of violence, gore, semi-nudity and more violence as viewers are given glimpses of several future storylines in rapid succession.
The action swoops into King's Landing, where an army is moving against the ousted royal Cersei Lannister and her companion, Gregor Clegane — the brutal warrior otherwise known as "The Mountain."
"Order your man to step aside, or there will be violence," commands Cersei's cousin Lancel Lannister. "I choose violence," Cersei replies, smirking from beneath newly shorn hair.
As the trailer ends, Davos says: "I've never been much of a fighter. Apologies for what you're about to see," unsheathing Snow's sword as he stands over the warlord's body.
https://www.youtube.com/watch?v=CuH3tJPiP-U
Reports that Harington was spotted on the set of season six fueled speculation of Snow's return.
He doesn't look like he has much fight left in him, but the new footage will do little to end speculation among the Emmy-winning show's legion of fans that Snow will somehow pull through.
The #GameofThrones Twitter hashtag began trending worldwide soon after the trailer's release, with speculation rife that all was not as it seemed.
Some posted pictures of what they claimed showed Snow riding a horse in the background of one shot but a close-up was far from conclusive.
"What a time to be alive," tweeted best-selling American fantasy author Victoria Aveyard.