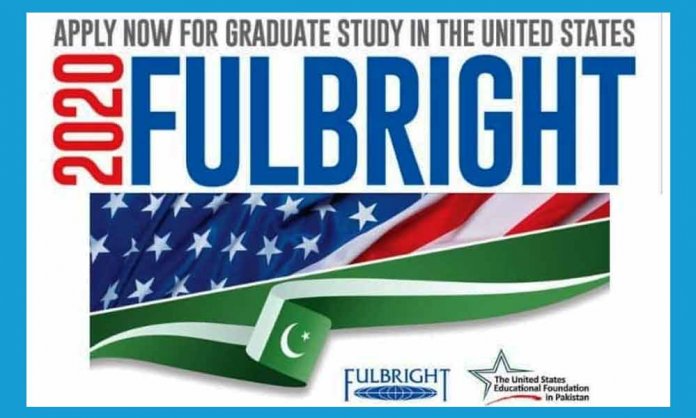 Fulbright Scholarship 2020 for Pakistani students has now been announced by the United States Educational Foundation in Pakistan (USEFP).
Students seeking fully funded Master's or Ph.D. degree and are eager to study at top universities in the United States can apply for the program.
For Masters Program
 Candidates are required to have a four-year Bachelor's degree, or a Bachelor's and Master's combinationMaster's combination totaling 16 years of formal education from an accredited university.
Recent graduates are strongly encouraged to apply, except for MBA applicants, who require 3 years of work experience.
China Scholarships for Pakistani Students: 20,000 Yearly Scholarships Announced
For the Ph.D. degree program
Eligible applicants will have a Master's, M.Phil or comparable degree (a minimum of 18 years of formal education) from an accredited university.
Eligibility Criteria
Pakistani citizens, residing and working in Pakistan, with strong academic histories in all disciplines except clinical medicine.
Ineligibility
Persons with a dual U.S./Pakistan nationality or those having a spouse, parent, fiancé or child over 18 years of age who is a U.S. citizen or permanent resident.
Employees of the Fulbright organization or the U.S. Department of State and their spouses, fiancés, siblings, dependents, children, and parents.
For programs funded by their agencies, employees of USAID or the HEC and their spouses, fiancés, siblings, dependents, children, and parents.
Preference for Fulbright student opportunities will be given to candidates who have not previously received a Fulbright student grant.
Persons already studying in the U.S. or on a work/residence visa in any country.
How to apply
A complete application package includes:
An application form
Three reference letters
Your GRE score report and
Scanned transcripts, including an explanation of the grading scale of the university issuing the degree, should be uploaded.
 HEC-attested documents are preferable with the application but degree and transcripts attested by the issuing authority will be accepted at the time of application.
Application Form
Students can apply for the Fulbright Scholarship 2020 for Pakistani students here
Deadline
May 15, 2019