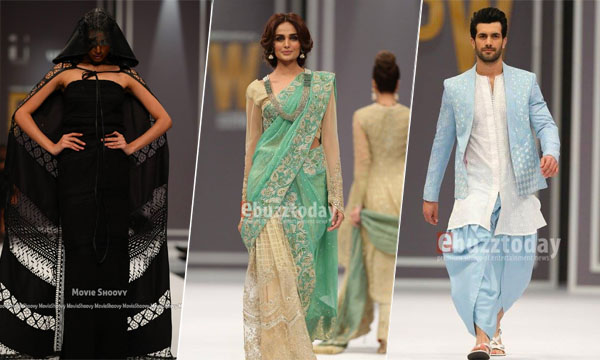 FPW2016 concluded last night with a bang. We saw many celebrities walk the ramp for various different collections including the one woman army, Mukhtaran Mai. Many different trends came to light, some we loved, some we want to forget as soon as possible. In short Winter Festive Fashion Pakistan Week 2016, surely left an indelible mark!
Here we will look at 5 trends that were highlighted during fpw2016. These trends are not over the top. Therefore if you like them, you can surely incorporate them with your style. Let us know if any catch your fancy!
Saris
Who remembers the time when aunties would frown upon single ladies rocking a sari? Well who cares, when saris are this beautiful, you need to cut out the negativity and wear one to whatever event you will be going to next.
Bell Bottoms and Garara Pants
The concept is kinda the same, straight fitted pants with a flair at the bottom. We saw a lot of designers use them with their outfits. While most of the outfits were bridals, we saw some refreshing formal party wear designs with them as well. While you may call some of these the traditional gararas, we prefer ours with a lot more ghair, so we will continue to call them garara pants.
Tulip Shalwars, Colorful kurtas for men
Why must women have all the fun? We have already seen rainbow colored kurtas being sold in the market, it's time men had something in formal wear too. Oh and women have already perfected wearing tulip shalwars. Now we get to see if the boys can do the same. We're on the rocks here. It could look good, it could go horribly wrong.
 Capes
We have been seeing them everywhere since Game of Thrones aired. Yes, they look great. Therefore we are thrilled that they are currently in style. Plus with winter coming in, we can just tell people we're cold and needed an extra layer! Win win. Secretly we would just want to yell where are the dragons?
Black
When in doubt wear black! This winter let your inner self take over and match with a black outfit. If you are feeling a little chirpy, you can maybe throw in a little gold.
Which trends did you like? Let us know in the comments below.