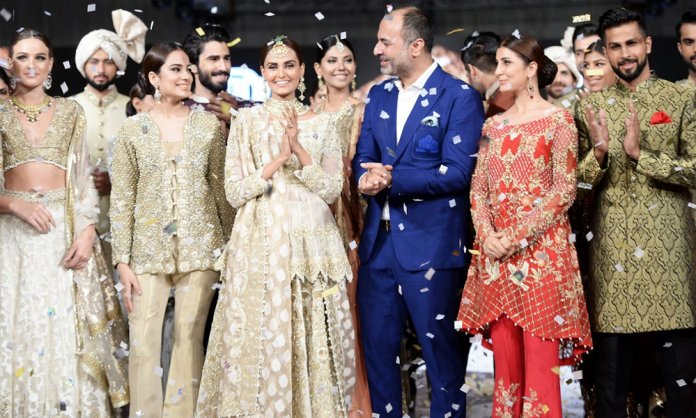 The glitz and glam of Fashion Pakistan Week 2017 Winter/Festive continued on Wednesday, September 13th at the Global Marquees in Karachi. With 12 designers remaining to showcase their latest semi-formal, formal and bridal collections, six of them displayed their stellar designs on Day 2 leaving fashion enthusiasts wanting more on the third and last day of the showing.
The glamorous evening began with the presence of renowned film and TV personalities such as director Asim Raza, political worker Sharmila Farooqi, actors Feroze Khan, Aly Khan with his lovely wife Chandni Saigol Khan, talk show host and designer HSY and a few others from the world of Pakistani fashion and entertainment walking down a star-studded red carpet hosted by the uber charismatic and sparkling Anoushey Ashraf.
With Nabila and N-Pro in charge backstage, the looks were modern when they had to be and traditionally beautiful for the Mehendi and bridal collections.
Deepak Perwani mentioned,
"Those working behind the scenes know of the intense efforts that go into making the event flow seamlessly as it does. There's much to expect from this year's Fashion Pakistan Week Winter/Festive as it's even grander than previous years with a line-up of many known and upcoming designers from across Pakistan showcasing their creativity in breath-taking ensembles while setting the perfect trends for the season,"
After the collection showcase, designers were found mingling with celebrities and other key media at the LUX Lounge that looked exquisite in its signature floral setting. The lounge was a perfect getaway for attendees who after absorbing fashion moved on to the lounge to please their tastebuds with savories from Necos and desserts by Yum by Amna. The stunning art and décor for the Lux Lounge was done by Anisa and Amina Rasheed Khan of RAKA.
Day 2 at Fashion Pakistan Week:
Sanam Chaudhri – Pandora
Her Pandora collection featured silhouettes inspired by late 80's to early 90's power couture, an audacious juxtaposition of starkly masculine and liltingly feminine lines; edgy jackets with fluid shalwars, bold shouldered peplum coats and fluid pleated skirts, umbrella cut capes and wide leg pants. Each ensemble had an enchantingly unique and fiercely alluring feel to it and most of her ensembles were for the confident city dweller who transitions from cocktails to theatre and on to supper and was guaranteed to identify the inner diva in women.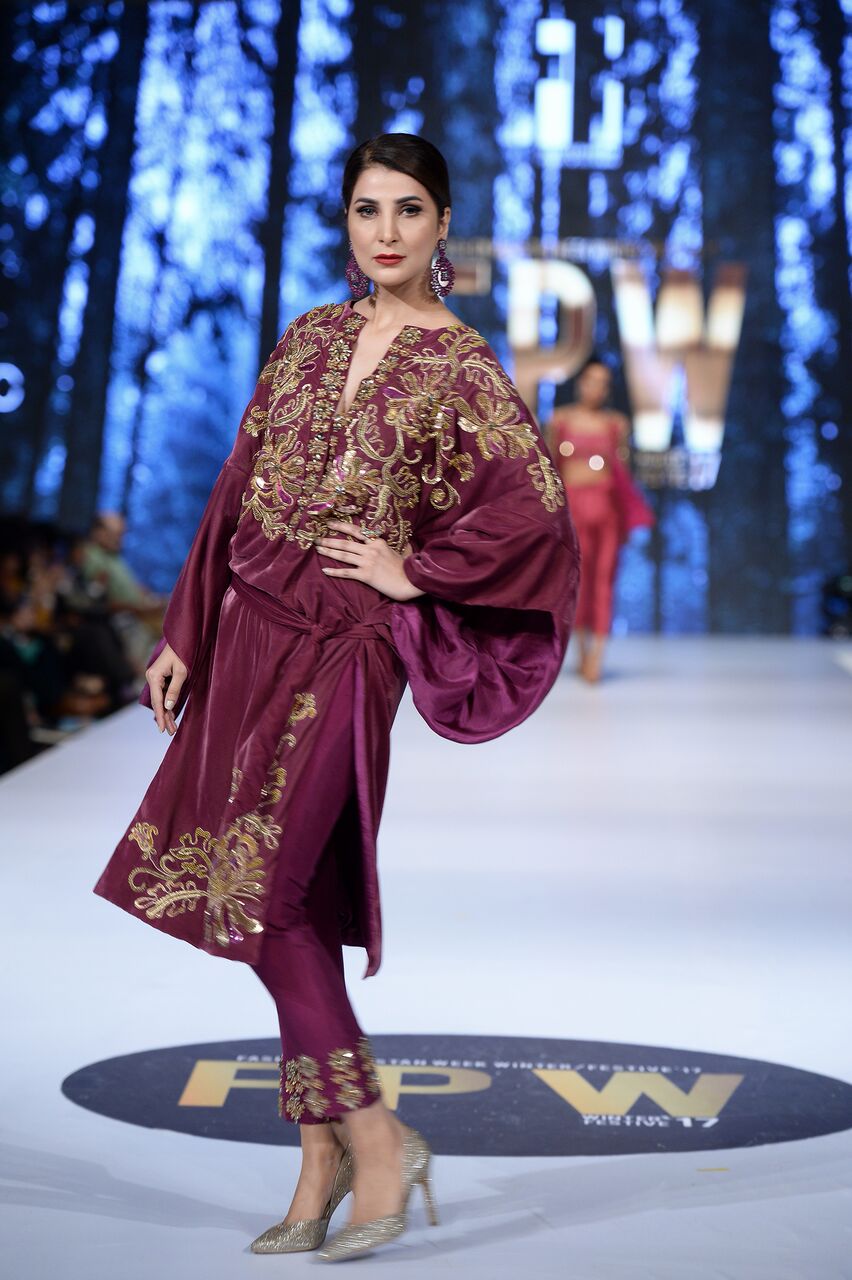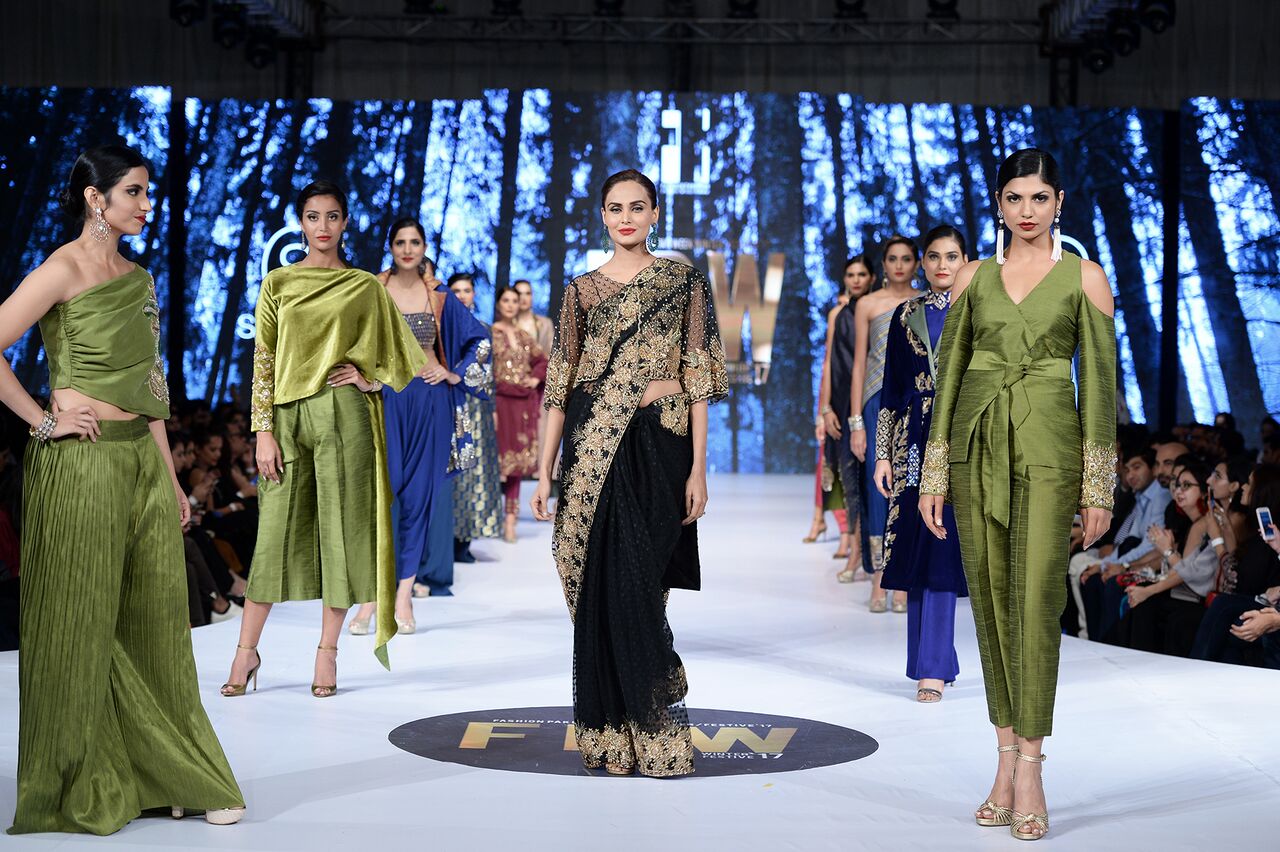 Wardha Saleem – Dholak
Inspired by the 'Dholak', her collection celebrated the traditional mehndi bride. Deeply traditional yet with a modern play of colours and a silhouette that was supremely playful, the collection was a symphony of vibrant colours, intricate techniques and details keeping in line with our rich and vibrant heritage.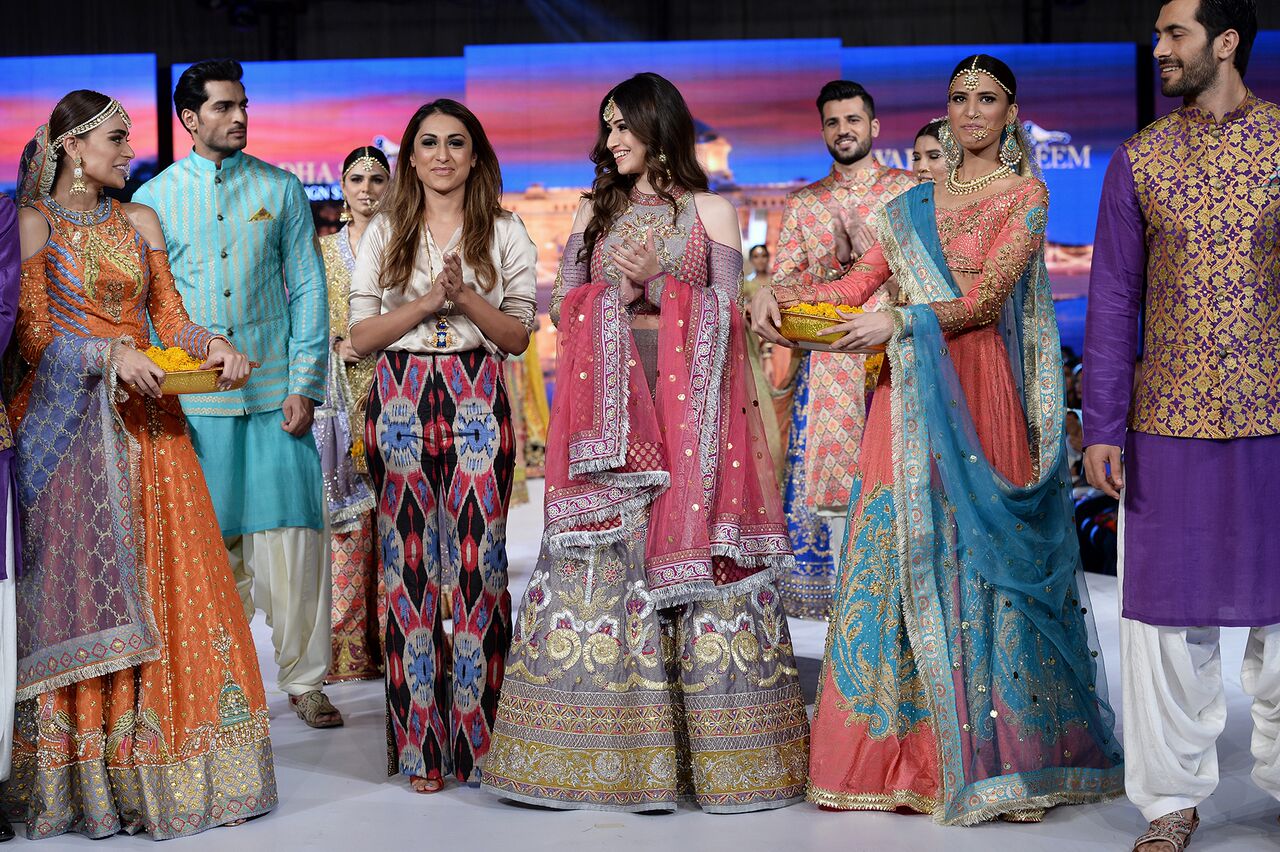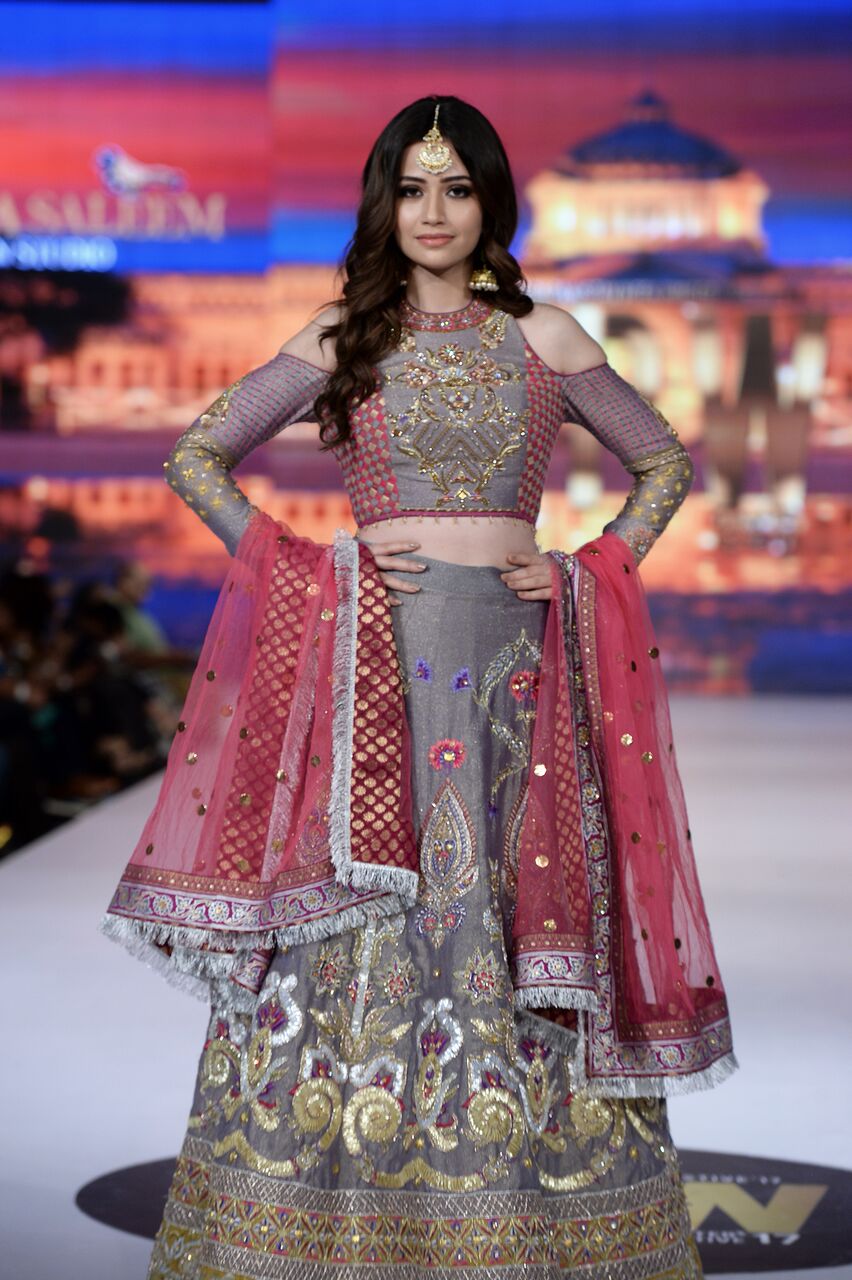 The men collection consisted of bright Sherwani colours, patterned kurtas in colours of orange and pink. Wardah Saleem's collection replicated the environment of a mehndi, almost enticing the well-heeled audience to get up from their seats and dance.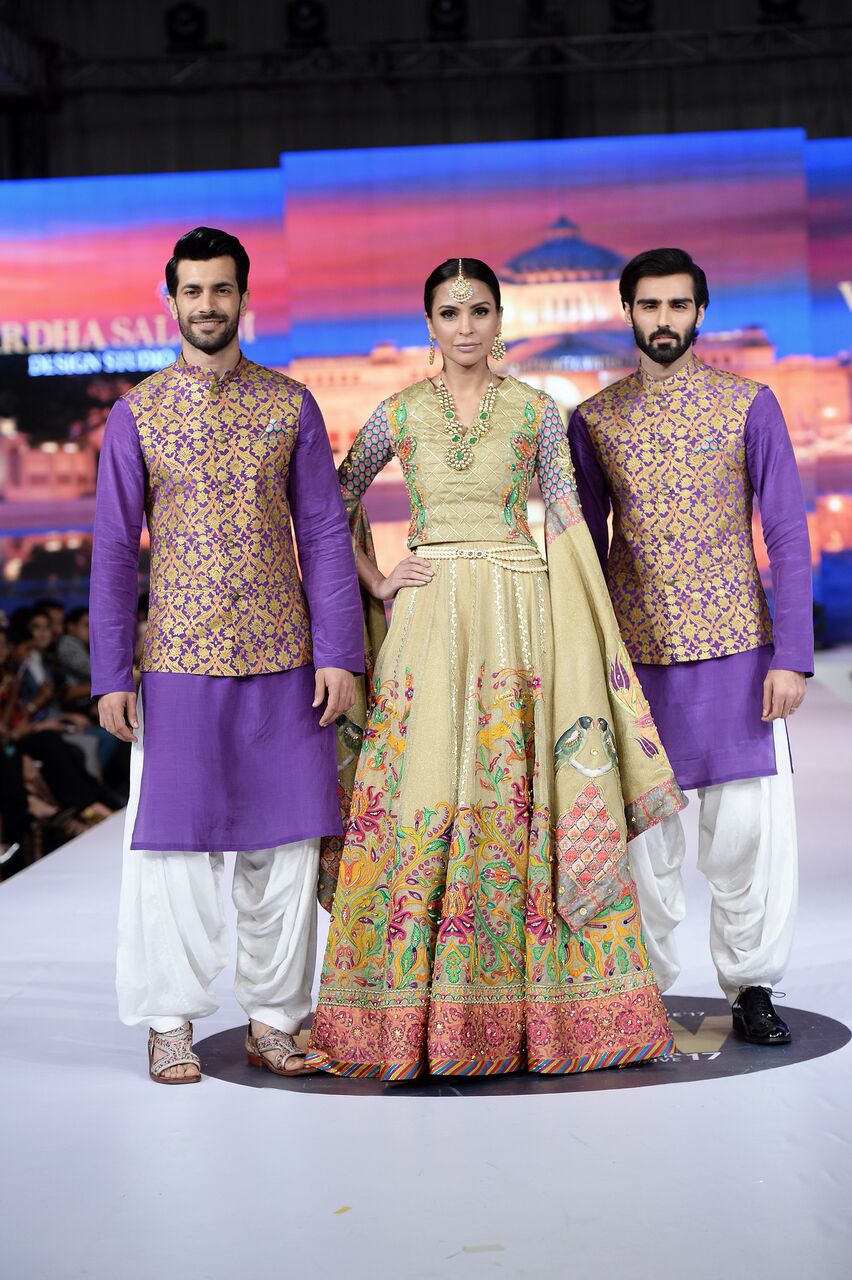 Emraan Rajput – The Gentleman's Club
The Gentlemen's Club entailed a range of premium suits for the men who like to live life in style. The collection was crafted from the finest fabrics, creating timeless cuts and styles. Classic white coat with big black buttons, clean cut navy blue suits, edgy patterned insides for a sneaky colourful look that were sophisticated yet funky.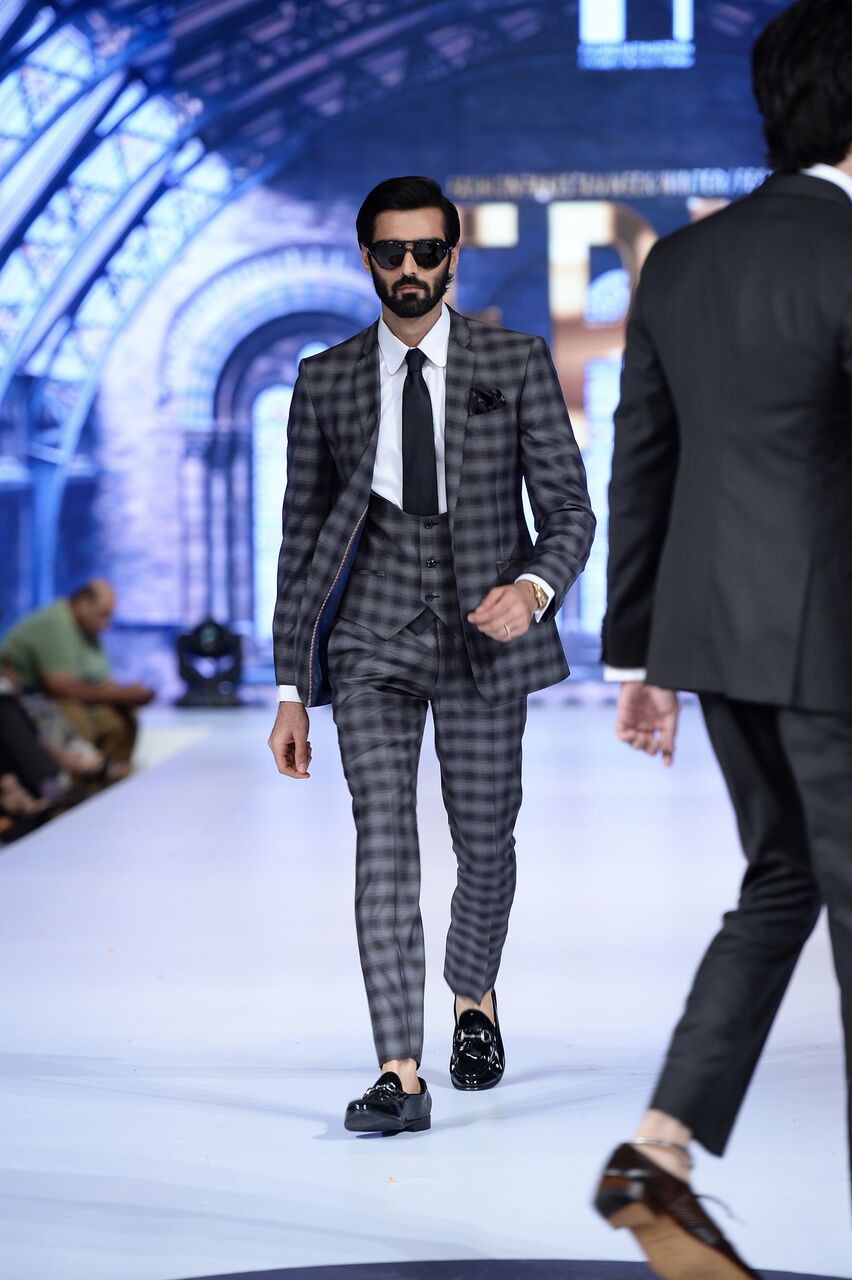 The male models wearing Emraan's collection surely won the hearts of all with their best foot forward on the ramp.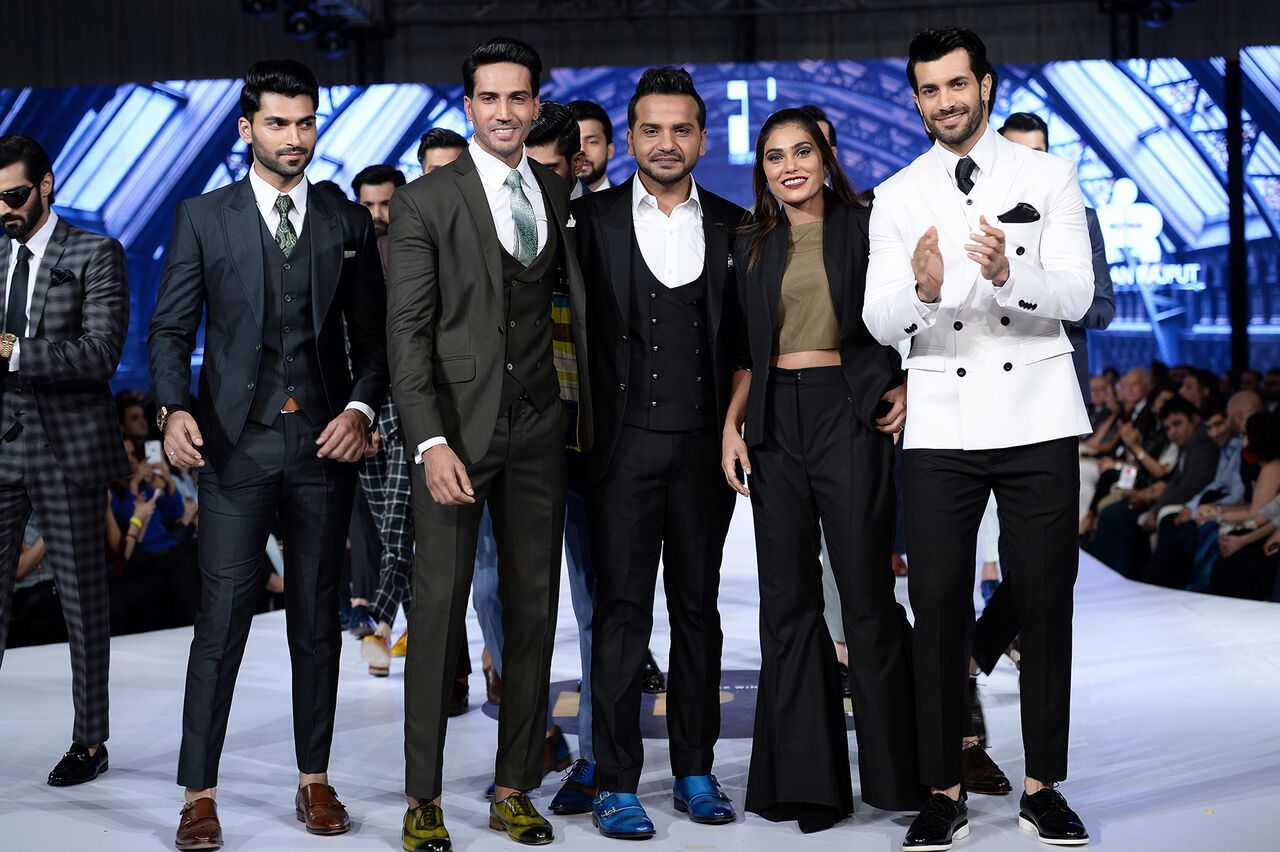 Sadaf Malaterre
Her flamboyant and flirty collection was specifically designed for the young at heart and fashion forward.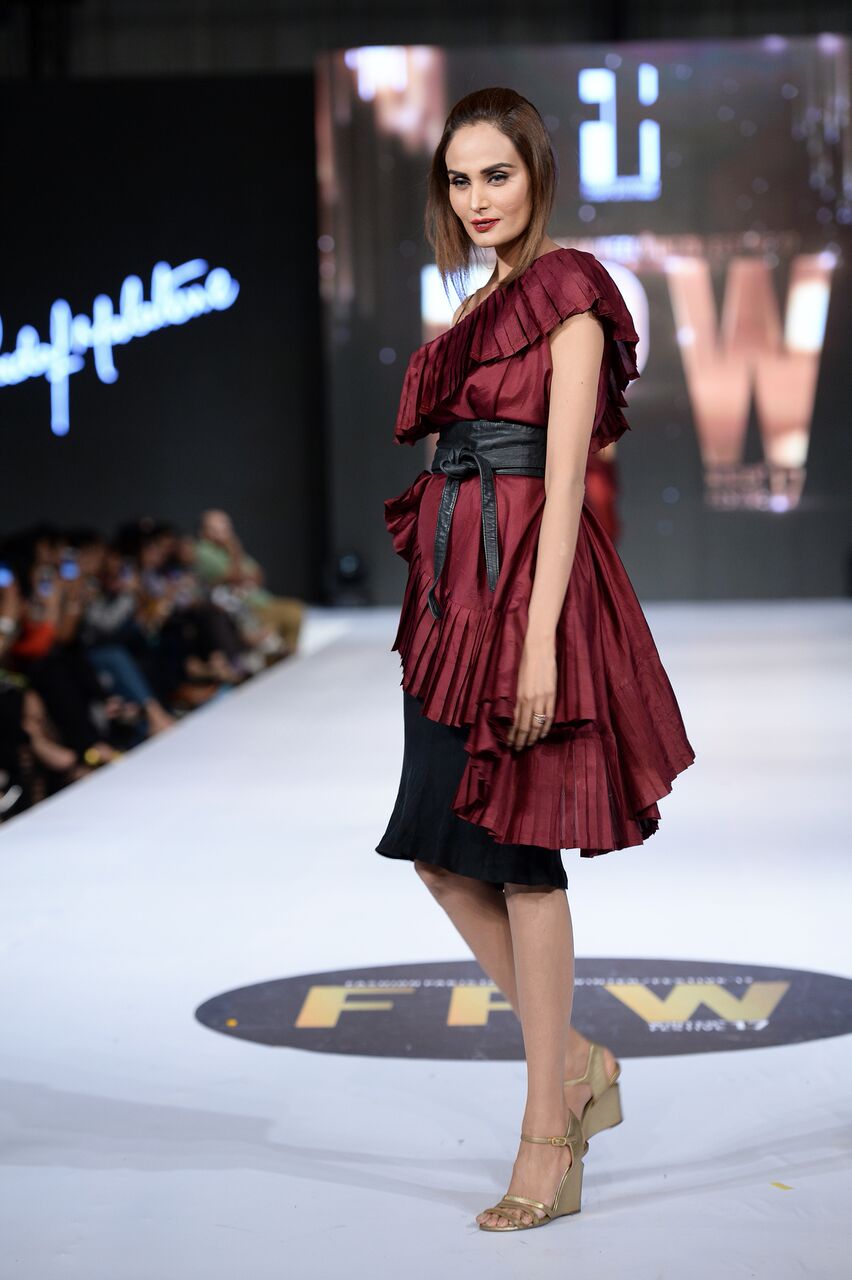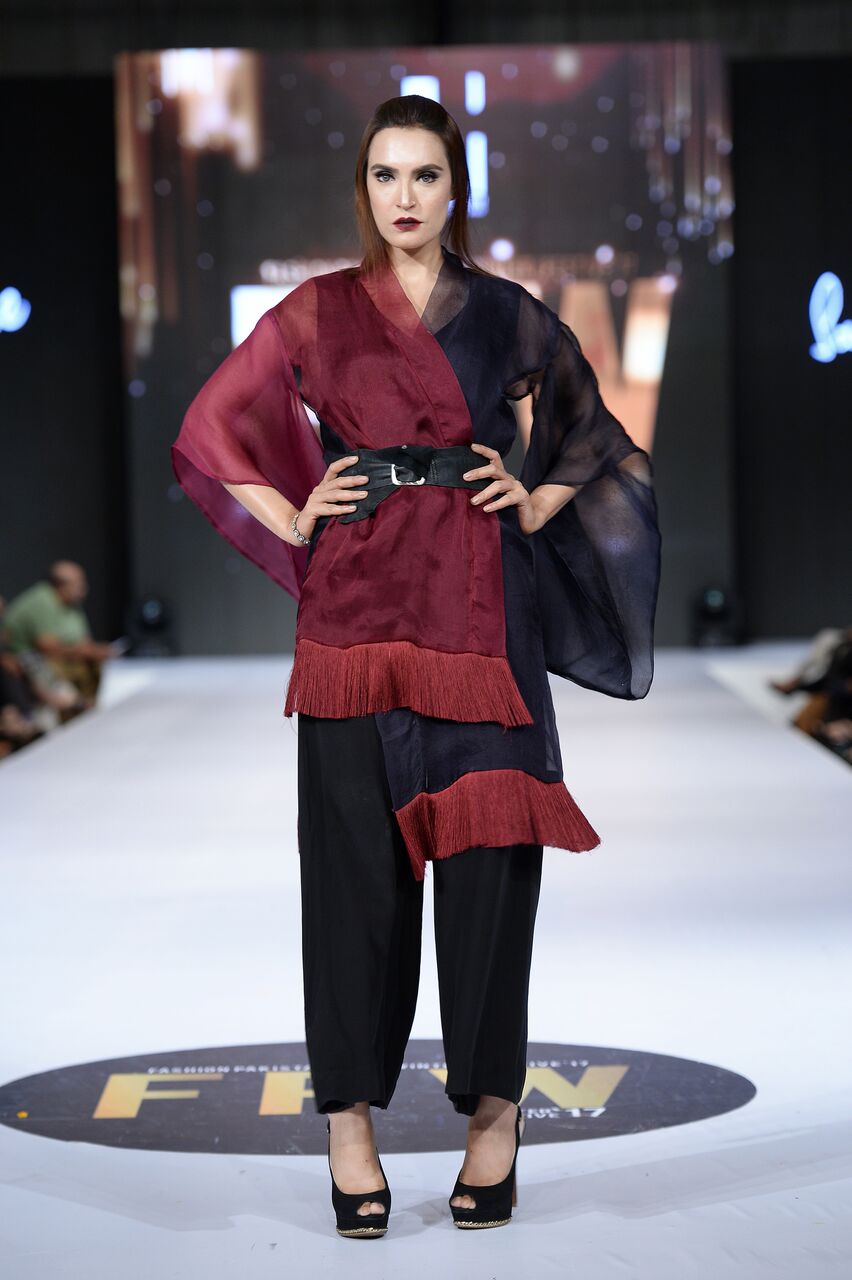 Sadaf Malaterre presented a daring collection emphasizing women empowerment through bold colors, tassels and frills, strong cuts and unique silhouettes as part of innovatively crafted jumpsuits and dresses.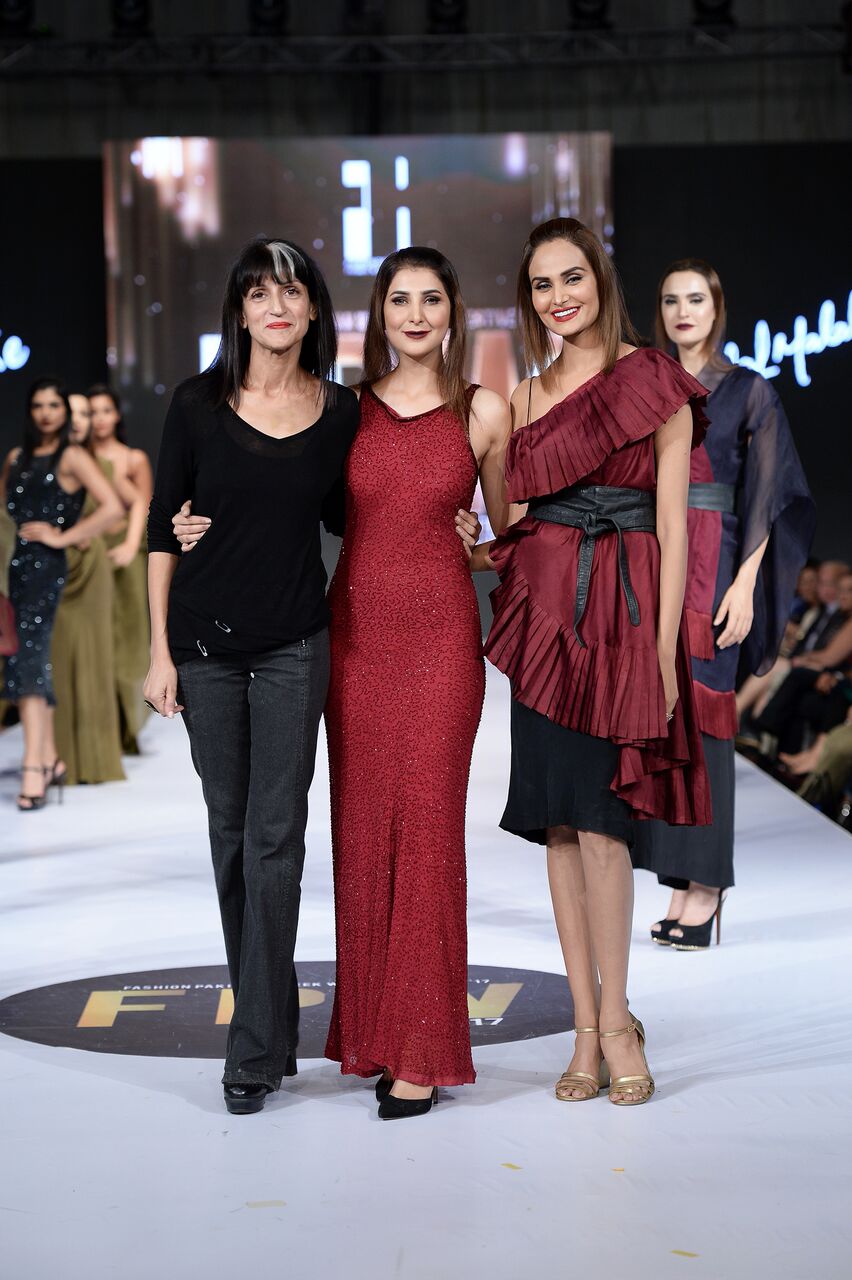 HEM – The Royal Majesty
HEM's collection was a blend of local crafts and experimental techniques. A soft colour palette was used with the purpose of reviving various embellishment techniques that curated different looks perfect for all occasions. It was hard not to pay heed to each of HEM's dresses as the silver embellishments on the champagne gold and silver dresses, sparkled in the bright lights that surrounded the ramp.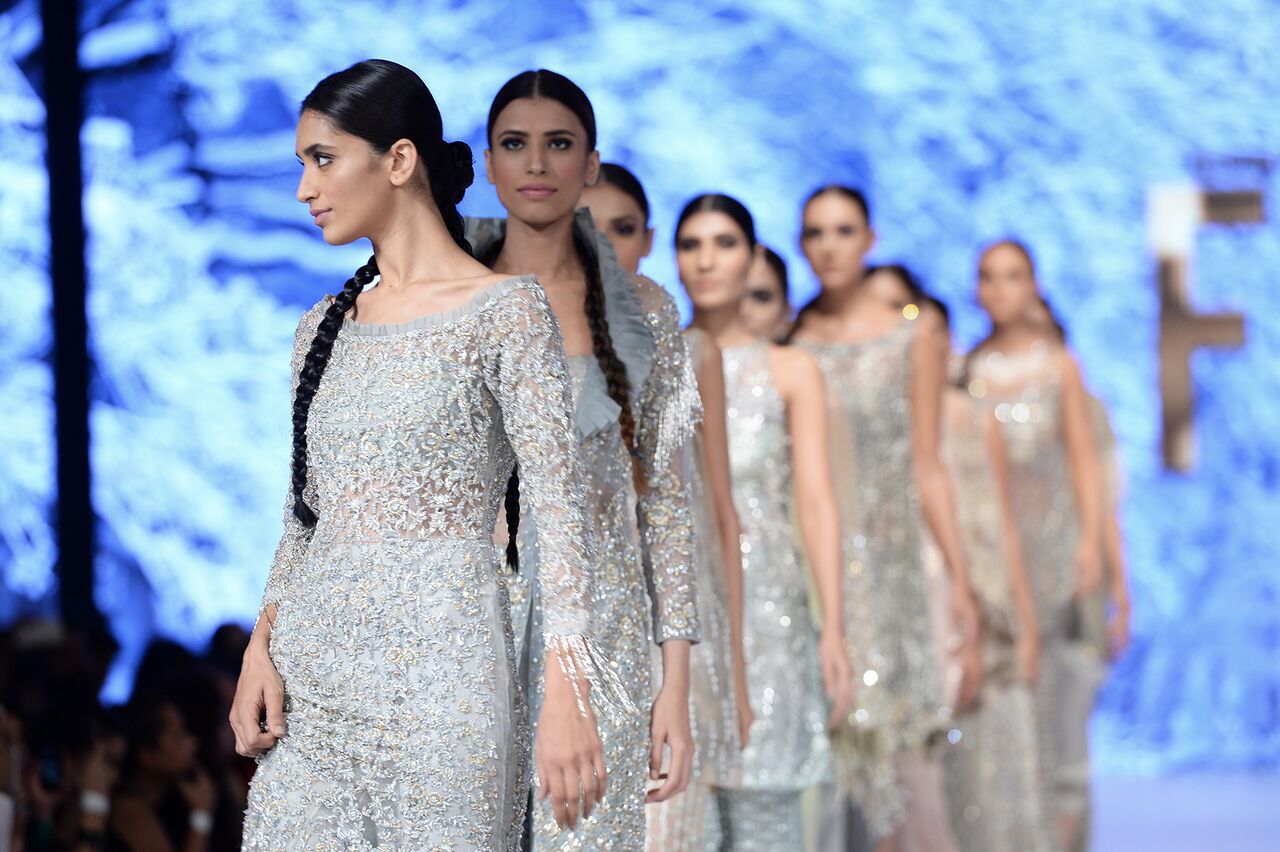 The glamorous ensembles were filled with bead work and completed by fanning frills on the neck and waist.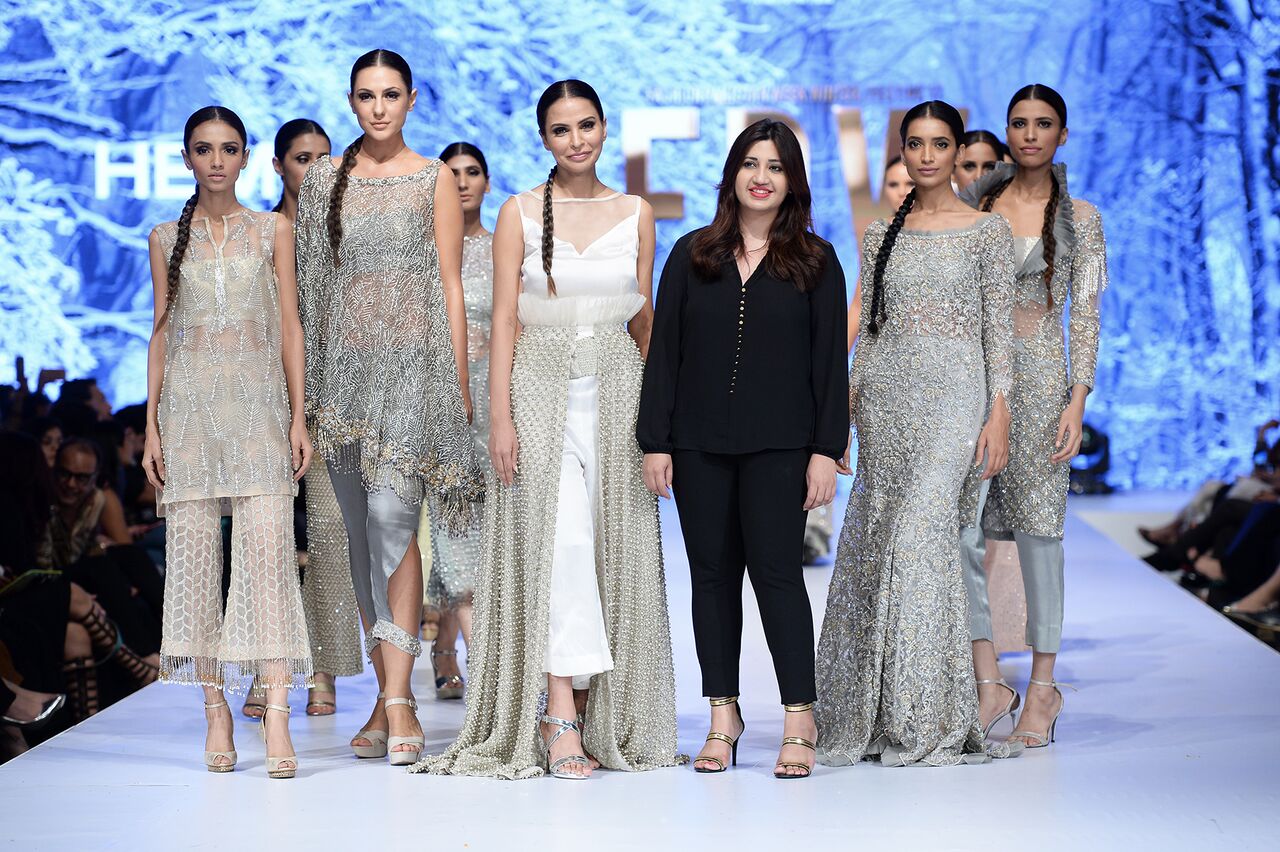 Deepak Perwani – Gold Dust
Drawing from the heritage of our subcontinent, Deepak Perwani presented 'Gold Dust', a collection of exquisite bride and groom wear that is effortlessly timeless, with a nod to modernism in the cuts and melange of colours. The collection entailed smart sherwanis and regal lehenga cholis, which, paired with jewellery by Sherezad, created a wave of nostalgia from the past. The traditional bridal colours; reds and maroons with gold work were used on the dresses shown initially.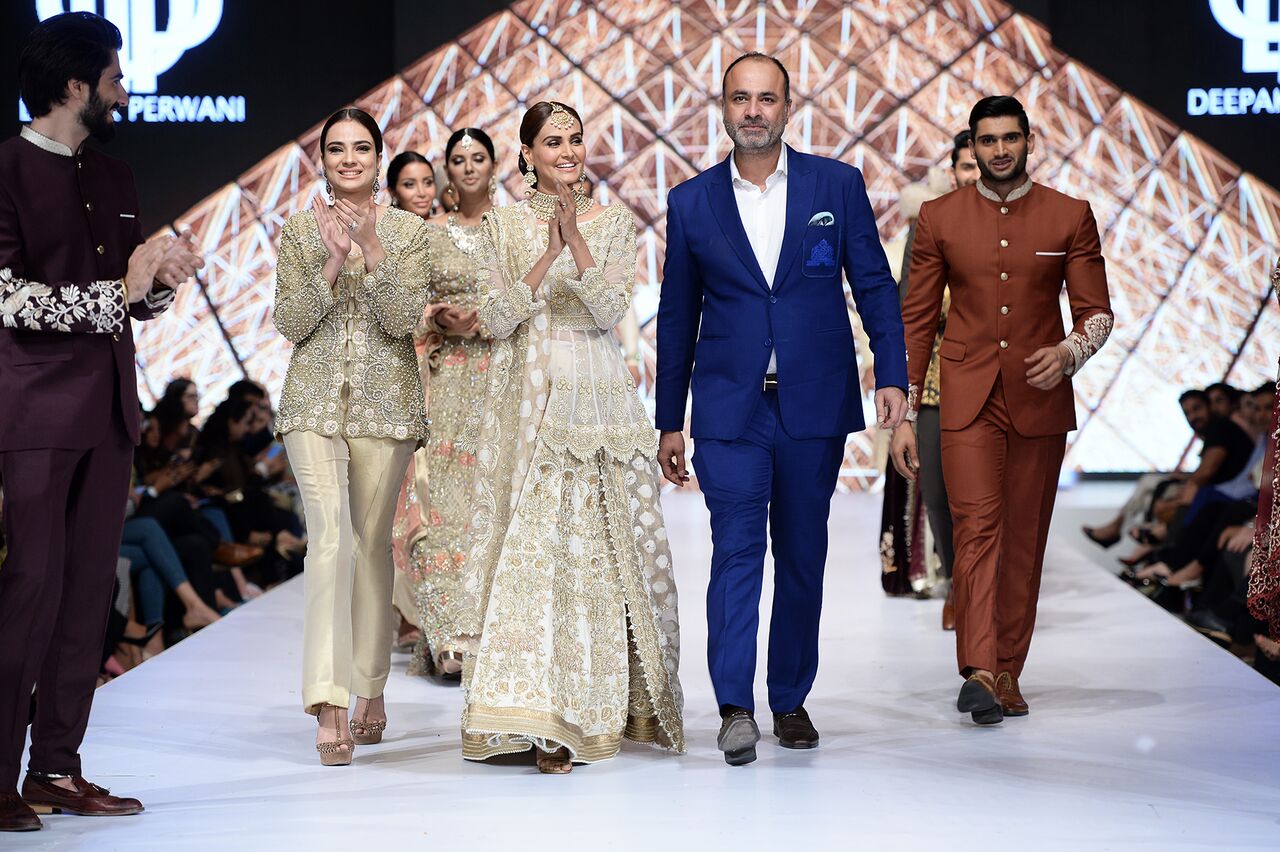 Deepak's magnificent collection generated an almost magical feel at the show, by re-creating trends of the past and perfectly concluded day 2.