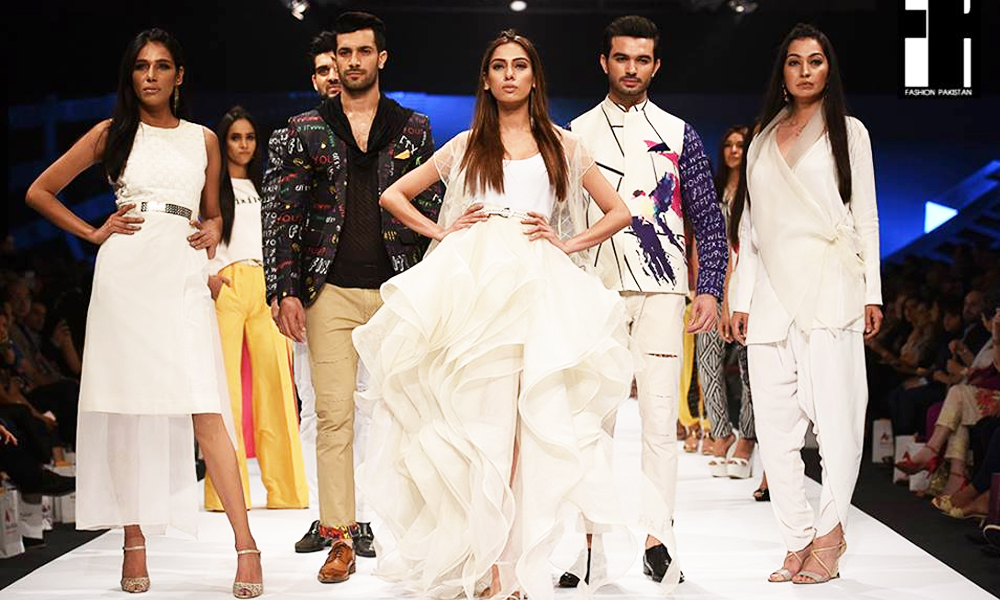 This last weekend was all about glitz and glamor of Fashion Pakistan Week 2016 in Karachi. Happening twice every year, FPW has become our source of trends and style forecast for the coming season. This was the 10th edition of Fashion Pakistan week and it is definitely getting bigger and better.
Due to Celebrity showstoppers, lots of brand endorsements, creative red carpet lounges, Media partners and live streaming, Fashion Pakistan week is just not for the audience only. What happens on the ramp no longer stays (only) on the ramp.
Let's get eye to eye with some of the most memorable fashion moments from FPW16.
The Best Color Trends of FPW16
Summer season fashion forecast by FPW suggests that white is always right but you can always add a pop of color with neon accents and black stripes/print. Less is more is the mantra with no bling and clean cuts. Keep it simple ladies!
For Inspiration look at these gorgeous whites by Zaheer Abbas, Neon accentuated prints by Deepak Perwani, Amna Aqeel and Sanam Chaudhri. Simply elegant.  
Bizarre Moments- The Ramp Drama
There were lots of unforgettable ramp moments during FPW16 that took social media by a storm. From Amin Gulgees energetic walk for Nauman Arfeen to Asad Shiekh walking for Sonya Batlta, but this year Rubya Chaudhry topped the list for daring to walk holding a live chicken( for whatever creative reasons). Such poise much wow. You go girl!
Best Collection Menswear – Amir Adnan 
I can't believe my eyes. Amir Adnan's show and No sherwani? It was a much needed "Escape" and what a brilliant one. This is one of the most memorable collections of Amir Adnan and definitely going to set new trends for menswear. 
Best Fashion Trends – Dhoti Shalwars and Super hero Capes
Finally shalwars are back in fashion but with a dhoti bang. Short shirts are a bit overdone but Dhoti shalwars are here to stay. Super hero capes were also a trend among our designers. Let's tie our dupattas around the neck and turn on our fashion powers to save the day.
Best Dressed on the Red carpet – Aww and Haww
Red carpet appearances are always the most sought out looks during Fashion weeks. Some people dress to make you go awe *jaw drops* while others hawww*what were you thinking* dresses too.
Here are my picks of Best Dressed celebs on the red carpet during FPW16. Let's just ignore the Haww moments. Parisheh James and Ayesha omer were consistently good while bloggers were amazing on red carpet. Moiz, Aamir Bukhari. Anusheh Shahid, Maha Burney and Umair Mirza were killing it on the red carpet. HSY takes the title of best red carpet designer.
The Best Models of FPW16
Ramps has its own aura to it and some models really accentuate it with their poise and walk. FPW16 ramp has been graced by top models of our industry. I would like to give bets male model title this year to Shahzad Noor and Female model to Fouzia Aman and Aamna babar. Similarly Sunita Marshall wowed us on the ramp constantly with her stunning looks and  funky styling. They should keep slaying the ramp for years to come.
Best Collection of FPW16 – Womenswear 
To be very honest there were very few cohesively great collections this year. Zaheer Abbas and Fnk Asia by Huma Adnan were the best collections to me. The best thing was the styling and accessories of various collections that stand out as Most memorable ones. Like you might forget Wardha's collection but those hand painted bags will remain in memories. Zainab Chottani with her Cobalt Blue collection gave some creatively unique ideas to wear Demin other than just a pair of jeans.
The most Notable Moment of FPW2016 
While the fashion scene in Pakistan has already made waves within the country, nobody knew that it was turning heads overseas as well. This year's most Notable moment of FPW was the coming on board of Trade Development Authority of Pakistan (TDAP) as a collaborator and official sponsor. Along with giving Pakistani designers a chance to showcase their designs abroad, the presence of the French Designer Mr. Oliver Lapidus at the event, handing out praises and promising a collaboration between Pakistan and France, was a moment of pride.
Written By:
Hina Safdar