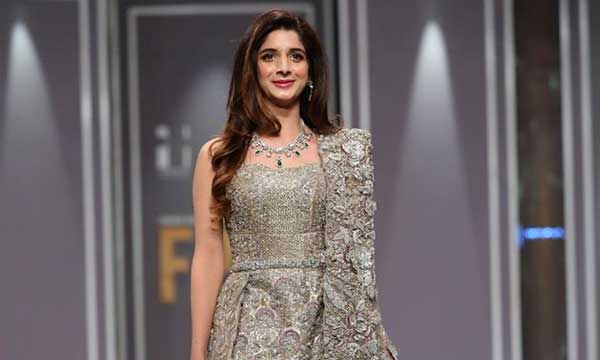 Fashion Pakistan Week 2016 ended in all its glory with charismatic Pakistani celebrities such as Bilal Ashraf, Sajal Aly, Moomal Sheikh & Feroze Khan stunning on the ramp as showstoppers. The star-studded event was packed with much fervor with fashionistas and celebs donning gorgeous apparels!
Fashion Pakistan Week 2016 is being held from 30th October to 1st November 2016 in Karachi with Urdu 1, the exclusive media partner.
Here are some of the popular celebrity showstoppers who stunned on the ramp with much elegance and poise:
#FPW2016 Day 1
1. Bilal Ashraf for HSY Collection 'Onyx'
Be it any fashion affair, Hassan Shehryar Yaseen never fails to disappoint you! HSY's collection Onyx was truly outstanding and Janan famed actor, Bilal Ashraf did total justice. Stunning in an all-black attire as the showstopper for HSY, Bilal looked dreamier than ever.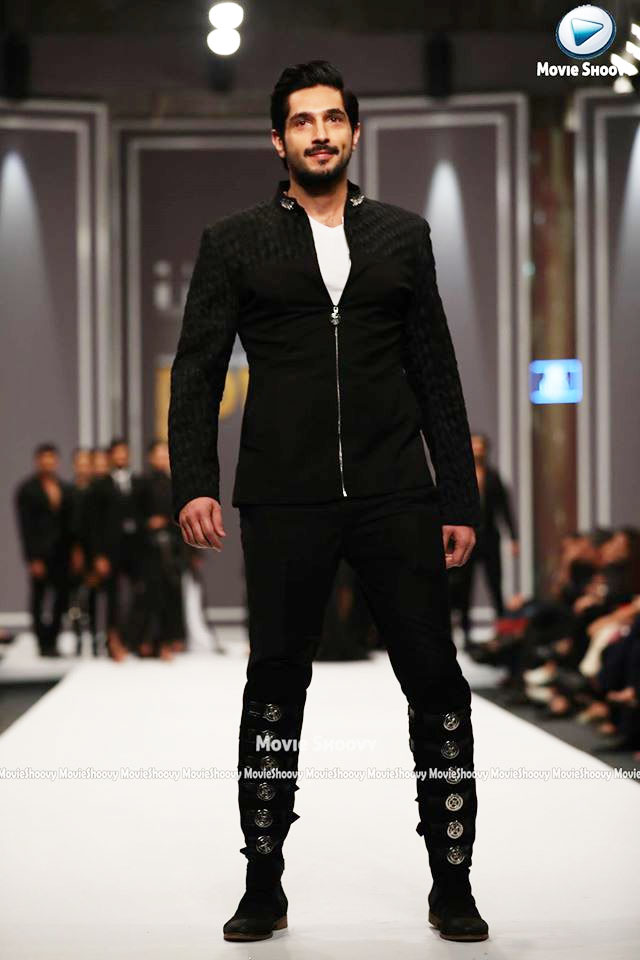 2. Sajal for Mona Imran Bridal Collection 'Gold Rush'
Sajal dazzled the eyes that saw her! Donning a gold and red bridal wear by Momina Imran, the charming and doe-eyed Sajjal was a sight for sore eyes.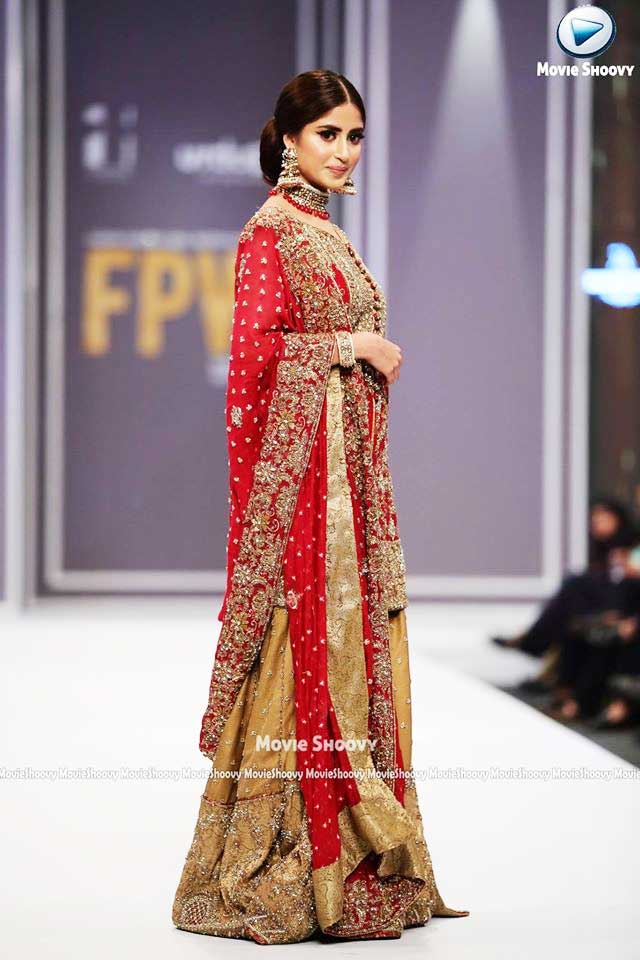 Mona Imran showcased her latest bridal collection titled 'Gold Rush' at FPW 2016. A combination of gold shading with a different line, themes, cuts and fine weaving.
3. Feroze Khan for Amir Adnan's 'The Way Forward'
The talented Feroze Khan couldn't do justice to Amir Adnan's 'The Way Forward'! Donning a printed jacket with black pants, Feroze Khan looks charming but a tad-bit uncomfortable. What do you think?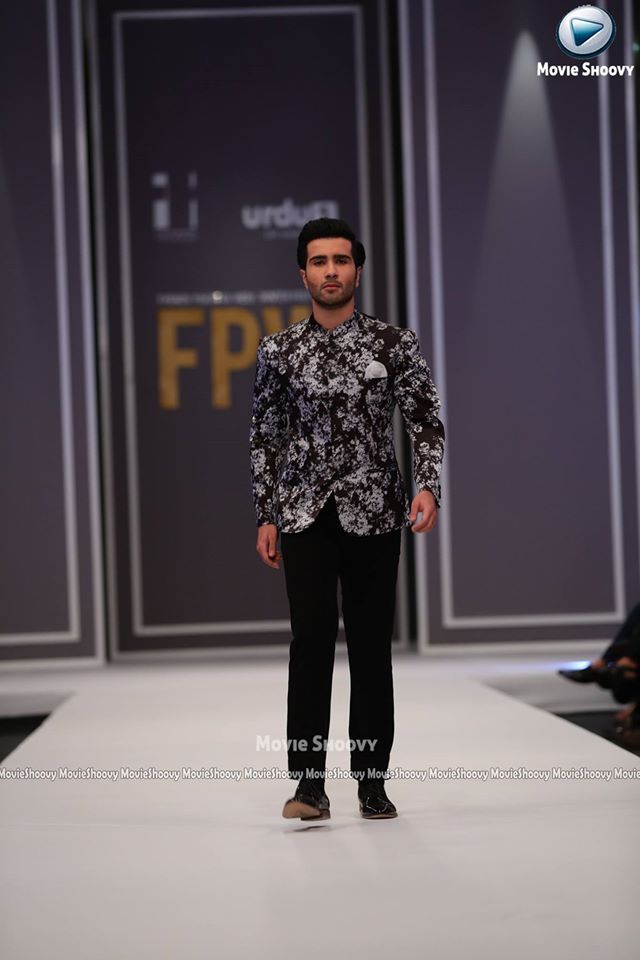 The show opened with Amir Adnan's 'The Way Forward'! The outfits ranged from tuxedos, signature cut jackets, linen shirts and statement ties.
4. Momal Sheikh for Suffuse by Sana Yasir
Donning a gold embellished Saari by Sana Yasir, Moomal was a sight for sore eyes as she walked down the ramp as the showstopper. Suffuse by Sana Yasir's collection 'Freesia' was all about a woman of grace and elegance and Moomal managed to exude that just perfectly!
Which celebrity showstopper did you like the most?
 #FPW2016 Day 2
5. Naveen Waqar & Hania Amir for FnkAsia's 'Midnight Garden'
Huma Adnan gave us not one, but two reasons to adore her collection! Naveen Waqar looked totally ethereal in a red & gold FnkAsia apparel by Huma Adnan, leaving quite and impact while Hania Amir's presence lit up the show!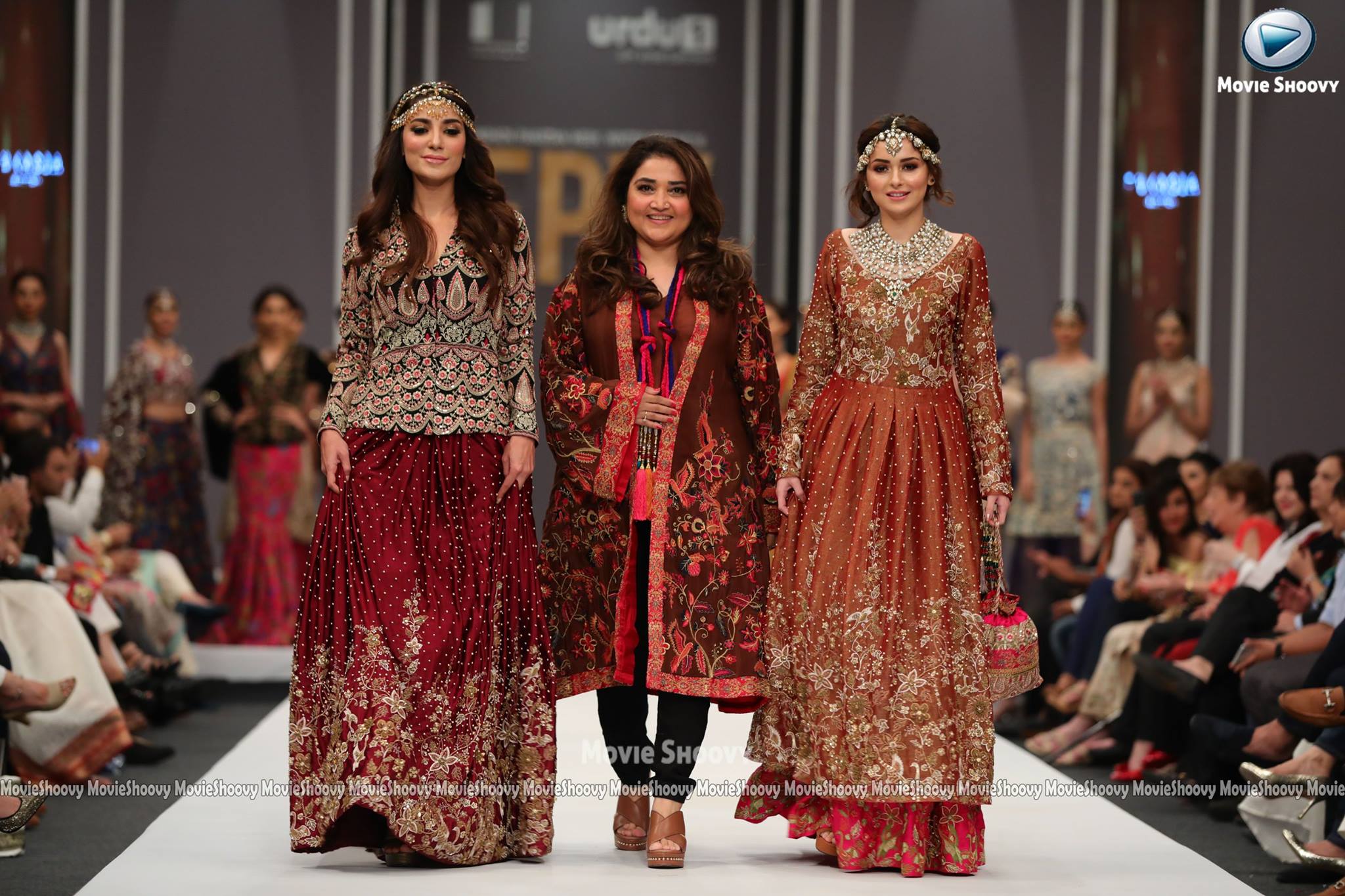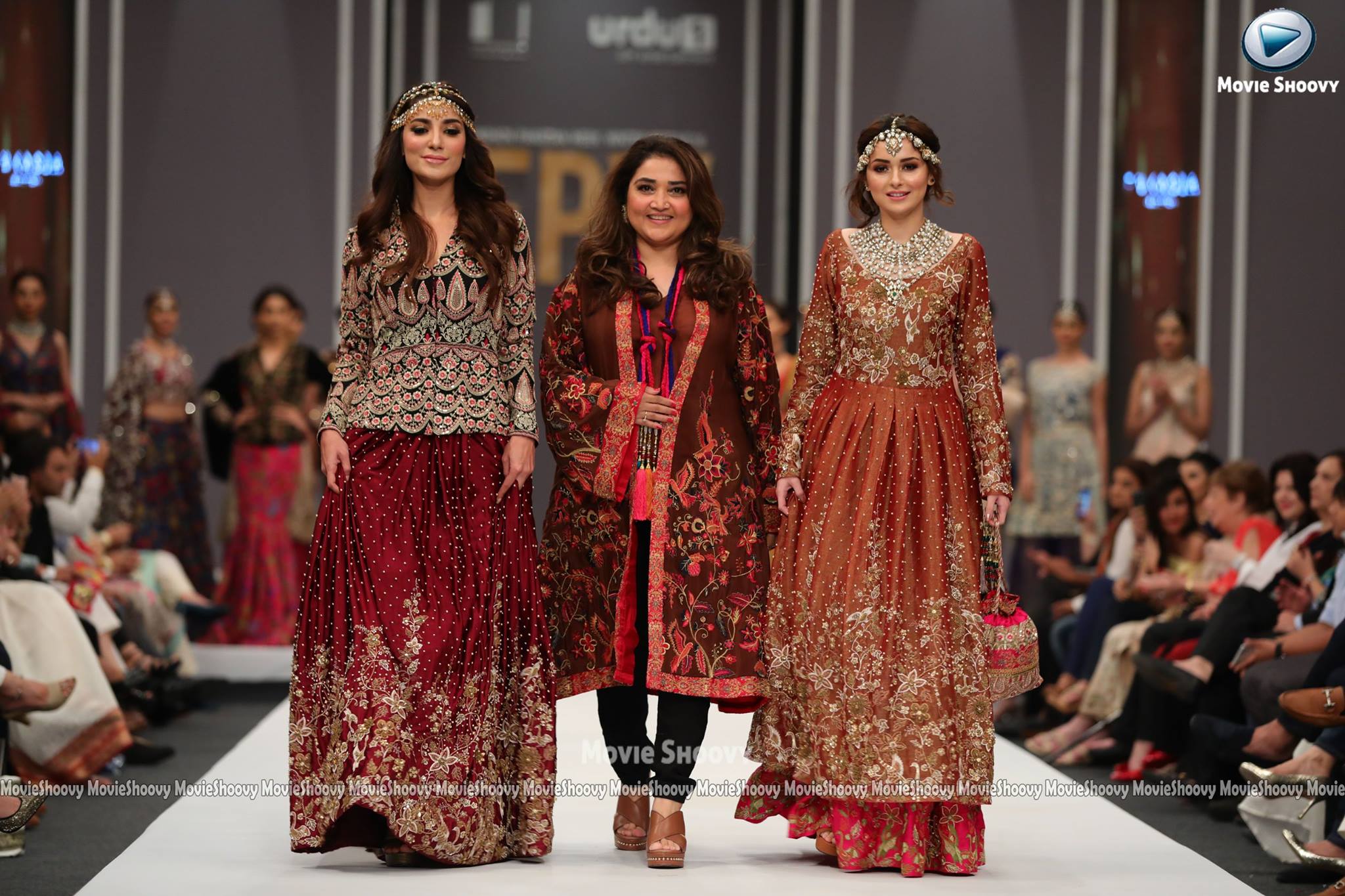 FnkAsia introduced a novel, romantic glamour with their latest bridal collection titled 'Midnight Garden'.
6. Sumbul Iqbal for HEM 'Golden Cage'
The rising, uber gorgeous starlet, Sumbul Iqbal adorned the ramp with her presence- stunning in a silver and gold attire by HEM, the 'girl next door' looked like a diva!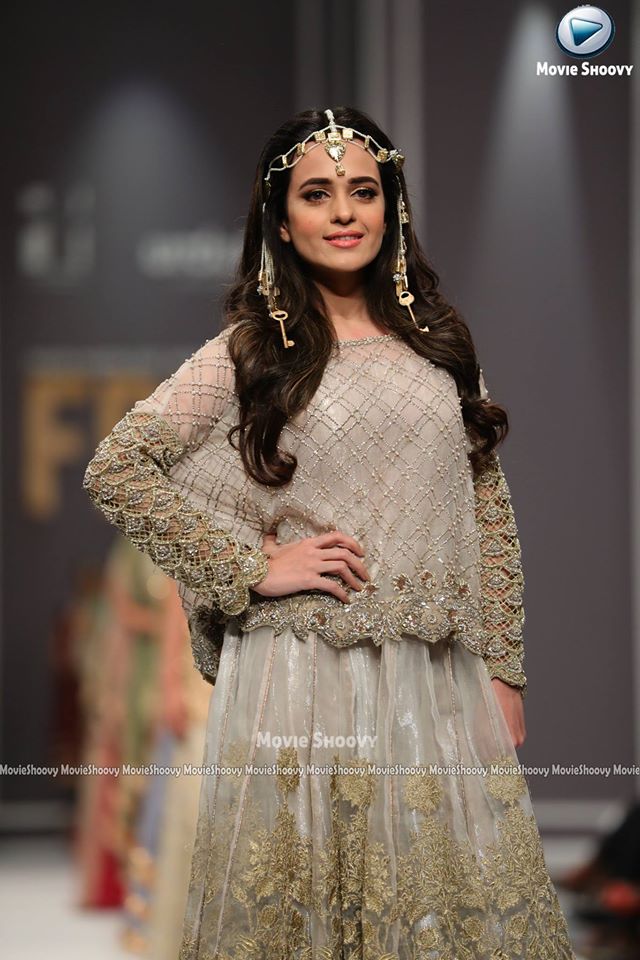 HEM by Sumbul Asif's latest collection Golden Cage, showcased the use of local crafts with an experimental twist comprising of neutral shades for an ethereal feel.
7. Mohib Mirza for Arsalan Iqbal
The handsome and charming hunk, Mohib looked like a total stud in Arsalan Iqbal's all-black sherwani.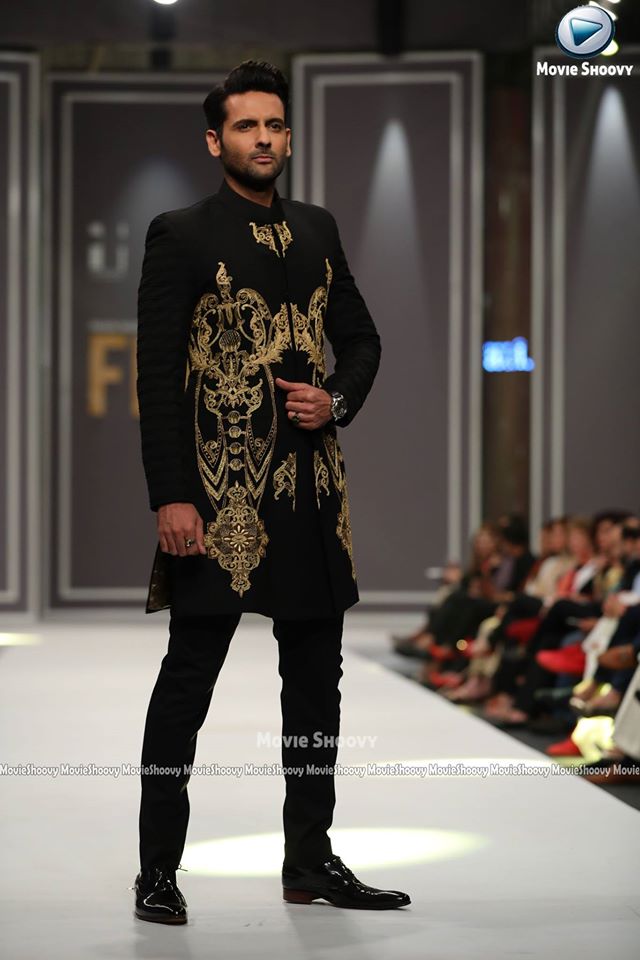 The menswear collection 'Baroque Star' ('Ba-Rock Star) by The House of Arsalan Iqbal was inspired by the grandeur of the 16th century Baroque painting and architecture.
8. Ayesha Khan & Goher Mumtaz for Natasha Kamal
The Mann Mayal stars, Goher & Ayesha were a true vision in Natasha Kamal's white & gold bridal wear collection. Trotting the ramp and gleaming with joy over the applause, the adorable duo melted our hearts away!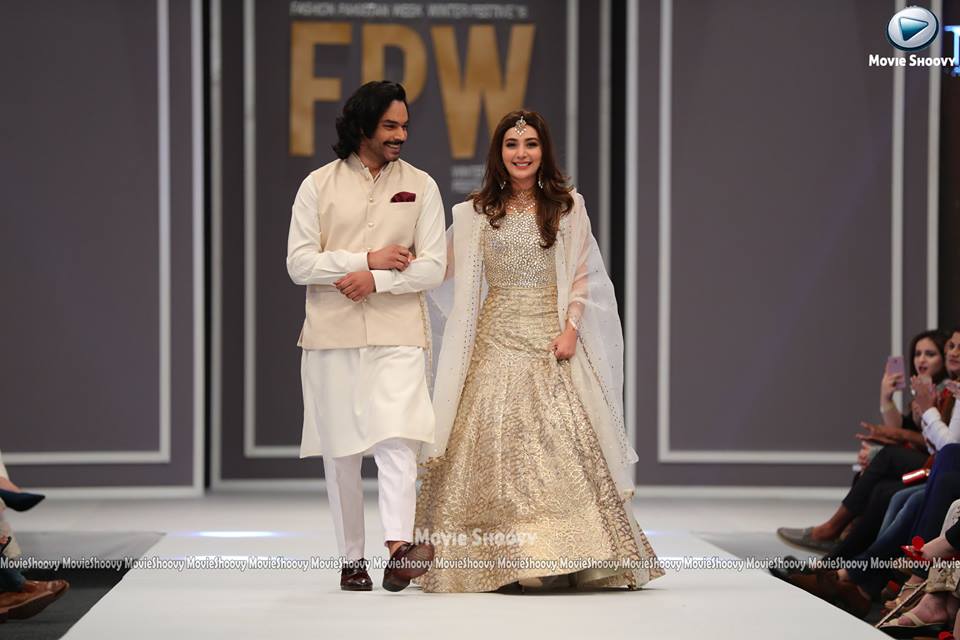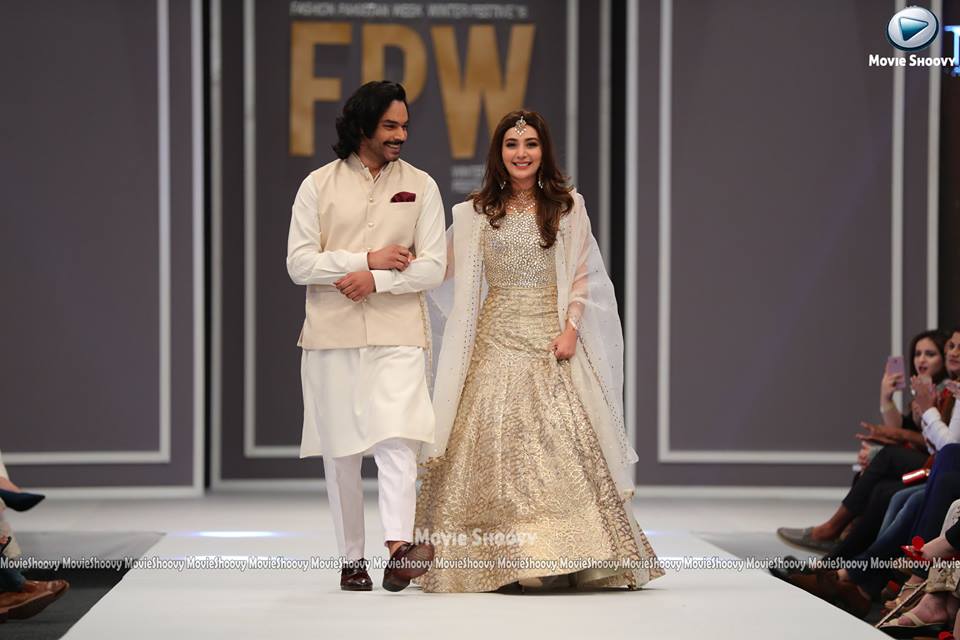 Natasha Kamal's AW16 Couture collection reinterpreted and modernized time-treasured classics. This season Natasha Kamal placed great emphasis on structure and symmetry with soft tailored silhouettes and voluminous skirts.
9. Ayeza Khan for Deepak Parwani
There is no doubt that the Shehrnaaz starlet, Ayeza Khan is everyone's favorite! Admired by all, the gorgeous diva walked for Deepak Perwani on FPW2016 Day 2 and charmed the audiences with her magic. Donning a gold lehenga, Ayeza Khan's bridal avatar was a true vision for the eyes.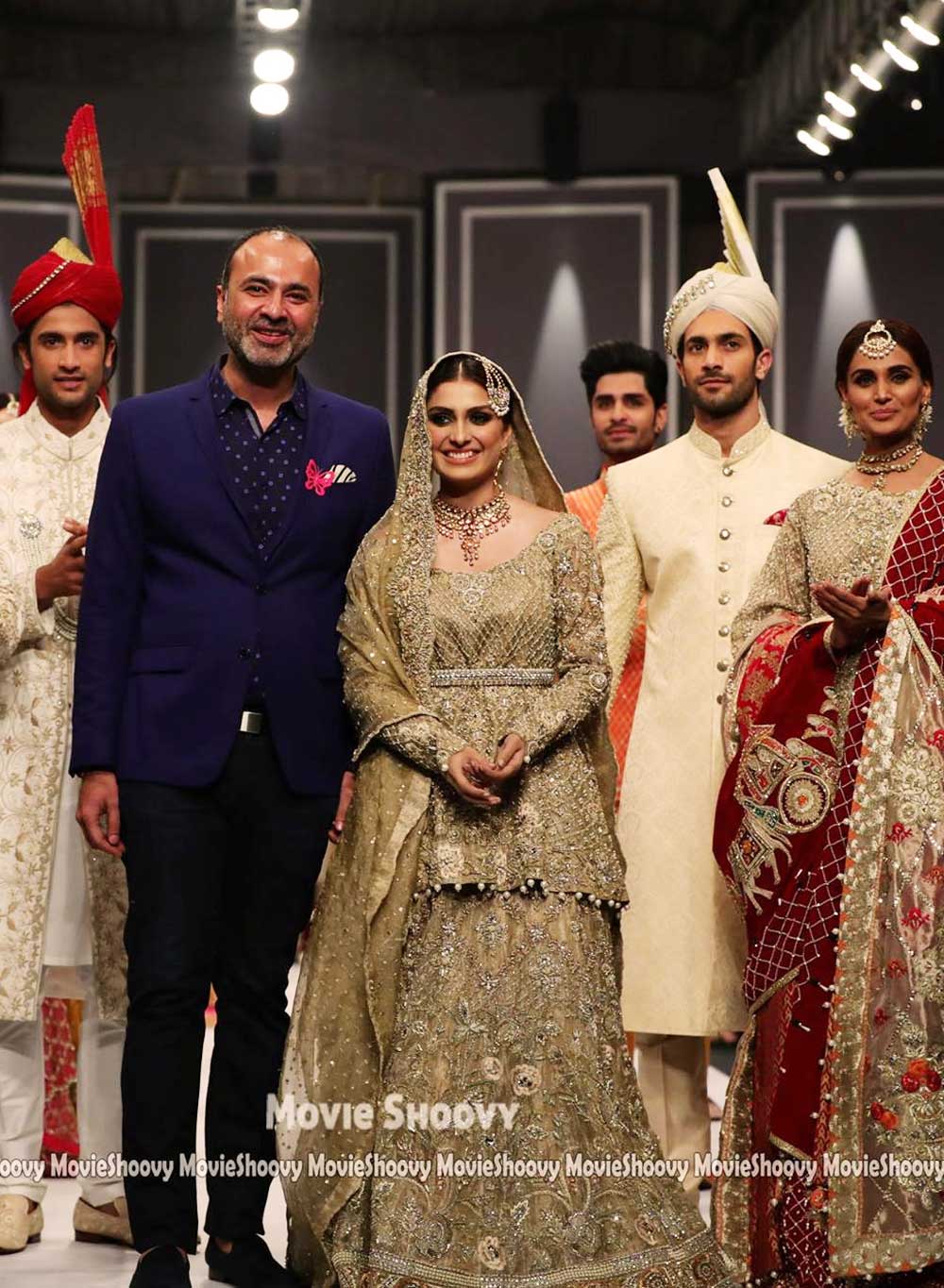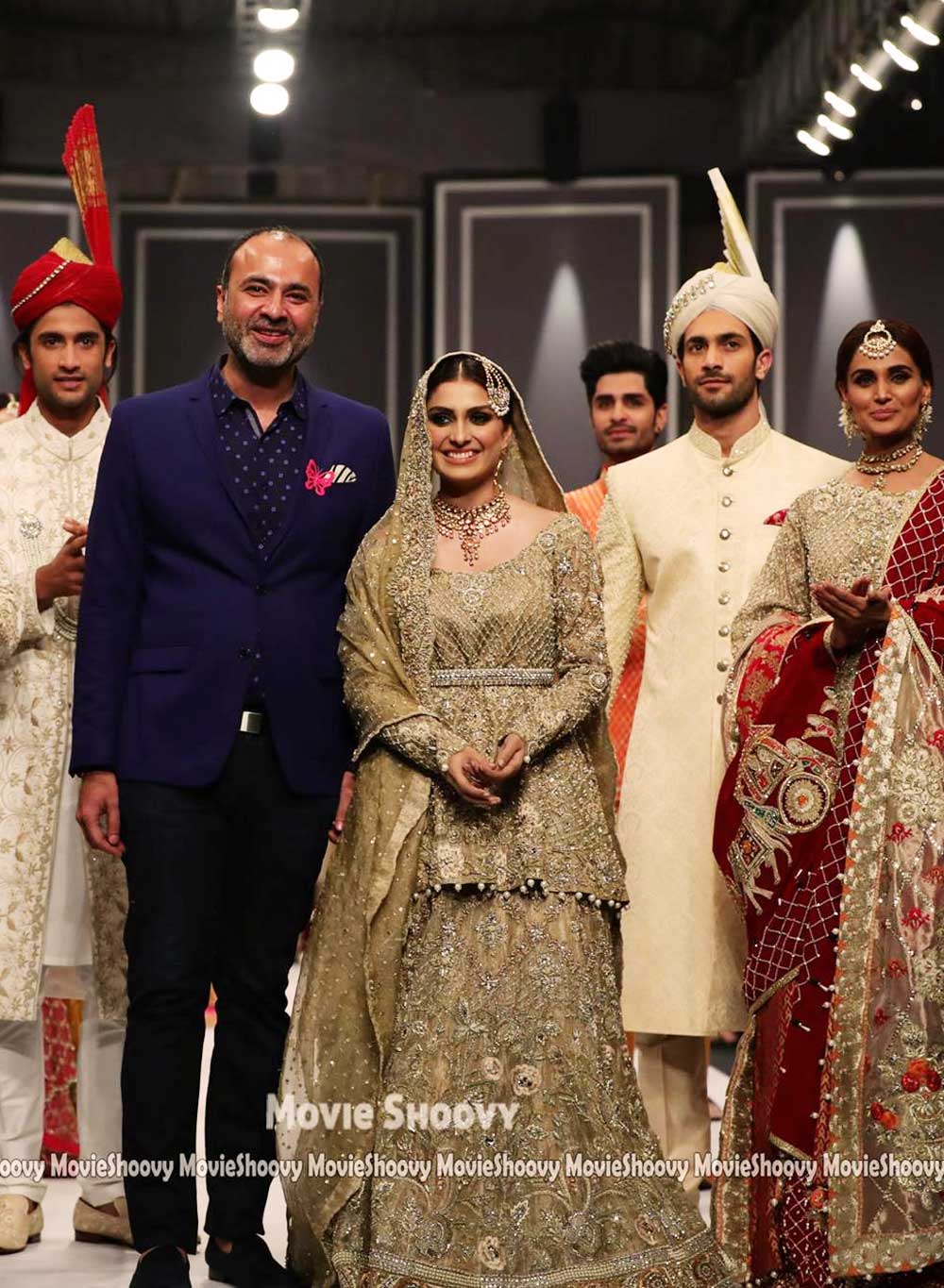 The house of Deepak Perwani presented ISHQ that ook inspiration from the infinite and transformative force of love, which makes one go beyond oneself. The collection took us from the infinite array of colors to the everlasting radiance of gold.
#FPW2016 Day 3
10. Sarwat Gillani & Fahad Mirza for Nauman Arfeen "Rind'ana' Collection
For the first time ever, the pretty couple of Sarwat and Fahad graced the ramp in any fashion show! The looked every inch regal and royal in Nauman Arfeen, complimenting one another in red and gold.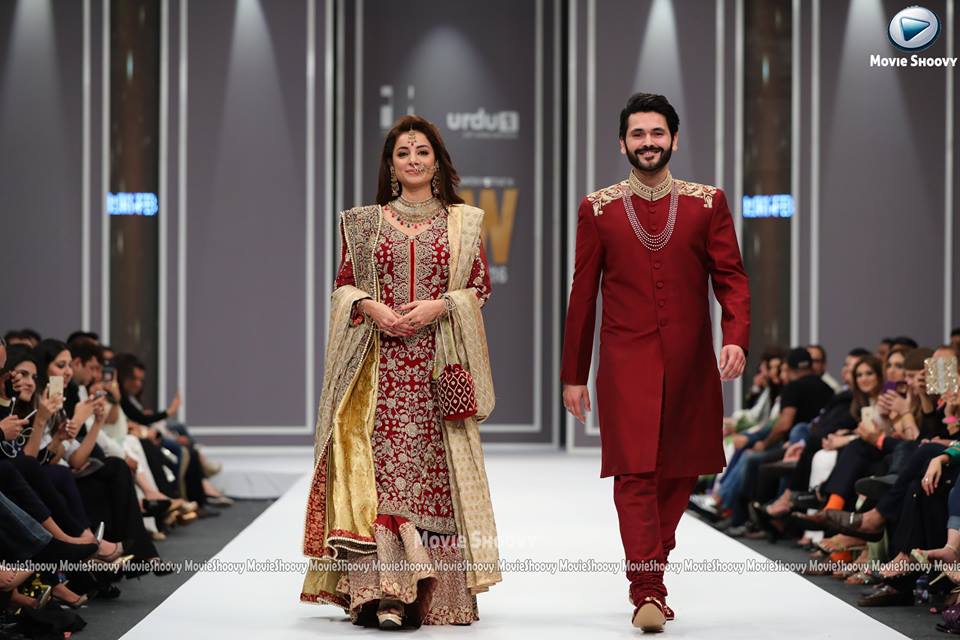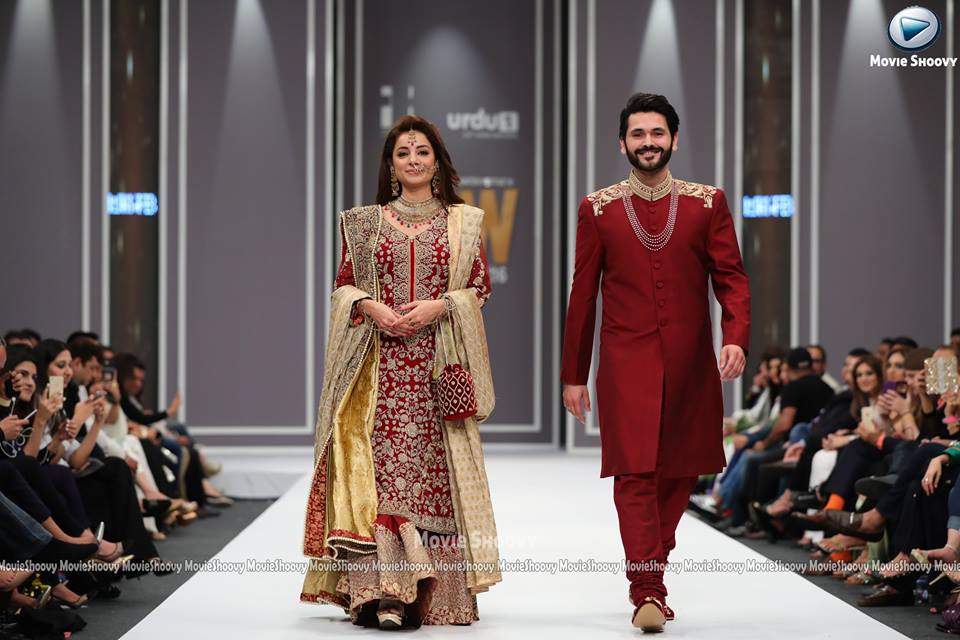 11. Mukhtaran Mai for Rozina Munib
Breaking the norm this time around, Rozina Munib roped in the gang rape survivor Mukhtaran Mai to walk the ramp.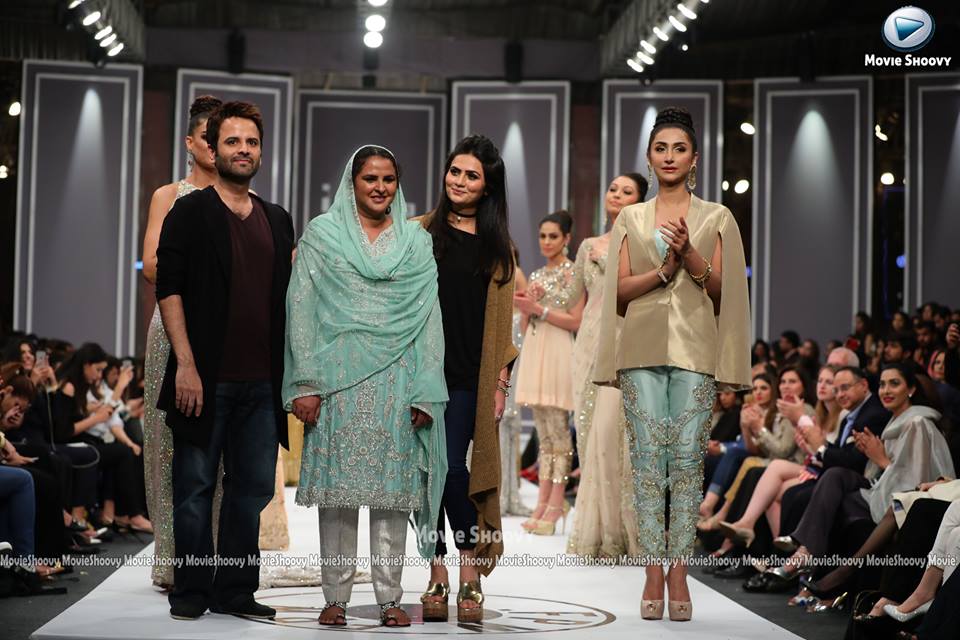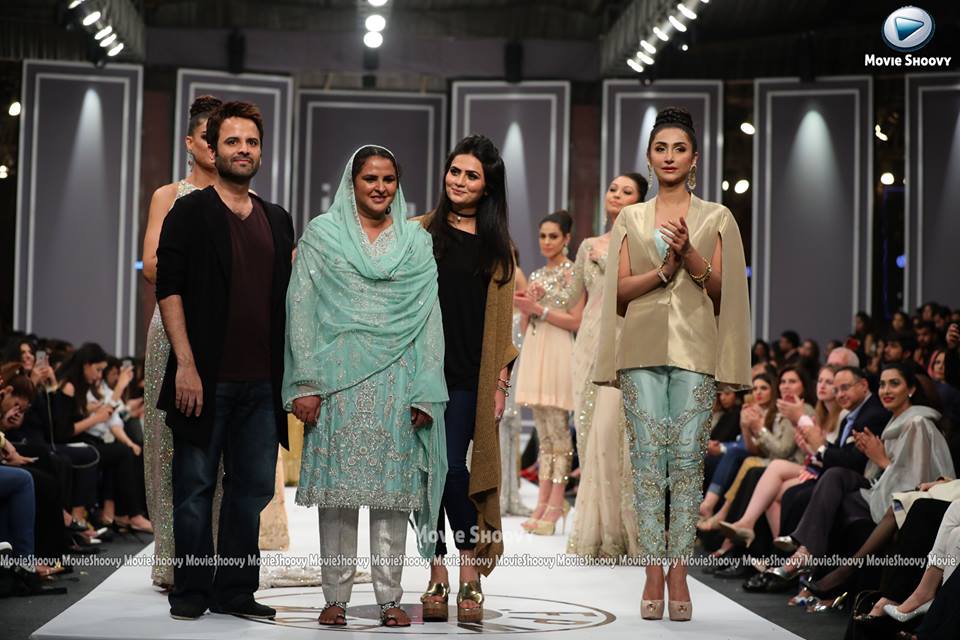 12. Neelum Munir for Saira Rizwan"'Banaras' Collection
The rising starlet, Neelum Munir looked like a vision in red as she flaunted Saira Rizwan's Banaras Bridal Collection. She totally slayed it on the runaway and made the whole crowd go wow!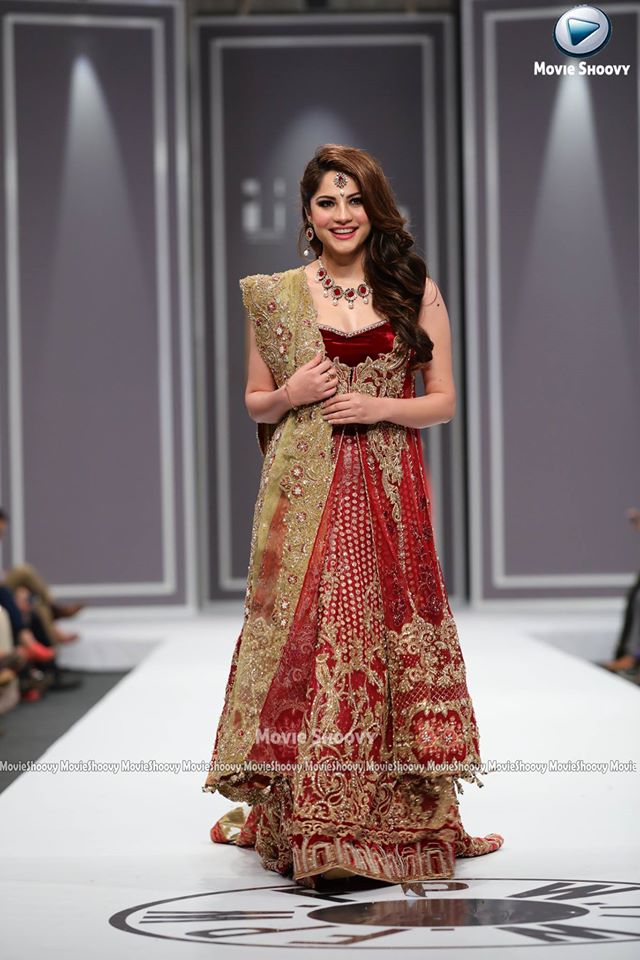 13. Mawra Hocane for Republic Womenswear" Mon Tresor" Collection
The little Hocane stole the show on day 3 of the fashion gala. Showstopping for Republic Womenswear, she sparkled in silver as she  showcased the bridal collection "Mon Tresor".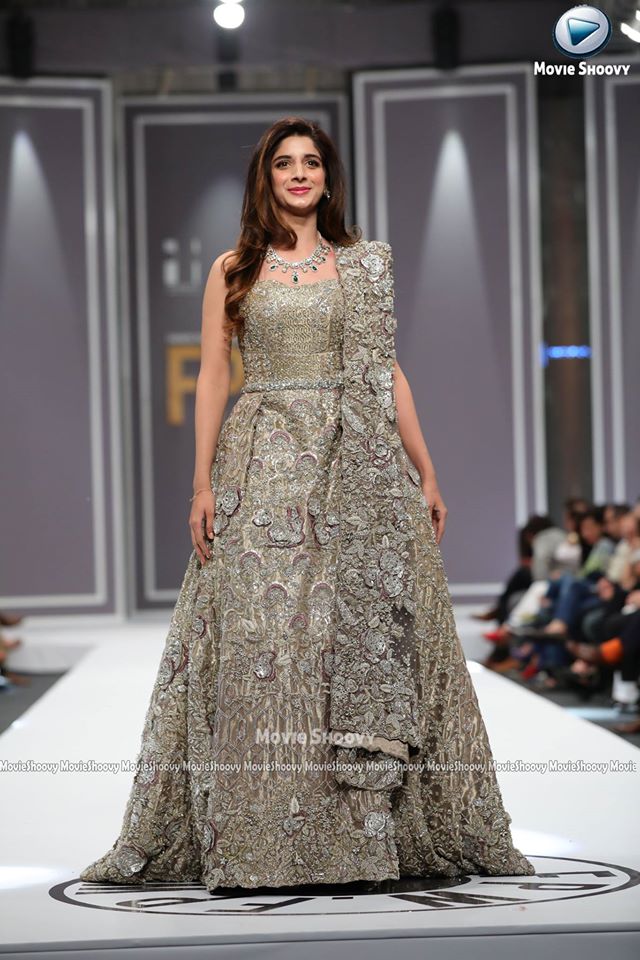 Photo Courtesy: Moovie Shoovy.
Stay tuned to Brandsynario for more news & updates on FPW 2016 Day 3.