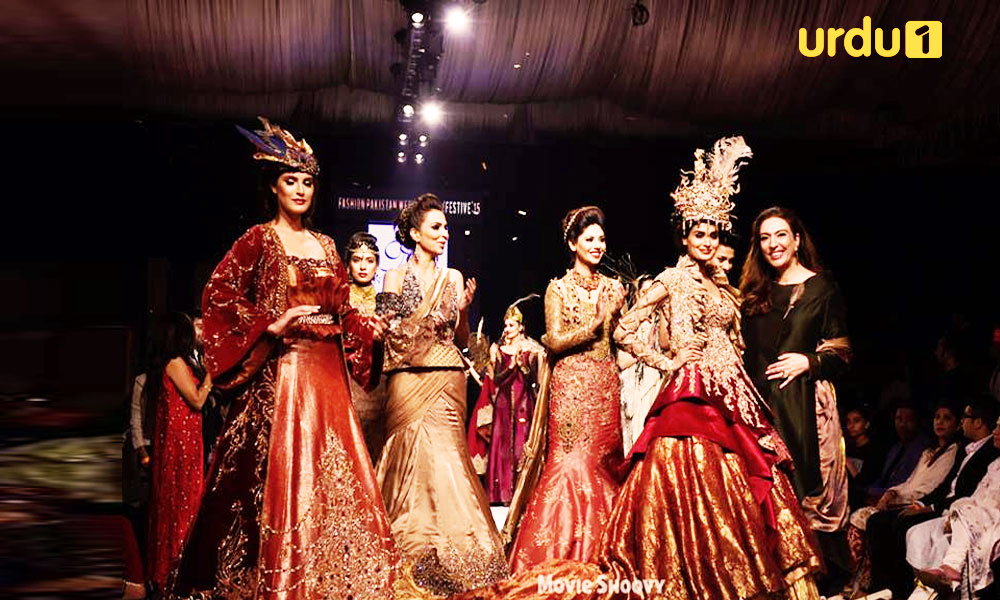 Pakistan's pre-eminent couturier Nilofer Shahid presented her "Rembrandt Collection" as the grand finale to Fashion Pakistan Week [FPW15], Winter / Festive 2015 on Monday, 30th November 2015.
The showcase began with Nilofer introducing the collection in her own words, talking about her creative obsession with Rembrandt and how the grandmaster inspired this sartorial tribute.
"And I? I stand in awe of all that moves in his art; the things seen and those unseen, hidden inside the shadows and light of his paintings, dancing to a rhythm that is his and his alone. I stood there mesmerised, for hours, days, years. Stirred to the depths of my soul. From this obsession, from my own breed of madness, the House of Meeras brings you "Rembrandt"- a tribute to the master."
The show stopper for the "Rembrandt Collection" was Mehreen Syed, stunning in a red-velvet tailed dress, amazing the eyes that saw her!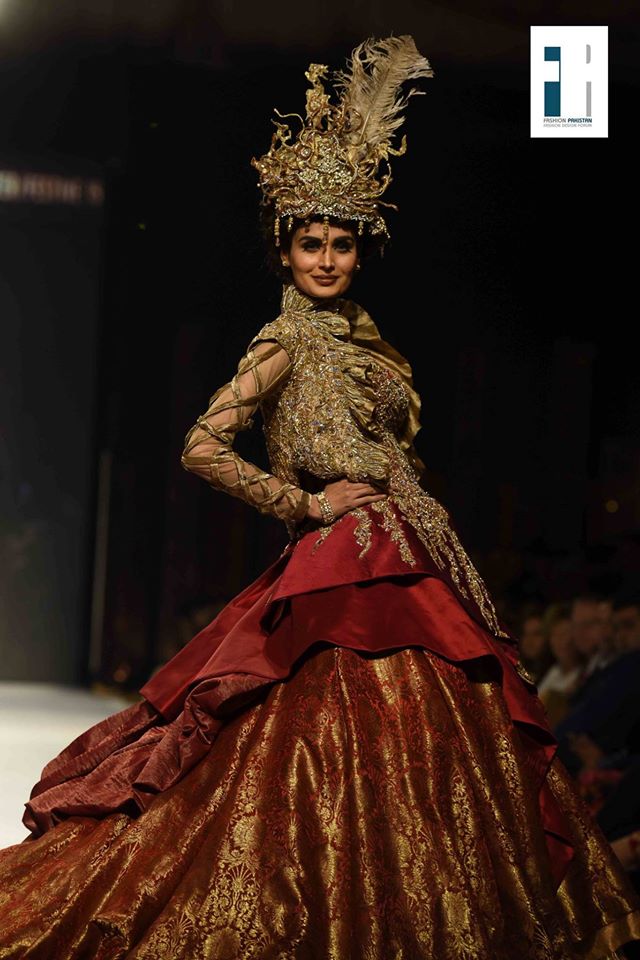 The entire presentation echoed Rembrandt's mastery of light and shadow. The collection consisted on five distinct yet complementary segments, depicting unique stages of Rembrandt's life and artistic career: Etching; Chiaroscuro (light and shadow); Baroque; Military; Melancholy. Garments in each category reflect some of Rembrandt's most celebrated paintings.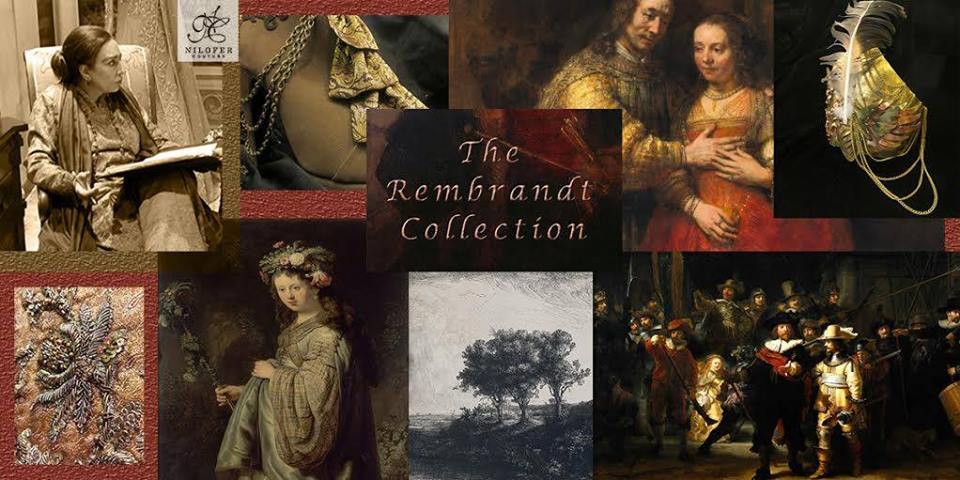 Every dress was a story, treated in layers, never drifting from its artistic dialogue; each dress was a tribute to the artist's devotion and creativity.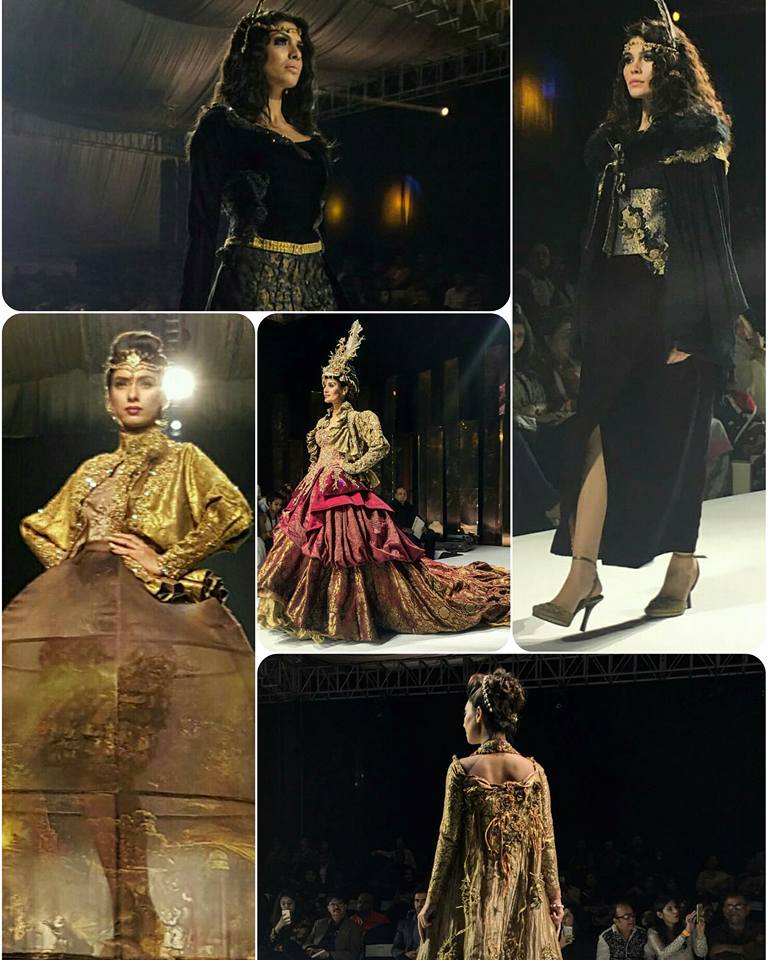 The showcase began with four garments based on his etchings. This segment used digital prints based on his etchings in fluids, draped forms. It was characterized by a lightness of touch in both garment and accessories, creating impact with texure and delicacy.
The Baroque section played with form, structure and embellishment in an opulent manner, combining contemporary and 17th Century elements with verve. The garments featured heavily embellished brocade, velvet, kimkhwab, organza and laces in tones of jade, gold, coral and plum.
Read more: Fashion Pakistan Week 2015 (FPW'15): Shehla Chatoor's 'All The Raj' Collection 
The baroque segued into the military section, featuring outfits inspired by Rembrandt's seminal "Night Watch". Using tones of red, maroon, taupe and brown accented with copper elements, this section included jackets, capes and custom-made ankle-boots.
The finale began with a set of four layered ensembles in sombre black, depicting the personal tragedy in the artist's life. Accents of gold in the layers hint at the grandeur within, reflecting the fact that some of Rembrandt's best work was done at the darkest points of his personal life.
The showstopper emerged from this melancholy: a majestic trailing gown with a corset and embroidered basque. Using layers of brocade, organza, silks and satin in tones of maroon, gold and copper, the gown proclaims Rembrandt's glory as an artist. Nilofer's couture roots were reflected in the emphasis on structure and impeccable detailing. Model Mehreen Syed carried the gown, inspired by Rembrandt's "The Jewish Bride," beautifully.
All of the accessories for the collection were created in-house, including shoes, bags, jewellery and headpieces. Baroque accents included plumes, pearls and genuine semi-precious stones evoking seventeenth-century opulence.
Read more: Fashion Pakistan Week 2015 (FPW'15): Famous Pakistani Celebrities Walk The Ramp
For more information about the collection, and updates on FPW'15, stay tuned to Brandsynario!