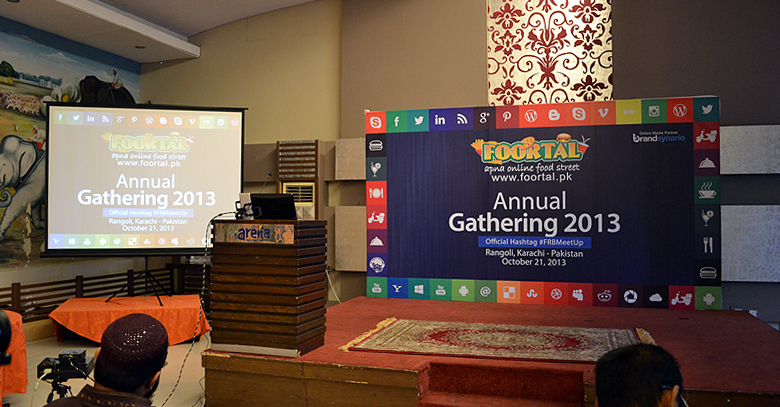 By Ufaq Ashfaque
Online food portal Foortal, positioned to provide deals and meals to satisfy food lovers held its Annual gatheirng to celebrate its success on October 21 at Dareecha Hall, Arena in Karachi.
The event was organized to spread awareness about Foortal's operations, product offerings and future plans amongst food bloggers and even consumers who were invited.
Foortal has been founded by Syed Waqar Hussain Shah who is also the Chief Executive Officer (CEO) of the company and has previously established WaqarTech, an IT consultancy specializing in development, deployment and support services.
Apart from Waqar, Ansar Shah is serving as the Chief Operating Officer (COO) of Foortal.
Talkiing to the bloggers Waqas Hussain discussed the current online food industry. He described the exponential growth that food industry has witnessed within the span of 5-7 years, due to the advent of technology and its rigorous use.
Ansar then gave a detailed description about Foortal and how it works.  He described how the online food portal works, along with the current restaurants that they are in collaboration with.
Important people from the industry such as Mr. Anas Farooqui, Marketing Manager for Lal Qila Restaurant, shared their success stories of being in collaboration with Foortal.
Mr. Ahsan Ahmed, CEO of Domino's Pakistan, also shared his views about the challenges faced by Domino and its revival with their presence online.
Hammad Siddiqui, a career advisor and social media entrepreneur, was invited as a guest speaker. Siddiqui shared his views about the rise of social media and how companies are using this platform to increase their market and reach.
Prizes were also distributed to customers that have had the highest records in terms of purchase.  Their efforts were acknowledged, after which the event concluded with a hi-tea.
After its first successful year of operations in Pakistan, Foortal is planning to expand in international market in future.