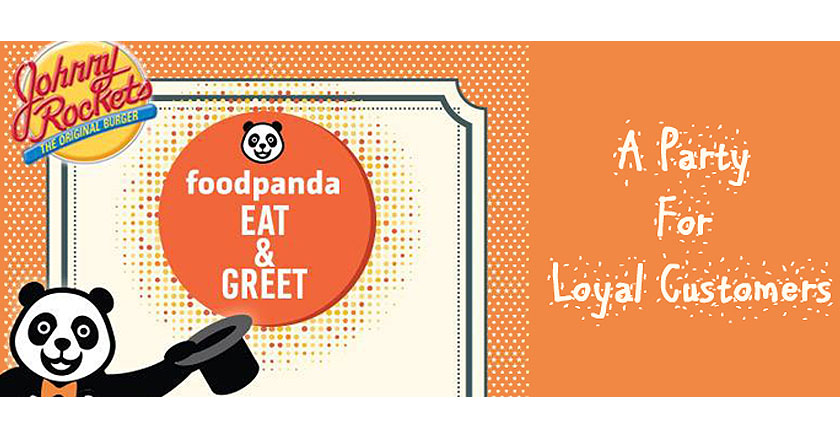 For most brands it's all about engaging and retaining customers. Though, the latter is often the difficult part. A brilliant initiative was recently taken by one of the quickly rising brands of Pakistan to secure its customer's loyalty.
Foodpanda, one of the finest online ordering service providers organized Eat n Greet event at Johnny Rockets, Dolmen Mall Clifton. The event was organized for rewarding foodpanda's most loyal customers for their loyalty to this quickly uprising brand.
Set up under the cozy atmosphere of Johnny Rocket's café, the event was hosted by FM 91's RJ Ayesha Abrar. Have a look at the host chatting with some of the loyal most customers of foodpanda,
After everyone was seated, the event started with a soft introduction by host Ayesha, while the classic jukebox at Johnny Rockets filled the background with light music. Event's very first performance by LOL Walay followed the short introduction; an amazing performance which instantly brought smiles to all the audience faces.
After this amazing performance the event took an interesting turn as the invited customers were called upon the stage for awarding of Loyalty certificates i.e. one by one by foodpanda's Managing Director.
Soon after which, the event was once again taken by another group of entertainers, The Platoon. Leaping up a wave of energy within the audience, The Platoon soon improvised games that engaged audience and united them to play side by side.
As the evening faded away, we were treated to a feast of most amazing 'on the house' burgers of Johnny Rockets, all thanks to foodpanda. With so much to absorb already, the event went towards a fabulous closing as the team foodpanda received warm feedback from the overjoyed audience on their way out.
Kudos to foodpanda for such an amazing event.
Were you or anyone you know a part of this event? Let us know in the comments below.