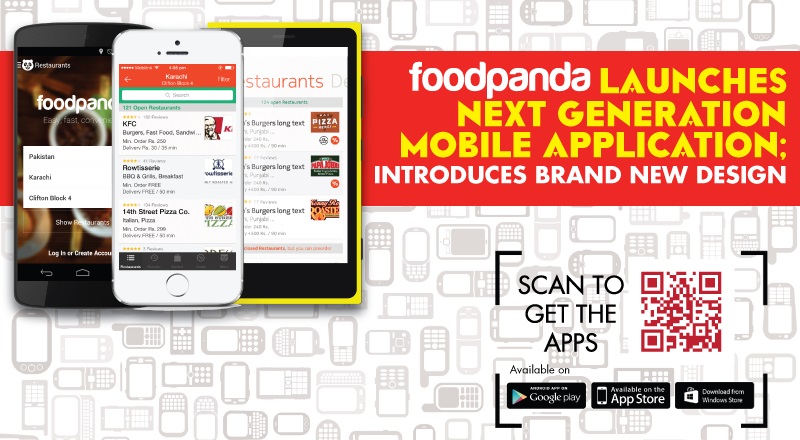 foodpanda, the leading global online food delivery marketplace, released its new generation app earlier this week.
The application has been updated with a brand-new overall design and offers easy access to the menus of more than 30,000 restaurants in more than 40 countries across four continents.
The app was also featured as the best new app on the App Store in thirteen countries including Hong Kong, Indonesia, Malaysia, Philippines, Singapore, Taiwan, Thailand and Vietnam.
Ralf Wenzel, Global Managing Director commented, "The release of our next generation app marks another milestone for foodpanda. We have noticed the immense growth of mobile in all our markets and have used all our experience and knowledge to develop the most convenient food delivery app. The future of food ordering is mobile and we are best positioned to be the clear frontrunner."
In Pakistan, customers can order from more than 450 restaurants in four cities including Karachi, Lahore and Islamabad. 
The mobile application allows customers to see recommended local restaurants and to select from thousands of dishes for delivery and take-away. The menu is integrated with photos of the menu items and restaurants carry customer reviews and ratings to help the users in making their decision.
foodpanda also offers exclusive deals and offers from a large variety of restaurants. Returning users can access their order history and re-order with a taps.
The best feature of the app is to allow users to customize their meals as if they were sitting in the restaurant itself. Customers can choose, replace or add their toppings of choice.
The fully custom-built next generation app demonstrates consistency and convenience across every step of the food ordering process. The User Interface is clear, sharp and undoubtedly more beautiful.
Amin-ur-Rehman, co-founder foodpanda Pakistan said, "We focus relentlessly on our customers' feedback and work hard to meet or even exceed their expectations. The app redesign and overall performance improvement is a direct result of this. The design has been developed and adjusted in order to sharpen and improve the overall experience, and I am confident that our customers will be delighted with this change."
The new app is available on all major mobile platforms: iOS, Android and Windows.