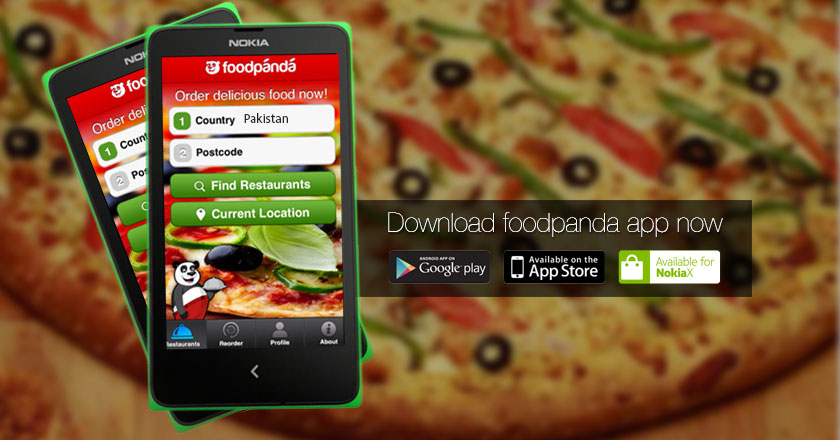 For a nation that thinks about lunch at breakfast table and then argues about dinner at lunch; For people who live to eat rather than eat to live and who can argue for hours over the right amount of chilli in the curry – it's a sheer bliss to have technology meet food in the form of Pakistan's leading food ordering app- foodpanda 
What started as just a website back in 2013 and later arrived to our cell phones as an iOs and Android application, foodpanda is now  the first of its kind of service in the country to utilize technology for food and reach out to its customers.
App Success
In a country where we have only just begun to get a whiff of 3G/4G technology, foodpanda already enjoys a lion share of the online food ordering industry via mobile covering more than 65% of their daily customer orders.
In Q1 2014, more than 15000+ food orders from foodpanda Pakistan came through mobile devices.
The number of Smartphone users in the country has set to double between 2014 and 2016, from 15-20% to 40% by next year. The foodpanda App has reigned over iOS app store for more than six months.
It is configured with intelligent user tracking, integrated menus and push notification system to keep a user updated with new restaurant choices and flash deals on the go.
According to Amin ur Rehman, Co-founder – foodpanda, "Generally, app customers are more loyal and we see much better repeat rates from mobile customers. This changes the whole ball game! Payback on every marketing dollar spent, will come back to us much faster in the case of a mobile customer." 
We made quality of service our prime focus since the day we started working on the business plan, because I believe that service and product are not mutually exclusive", said Amin ur Rehman.
The foodpanda app is a part of a major 'Mobile First' strategy, and is a direct result of the foodpanda Innovation Lab.  The App has seen excellent reviews in the AppStore and on Google Play, and boasts an impressive intelligent algorithm. Currently, foodpanda App is ranked#1 in Apple appstore in food category.
"Ordering from a menu on a smartphone can be fiddly but with our 'online-ordering' UX/UI there's no more flip flopping back and forth, you can just add items right there on the menu while browsing the latest deals" explained Furrukh Jaffer, Head of Marketing at foodpanda Pakistan
foodpanda, launched in Singapore 2012, is headquartered in Berlin. The company is now active in more than 40 markets in Europe, Latin America, Middle East, Africa and Asia. Pakistan is in the top 5 leading markets in foodpanda portfolio.