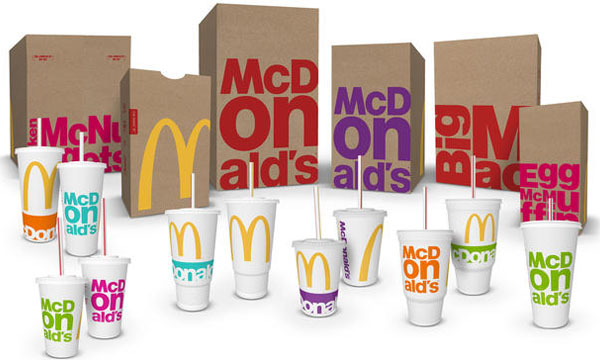 The fast-paced world requires constant updates. Whether they are for social media apps, our electronic gadgets or just about anything, our lives always seek a change for the better. Therefore keeping in mind this need for something new, McDonald's too, has developed a new line of packaging to stay abreast with the modern times.
The cool new packaging has been designed in lieu of the global vision of modernity. Here are five facts you should know about McDonald's New Packaging.
1) Fresh Bold Design
The new design has been developed to give a fresh, bold and elegant feel to the brand image. The clean and sharp colors represent the sleek and futuristic trends that are currently very popular.
2) McDonald's New Packaging designed by Leading Agencies
McDonald's New Packaging has been designed by the top artists at its leading advertising agencies from around the world, namely Leo Burnett Germany, TBWA U.S., DDB Hong Kong, Creata Australia, Boxer UK and Landini Australia.

3) Recycled Material
The Packaging has been made using recycling materials that have been procured from certified sources.
4) Interesting Names for Colors
The designs include colors with really interesting names like Passionate Purple, Optimistic Orange, Ocean Fresh Blue, Zesty Lime and Magical Magenta along with McDonald's signature yellow and red.
5) McDonald's New Packaging Introduced across the world
The new Packaging was first introduced in United States in January. After its success has been launched in the rest 119 countries. The packaging has rolled out in Pakistan since the beginning of August.
Speaking about the innovation, Mr. Jamil Mughal Director Marketing and Development, commented, "McDonald's is a brand that does not shy away from trying innovative ideas. This holds true for every part of our business, from our food to our sourcing and now to our packaging. We serve millions of customers in the region, and our packaging is the one thing that virtually connects with every customer. The new packaging serves as a moving billboard, and we want our consumers to feel good carrying it."