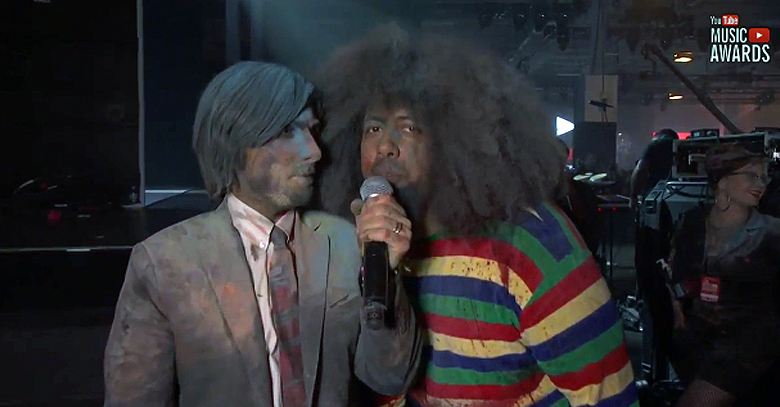 YouTube hosted its first LIVE music awards last night which was live streamed over the internet worldwide. Although the effort was much appreciated, a good amount of expectations remained unfulfilled.
As Pakistanis, for obvious reasons, missed out on the entire award show, YouTube did not have anything extra-ordinary to share with the rest of the world, either.
The YouTube Music Awards were indeed fun to watch with all its mayhem and creativity which one would never see on television. What was noticeable throughout the show was the cringe-worthy production where everything seemed ready to fall apart.
The show can be considered anything but boring, which is a huge improvement on the multi-hour Grammys. It also didn't run gags into the ground like the MTV Video Music Awards.
YouTube Music Awards (YMA)s maintained most of its content 'less organized' in order to give out that homemade feel that the world's biggest video hosting website is renowned for. The hosts, Schwartzman and Watts, 'were trying hard to be funny' and the interludes were noticeably rough around the edges.
When others continue to criticise the show for focusing on major label musicians rather than the stars that made their names on YouTube itself, others labeled the professional's performance a bit rusty.
Sterling did win an award and perform, and Destorm, another YouTube celeb also took home a play button statue, but it was the radio stars that got the top slots.
The show saw a massive spike in its viewing when Lady Gaga came on to perform, but nothing noticeable after that. The numbers hovered around the 175,000 total viewers' mark.
The biggest problem of the show remained to be that it lacked that must-see and must-tweet moment that almost came but never really did. No Britney-Madonna kiss, no Kim Kardashian or Kanye West controversy and (thankfully) no Miley Cyrus performance.
Who would know better than YouTube, how to pull-off numbers and views? Unfortunately for them there was nothing blog or tweet worthy.
Famous for demanding 'progress' instead of more pursued 'perfection', Google would not be unhappy with YMA's performance last night. It is the television fraternity that would be unhappy, because apparently they have Google heading there way now.