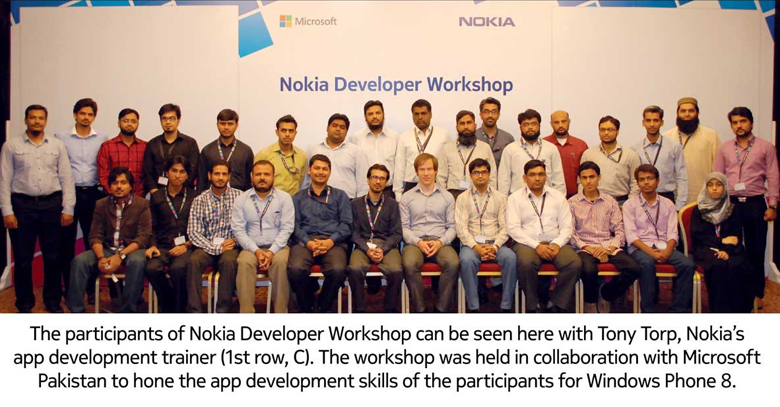 By Tooba Zaheer Shaikh
Nokia Pakistan collaborated with Microsoft Pakistan to conduct the first ever workshop on App Development for Windows Phone 8 at Sheraton Hotel Karachi on 9 April 2013. Local app developers and students were invited to increase coordination between the two communities.
Windows Phone 8 is high in demand, especially after the launch of Nokia's Lumia series. Nokia Pakistan organized the workshop with the help of local developers. Tony Torp, Nokia's external trainer flew from Finland to share his experience and expertise on WP8 platform. Local developers expressed phenomenal interest in the workshop, which shows that the developers are looking forward to being part of the WP8 enrichment process.
Rabia Nizami , area head DX, Nokia Pakistan expressed that since consumers are moving on to smartphones and are looking for personalized experiences, the local developer community has been keeping up with the changing trend. She further said that Nokia Pakistan has just provided the local talent a chance to train for WP8 app development, which is possible due to Nokia's association with Microsoft Pakistan.
Haseeb Shaukat, marketing and communication lead, Microsoft Pakistan said that the workshop proved to be a great platform to channelize the local talent and train them to develop apps for WP8. He was hopeful that the collaboration with Nokia Pakistan will prove beneficial for both the organizations and help them progress together. He also expressed interest in such ventures again in future.