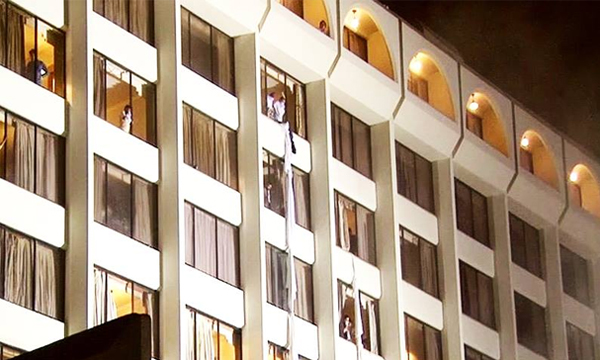 140 views
A massive fire erupted at the Regent Plaza Hotel Karachi early Monday morning, killing 11 people and injuring more than 30, reports Dawn News.
Located on Karachi's Shahrah-e-Faisal, the fire broke out in the kitchen of Regent Plaza and spread wildly across the entire hotel, leaving hundreds of guests in the hotel completely trapped.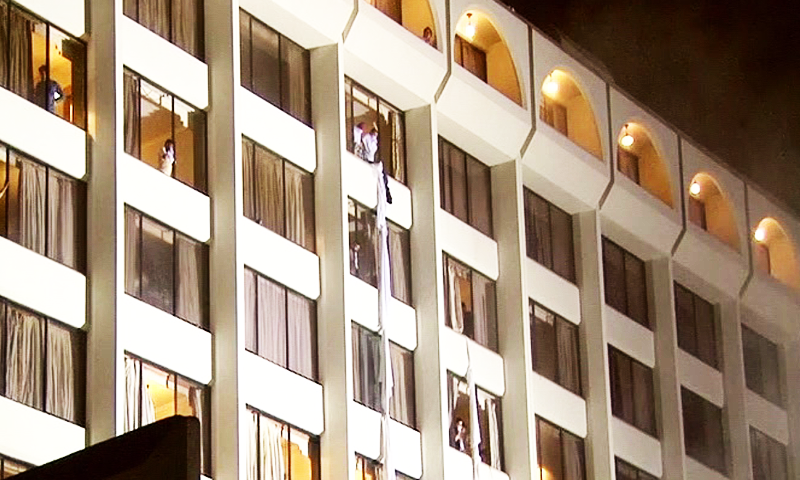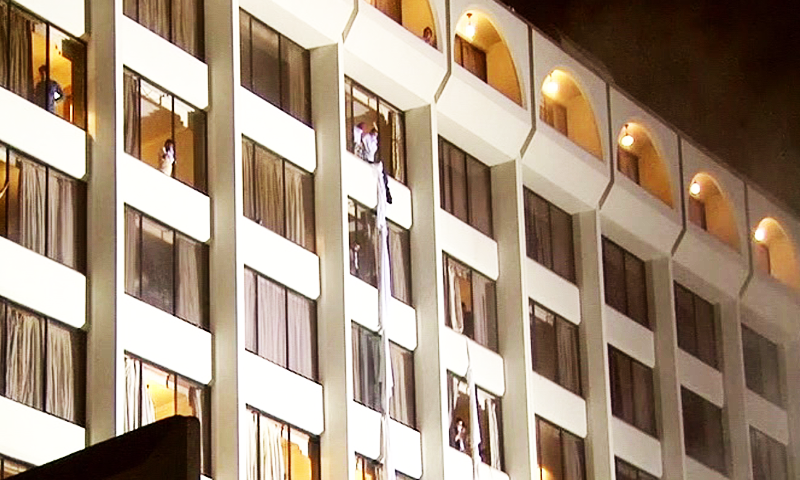 Some people used bed sheets to climb down from the window; most were injured due to fractured bones and broken glass.
As Dawn news reports, 3 fire brigade trucks reached the site and rescued many Regent Plaza guests.  The fire came under control after 3 hours, killing 11 people.
While speaking to the media, Mayor of Karachi Waseem Akhtar said that the cause of fire cannot be determined immediately.
"There were no fire alarms or fire exits in the hotel," said Waseem Akhtar.
"We have received 11 dead bodies and 75 injured," Head of emergency services at the Jinnah Postgraduate Medical Centre, Dr Seemin Jamali said.
Many of the people suffered due to suffocation and smoke inhalation, she said. Out of the 11 dead, 6 were men, 3 were doctors and the front desk manager along with 5 women. 3 foreigners were also affected by the fire, but are now stable.
Over 70 are still under treatment at the hospital. According to Faisal Edhi, most of the foreigners were unable to understand Urdu that caused hindrance during the rescue operation.
Chief Minister Sindh Murad Ali Shah also took notice of the incident and has demanded Commissioner Karachi for a report over the incident.
Additional IG Karachi Mushtar Mehar stated that SSP and his team has begun investigation into the fire- forensic evidence has been gathered from the hotel.
Once a report on the matter is released, a case will be filed. Many of the buildings in Pakistan do not meet safety standards to avoid hazardous situations.
A man in the balcony kept waving for help but there hotel couldn't reach him. Hamid Ali, a survivor said that the guests were all asleep when the fire erupted.
This is a developing story, stay tuned!