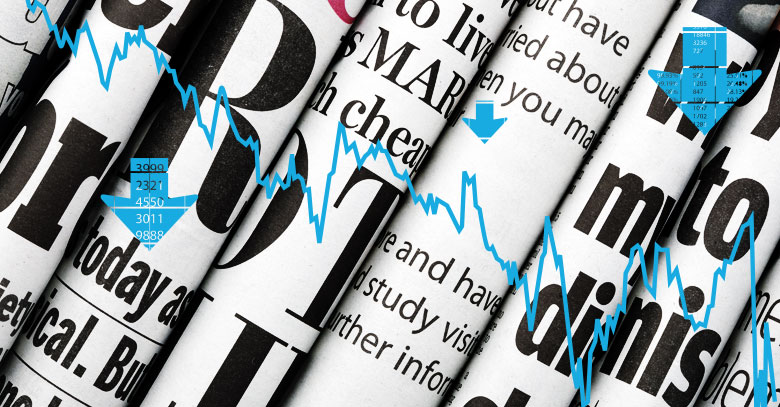 What do you call – "A periodic publication that contains news about current affairs, contains informative articles, diverse features, columns for mass enlightenment (rarely) and decorated with advertisement?"
For as far back as the early 17th century, the above mentioned definition could only define a Newspaper, however in this modern age, you remove the word 'publication' and the definition might as well be of a Radio channel, a Television channel, a certain category of mobile phone applications or an online journal like the one you are reading – an educational and eloquently written article.
According to Statista, till 2007 there were 6,580 Newspapers in the world selling 395 million copies per day, a figure that has gone down substantially ever since. One does not need to be a theoretical physicist to observe the obvious preference of electronic media over Newspaper. In fact almost all of the famous Newspapers now have either an electronic or digital representative in the form of websites or independent news channels.
Pew Research Centre has conducted a research on the major reasons and aspects that everyone seems to be missing about the decline of Newspaper and the rise of Internet as a source of national and international news. The research is specific to the United States market.
The research divides the new source into Newspaper, Radio, Television and Internet and examines the development of their preference with different age groups, in the last 13 years.
 US Newspaper
This primeval source of news has had a rather steady curve since 2001, in the age group ranging from 18-29. Newspaper has always been their second least chosen source. For the age group of 30-49, Newspaper has seen a visible decline from second least to the least preferred source of news for the last couple of years.
For people between 50-64 years of age, Newspaper has maintained a sturdy stand above Radio and Internet, placing itself on the number two in preference, again until 2011 when it dipped below Internet.
However, It is the age group of '65 and above' that has always been loyal to Newspapers, not only keeping the relic relevant but also their second most preferred source since 2001.
 US Radio
Radio has always been least preferred as a source of news, by all the age groups. Except for the people between 30-49 years of age as they are the only ones who have recently started to collectively prefer Radio over Newspaper, in the last year, thus making it the second least preferred source in all the four mediums.
The age group of 65 and above had Radio placed as the third preference after Television and Newspaper for almost 10 years. Even for them Radio has dropped to the last spot in the last three years as a major source for news.
 US Internet
Contrary to popular belief, Internet does not sweep away the competition. Other than being the most preferred source of News for people between 18-29 years of age for almost last 6 years, Internet has always held a second or third position for all age groups.
For people between 30-49 years of age, preference of this source for news has grown sharply. Being the least preferred in 2001, Internet shared the position with Television as the most preferred in 2013 and it is currently on a rising trend in this age bracket.
For the past two years, people falling in age group between 50-64 years have started to prefer Internet over Newspaper. On the other hand, people aging 65 years or more are hesitant towards Internet however it has recently managed to climb up in preference, slightly surpassing Radio.
 US Television
Hence the argument so far has implied a singular notion; it has always been Television, the underdog of all electronic medium that has single handedly made Newspapers obsolete as a source for news. The only exception is the age group of 18-29, that, in the last couple of years, have started to prefer Internet the most. Therefore, it is Television and not Newspaper or Internet, which is the most preferred medium of National and International news for all age groups.
Mr. Sibghatullah Hussaini, CEO of Dynamic Research, further gave light to the US research saying, "Television is the main source (for gathering news) except for the 18-29 years group where Internet is the main source and it is also catching up in 30-49 years age group as well," 
This implies not only that Newspaper will soon be reduced to just a relic of the past, but also that Television is the reason of Newspaper's decline and not the Internet. However Internet is indeed catching up sharply to the present-day number one. Furthermore, although these trends are specific to the US market but it would not be surprising to witness a global following on this trend.