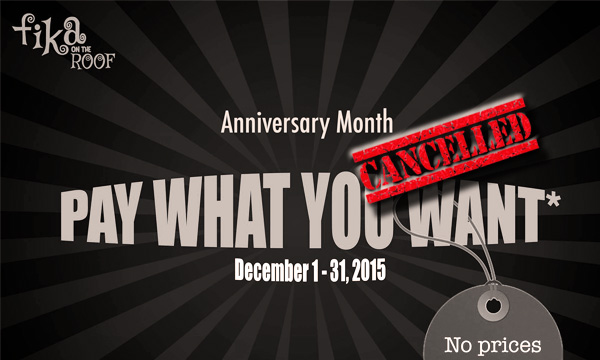 A restaurant located in Karachi's Clifton area called off the offer "Pay What You Want." Fika on the Roof introduced an exciting PWYW offer for its customers on account of their first anniversary. The Pay What You Want offer kicked off from December 1, 2015 and was scheduled to be up for one month but the café called it off yesterday, in just eight days, following the "misinterpretation" of the concept.
Here is the post below:
[fb_embed_post href="https://www.facebook.com/FikaCafeKarachi/photos/pb.350634188435077.-2207520000.1449557820./522317687933392/?type=3/" width="550″/]
[fb_embed_post href="https://www.facebook.com/FikaCafeKarachi/posts/524790634352764/" width="550″/]
The eatery in its Facebook posts clarified that the unique promotional offer was a huge flop. It was a social experiment done to tip the scale in favor of the dinners but the customers misinterpreted it and thought that the restaurant is offering free meals. They exploited the offer to the fullest.
[fb_embed_post href="https://www.facebook.com/FikaCafeKarachi/posts/524829147682246/" width="550″/]
The management of Fika explains:
"Unfortunately, this social experiment was not very successful with patrons assuming we were offering free meals. Our aim was to tweak our meals, ambience and service according to what our patrons paid and to make up for any shortcomings. As this experiment was completely misinterpreted and has taken a negative turn on social media, we regret to discontinue this offer till we feel the market is ready for it, if ever. We thank you for your patronage and cooperation."
The concept of PWYW, the first of its kind in Pakistan was introduced by Fika on the Roof so the customers can enjoy it and pay according to their experience.
[fb_embed_post href="https://www.facebook.com/FikaCafeKarachi/posts/523175207847640/" width="550″/]
The restaurant, while introducing this offer, advised the customers to: "pay a fair value, don't misuse it, don't waste food by ordering everything all together as you can always order again – we won't stop you from doing so. As put in by Neville, it's Integrity and Value for Money going together. Order and eat and pay according to your dining experience."
Customers flooded to their Facebook page with both good and bad reviews. While some appreciated the offer, others complain about the bad food quality, rude behavior of staff and forcing the customers to pay competitively. Here are some comments by Fika's customers:
"Interesting concept in vogue in many developed cities of the world. You should serve your regular menu with actual prices and can then evaluate how contented the customer is . Customers can gauge the value and compare what it is priced at and you get to know if they are willing to pay more. One thing goes without doubt is that this is a bold step and you sure are confident of the quality ambiance and service. As a potential customer there are so many dine out places on the list but have to confess will have to jump the list and try out Fika sometime soon."
"I don't get it really. Why would anyone bother to visit the place and rip them off. Majority are not muftas! I have gone through the reviews and the food seems to be pretty unbalanced.. Have not tried yet so cannot really say… But I know I ain't no saint… So if I order a steak and it's tasteless don't expect me to pay much for it no matter how much it cost. For me pay what you want is to do with taste of the food not quantity… Further rude waiters? Advocating what the customer should pay or never to visit the restaurant? Don't know if people are cheap or not but the eatery sure ain't exhibiting class…"
"Our society will always perform at a new ethical low. Taking advantage of a system at the drop of a hat. I'm saddened by the our ability to cheat and not act out ethical best."
"First of all this was a brilliant try , very few restaurants would try such things , so hats off for the TRY , but I think every one knew what was coming specially in our environment …. U cant complain. This was bound to happen"
What do you think of this post? Let us know in the comments below!