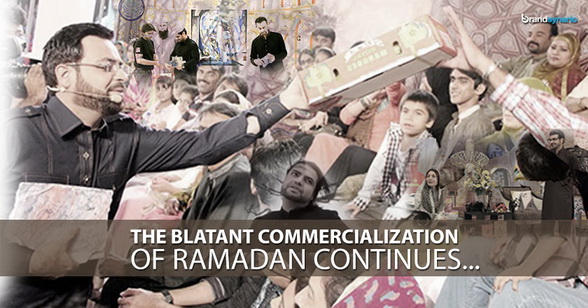 By Tanzeel Hassan
Something has changed in Ramadan during the past five years – have you noticed that?
The prices, sehri and iftari trends, Ramadan advertisements and above all our source of entertainment – thanks to the special Ramadan transmission aired on almost every channel in Pakistan. 
A few years ago, Geo TV network came up with a phenomenal idea 'Aalim Online' which kick started the trend of Ramadan Transmission. The show, hosted then by the very sane Aamir Liaquat Hussain, a young, beardless man at the time, revolutionized the way religious programming was conducted on television channels. 
Streams of questions were gushed towards religious scholars of different sects and they were very patiently and intellectually answered by them. It was a true source of information. I, myself, have gotten the solutions to many problems that I was hesitant to share with anyone.
The show broke many records and laid the foundation of PRTL (Pakistan Ramadan Transmission League). 
Fast forward to today, every channel in Pakistan is taking part in this league, hoping to gain maximum profits from this new form of entertainment. They bet heavily on their team, captain (the host), ground (set) and fight to reach the highest TRP. 
Actors, models, news anchors, singers have all jumped on the hosting bandwagon. They have donned different attire befitting their new role as religious pundits. Laden with branded attire, heavy make-up, and jewellery and for the ladies a Ramadan symbol festooned on their heads– the dupatta, which in other months is not always observed.
Amongst all the players of the PRTL, Aamir Liaquat Hussain is the highest paid and the most popular one, and why shouldn't he be? He was the pioneer of this form of entertainment, with the ability to make his audience laugh, during a Ramadan show.
Has anyone ever done this before? I don't think so!
Liaquat never gives a chance to miss him; as soon as Geo Entertainment went off-air, he found another way to reach his fans. Throwing aside his loyalties for the media house (where he conducted many successful Ramadan shows), he fled to Express Entertainment to entertain people from a new platform.
His program "Pakistan Ramadan" is one of the most watched shows, with the highest number of sponsors.
And who can blame the sponsors, Liaquat knows the art of branding more than anyone else. The number of times he shouted 'Firdous ki Lawn', 'Walk Eaze', 'Q-Mobile', 'Amma Tullo mai pakao hume sehat mand banao' 'Unique ki bike' cannot let anyone forget the brand.
Gosh, it still echoes in my ears!
If you don't believe me, you should definitely watch Pakistan Ghar (Pakistan Ramadan segment) these days.
No one can adopt (or even think of) the method he is using to promote Lifebuoy, I bet. The guy calls contestants and make them eat ridiculously with his own hands. I watched the biryani and mango act but didn't understand why he does so until I saw him washing his hands in a beautiful washbowl using Lifebuoy hand wash.
I wish he would remember the moral values and lectures he gives to others. Practice what you preach, Aamir bhai.
One wonders whether the fervour with which people want a chance to get on the show is motivated by greed for material possessions as opposed to spiritual enlightenment.
Any guesses? Some may consider it to be part of the spirit of giving to others in this holy month, but the fact is that the blatant commercialization shines through at the same time.
Besides Pakistan Ramadan, Shane Ramadan (ARY Digital), Subh Sehri Samaa Kay Saath & Iftar Ka Samaa, Jashn e Ramadan (Hum TV), Ya Rahman Ya Raheem Ramadan (Abb Tak), Raunaq-e-Ramadan (DawnNews TV), Rooh e Ramzan (PTV) are some other shows struggling to capture audience attention. 
While skimming through the channels before iftar, I couldn't find a reason to stop and watch any particular program. They seemed more or less the same.
Mostly all featured a segment discussing a religious topic, a quiz, cooking time, donation segment, child adoption segment, roza kushai and above all the giveaway time where audience win attractive prizes even when they don't answer correctly. 
I got a chance to watch Fizza Ali's iftar show a few days ago. At the particular time I tuned in, she was looking for two slim (sookhi, sari larkiyan was how she referred to them) who would arm wrestle. I tried to give this a few precious minutes, but when she declared  'Haey meri behan ki naaf na ukhar jae kahi' for the girl who won a washing machine and was asked to lift it to home, I swapped, wishing at this point that Samaa had found a better, decent and more sensible host for their iftar transmission.
I certainly have no issues with the various segments included in the transmission, what I dislike is the glamour TV channels have added to it, the cheap tricks they use to entertain the audience, the absurd questions they ask and the richly furnished sets they use – they are killing the true religious spirit where simplicity no longer prevails. 
I have been following Ramadan transmissions actively the past few years, but nothing captured my attention this time. I think I need something different – probably a simple and holy television feast that soothes my soul.