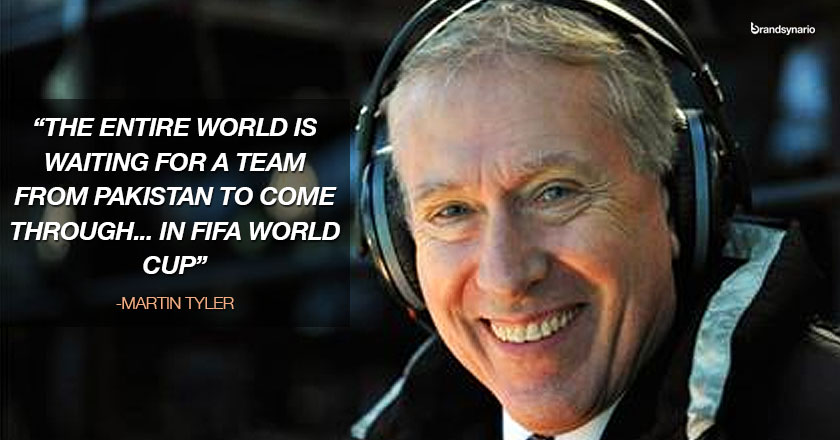 FIFA World Cup experts hope that the Pakistan football team would be a part of FIFA World Cup in the near future.
Martin Tyler, one of the most renowned English commentators said that he wants to see Pakistan players make an impression at an international level.
"The entire world is waiting for a team from Pakistan and the subcontinent to come through," Tyler told a local website at the Maracana Stadium on Sunday.
Tyler, who has been in the football business for more than 40 years, believes that Pakistan has the potential to bring some talented soccer players in the world.  He further stressed on the need for development and free coaching for youngsters.
"We say that its football for all, it's a global game and this is the biggest event in the world. I believe there should be more representation from Pakistan at the media centre of the World Cup."
He expects players like Raheem Sterling, Daniel Sturridge, Danny Welbeck, Adam Lallana and Ross Barkeley to be a part of a World Cup winning side in the future.
Throwing some light on the ongoing FIFA Cup, Tyler said, "There are a number of electrifying youngsters who are coming through and I believe if they gel together as a team and play to their best ability, England will have a team which can do well at the World Cup," he said.
"If the clubs continue to develop the players as they have been over recent years, there is no doubt England will rise." Tyler said that the team which plays like a team will win the World Cup.
"[Lionel] Messi can't win the World Cup on his own, nor can Neymar do that for Brazil," he said. "In the end, the World Cup will be won by the team which plays to its communal strength."