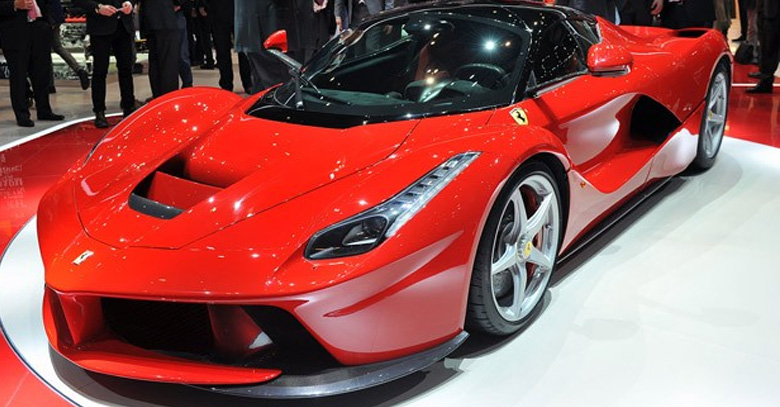 By Shiza Aslam
As the name catched your attention, so it did to others. Not so different with contemporary singers' names, LaFerrari  has named itself so and realized a true status symbol among its enthusiasts.
LaFerrari defined its own class with the name but still has the risk of being misunderstood with Ford 1995's GT90's. The curves and low wedges seem to be straightly brought from the car concept books of mid 90s as they attempt to target the tweens.
Within its traits are important  aerodynamic elements, though, including active diffusers front and rear, guide vanes on the underbody, and an active rear spoiler all aimed at providing downforce when needed without any additional drag when not. (Note the homage up front to F1 cars' front wings.) The LaFerrari is a sharp nosed collection of bulges and vents and aerodynamic filigree, topped by a menacing squint of greenhouse coddling two of the happiest people on the planet.
In cars, horsepower is happiness, when in LaFerrari  the driver has 950 at his command. The 6.3-liter V-12 makes 789 at 9000 rpm—and revs another 250 rpm beyond that—as well as 516 pound-feet at 6750. And we were impressed by the 730 hp this engine makes in the F12 Berlinetta. A light crankshaft, variable-length intake runners, and equal-length six-into-one headers hydroformed from Inconel help make the extra 59 hp. An electric motor hanging off the rare of the seven-speed automated-manual transaxle contributes another 161 hp, and Ferrari only will say that the combo makes more than 660 lb-ft of torque. With an expected curb weight barely more than 2800 pounds—that's about half a ton lighter than the mind-blowingly fabulousF12berlinetta—the LaFerrari is expected to accelerate to 62 mph in less than three seconds, to 124 mph in less than seven, to 186 in about 15, and top out above 217.
No pricing has been announced yet, but the figure might reach $1.2 million. Ferrari will build only 499 LaFerraris to be distributed across the globe.