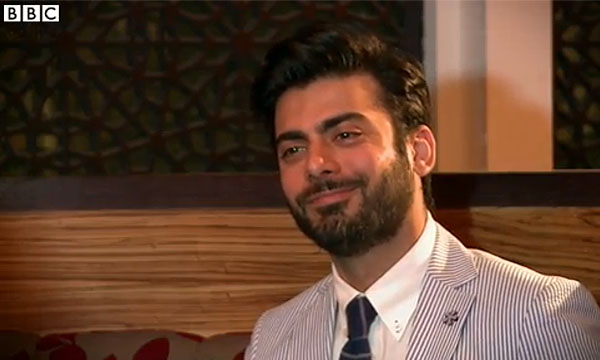 Pakistan's ultimate King of Khan-dom, Fawad Khan has been quite famous for his versatile work and debonair looks across the border. En route to becoming one of Bollywood's mega star, the Khoobsurat actor revealed in an interview to BBC about his experience working in India.
In a tete-a-tete with Haroon Rashid of BBC, Fawad shed light on his success journey after he debuted as Rajasthani Prince Vikram alongside Sonam Kapoor on the Indian silver screen. He told that he was never subjugated to any sort of discrimination in the country and believes that all negativity resides within in our minds.
"A lot of us are brought up with these kinds of stigmas where there's an enemy across the border, but you'll be surprised — Indians are coming over to Pakistan and Pakistanis are going over to India," he stated.
Khan also did not shy away from expressing how welcoming he feels in the neighboring nation, claiming that India feels likes home.
"The hospitality is something to write about. It's amazing. You feel at home"
The Humsafar hero believes that leaving Pakistan to work in Bollywood had been a gamble for him, but eventually considers the move quite worthy for his career.
"Everything is a gamble, every project that I attempt, even back in Pakistan is a gamble, and popularity is not something that's going to stick with you for the rest of your life. At some point in time, you're bound to make mistakes, so I think it's just part of the job, you know — travel where your work takes you," he observes.
Apart from winning hearts and reaping massive popularity, Fawad Khan has bagged numerous awards as well. Humble and modest, the star claimed that he is blessed to have achieved so much in so little time.
"I think I am truly blessed and I always feel that if you are in attendance of an award ceremony or something as prestigious as that, being there among such people is an accomplishment on its own, may it be in Pakistan or in India", divulged Khan
Fawad said to Haroon that he takes every day as it comes and tries to intelligently selects scripts.
Currently working on his second Bollywood movie 'Kapoor and Sons' produced by Karan Johar, we will be witnessing Fawad in a completely fresh avatar. The movie will be released in 2016.
Read More: Fawad Khan to Play a 'Gay' Role in Kapoor And Sons!
Besides that, he will also appear in a cameo role in  'Ae Dil Hai Mushkil' alongside Aishwarya Rai.
Read Also: Fawad Khan to Star With Aishwarya Rai in Karan Johar's 'Ae Dil Hai Mushkil'