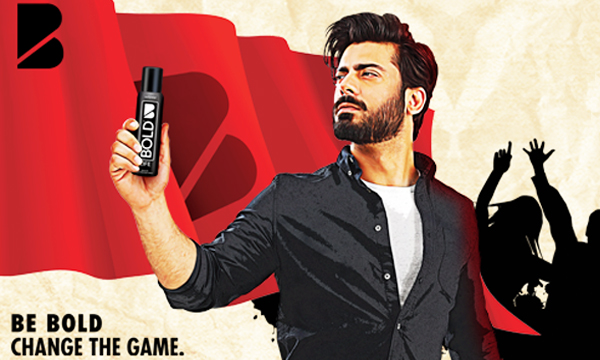 Bold Body Spray Pakistan is back with a bang and has recently rolled out its latest campaign featuring none other than their brand ambassador and Pakistan's heartthrob Fawad Khan.
The campaign titled, Bold's 3X Revolution Ad – Be Bold, Change the Game, portrays Fawad Khan in a rugged bearded look stirring up a revolution where he asks for 3 times better education, improved infrastructure, roads, thrice the amount of electricity, water, and other necessities for Pakistan.
Bold seems to have locked in Fawad as he has been featured in the previous ad as well. We love the concept and story line the latest campaign follow. As always bold has come up with something different this time around.
Instead of portraying an oozing sex appeal which is the norm for body spray ads, Bold's TVC is focused towards sending out a message to the public. 
Watch the latest TVC by Bold – 3X Revolution ft Fawad Khan.
The ad has been brilliantly shot and directed by Farooq Manan and produced under the powerhouse banner of H20 productions.
Fawad Khan steals the show with his stellar performance throughout the ad. Needless to say, the singer turned actor does not disappoint in whatever feat he decides to step into.
Fawad Khan Gears up for Upcoming Bold Body Spray TVC [Pictures]
What are your thoughts on the brand new Bold TVC? Let us know in the comments below.
Stay tuned to Brandsynario for latest news and updates.