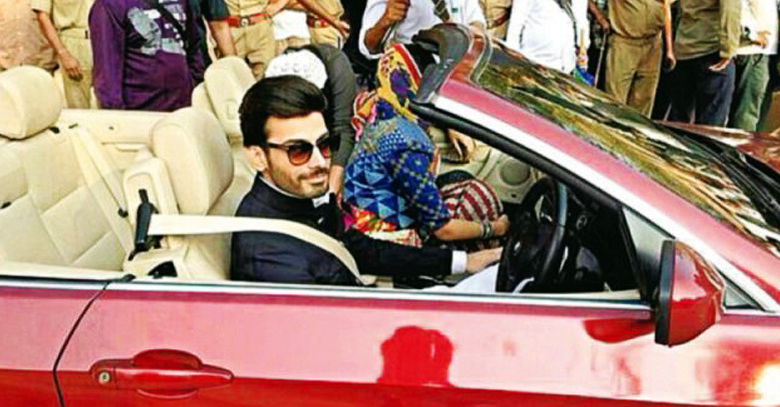 By Hassan Wasti
The Pakistani heartthrob Fawad Khan was recently spotted on the sets of his upcoming Bollywood flick 'Khoobsurat'. Co-produced by Anil Kapoor, Khoobsurat is going to be Walt Disney's first ever commercial Bollywood flick project.
Fawad Khan aka Ashar received immense appreciation in Pakistan and abroad for his role in the drama serial Humsafar. Fawad has been offered various projects in Bollywood ever since, however Fawad he decided to make his debut in Bollywood with this film.
Starring opposite Sonam Kapoor, Fawad Khan is all set to charm the audience with his acting abilities and good looks on the big screen.
The film is a remake of its namesake which was first released in 1980 starring the likes of Rakesh Roshan, Rekha, Ashok Kumar, Keshto Mukherjee and Dina Pathak.  Fawad and his fans are confident that he will live up to these legends and give it a performance worth remembering.
Both lead actors, Fawad and Sonam are currently in Rajasthan where the movie is being shot. The fans cannot wait to see their on-screen chemistry.
Fawad Khan packs a complete bag of talent from singing to acting and just like Ali Zafar, he aims to leave his mark in this glamorous film industry.
This is not Fawad Khan's first movie. His fans earlier got a glimpse of his acting skills in the movie 'Khuda Kay Liye'which was a big success.
We hope that Fawad makes an impact with this project as well. The film is said to release in 2014 so keep a look out for more updates and be sure to catch it first.