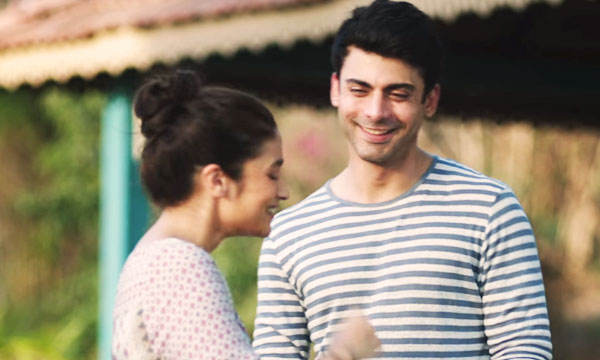 The Pakistani heartthrob, Fawad Khan has managed to create major hype for his upcoming Bollywood flick Kapoor & Sons. The lady killer recently spilled beans about his role in the much-hyped movie. When Fawad Khan was recently inquired about the movie's plot in an interview with a popular leading daily, he revealed, "Many told me that it's a love triangle between Alia, Sid and me. No, it isn't anything of that sort. It's more of a family film, much like the ones Karan makes."
Fawad further added, "As you've seen in the trailer, Sidharth (Malhotra) and I return home after many years after our grandfather's accident. He wants the family together for one simple thing- to get a picture taken. That's his dream before he dies".
He agrees that it may sound clichéd but that is what the grandfather, (played by Rishi Kapoor) wants; when both the brothers, Fawad and Sid, return home after several years they carry a lot of baggage, the reason why they left in the past.
He also highlighted that the conflicts did not only exist between him and Sidharth but also between the character played by Ratna Pathak and Rajat's character.
"I have always heard that distance makes you love each other even more. But in this case, the distance has distanced them even more. Now when they come together, there's a certain sense of paranoia, the guards are up. Alia doesn't have a family so she is the outsider's perspective of what it looks like," Fawad added.
Many speculations were attached to whether Fawad Khan will be playing a gay character in the movie; to this his response was, "I think everybody is gay, na? They say that everyone is somewhere gay. Whatever has been on that note about the film, I would like to address it. First of all, this movie is not about sexuality, not about love triangles."
Fawad Khan believes there is a great misconception regarding his character and how it will shock people when the movie comes out; having said that, Fawad reveals that he would have no issues in playing a gay character even if he had to.
So those of you who thought that Kapoor & Sons revolves around a love triangle will seriously be disappointed! It still isn't clear whether he is playing a gay character or not though.
Directed by Shakun Batra and produced by Karan Johar, the movie is all set for a global release on March 18th.
The movie also stars Alia Bhatt, Sidharth Malhotra, Rishi Kapoor, Ratna Pathak Shah and Rajat Kapoor.
Watch the official movie trailer below:
Stay tuned to Brandsynario for more updates on Kapoor & Sons.