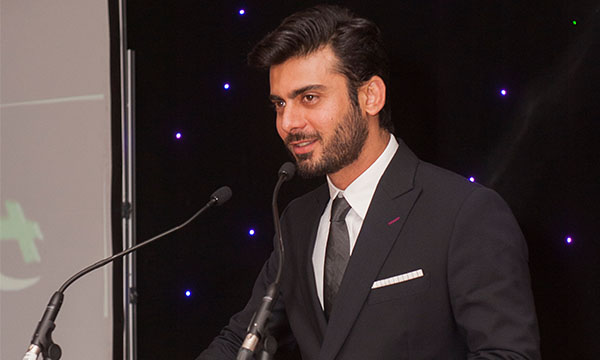 105 views
The Pakistani community in London got together over the weekend to welcome their favorite actor Fawad Khan for a glamorous soirée dedicated for raising funds for a very worthy cause. The star helped to raise  PKR 8 million (£50,000) for charity.
Hosted by BBC presenter Noreen Khan, the event featured a variety of entertainment but the highlight of the evening was none other than the dapper Fawad Khan, who not only graciously mingled with all the guests obliging for selfies, but also by championing the cause with his speech on stage and encouraging people to bid for auction items and choosing raffle winners.
He also surprised guests with his generosity when he decided to be the first bidder at the charity's balloon sale, where a donation of £500 supports one year's education for a medical student in Pakistan.
In his speech at the event Fawad said: "It's amazing to be associated with an organisation that is so multi-faceted in its outreach. Providing support towards the education of medical students and midwives is a vital and critical step. Additionally, providing a self-sustainable supply of portable water, medical aid and treatment for the underprivileged makes the charity amongst the top contributors to the welfare of the needy in Pakistan".
"Kudos to  the team for working so hard towards it, and I pray it only grows from strength to strength", added Khan appreciating the effort of the charity ball's team.
Rakshi Memon, UK Association of Medical Aid to Pakistan said: "We are thrilled at the generosity of our guests tonight, the money raised will positively impact the lives of many who are in dire need of our support".
Founded in 2005, the UK Association of Medical Aid to Pakistan is a disaster relief charity that helps people in crisis who have been displaced by wars, natural disasters etc in Pakistan. The funds raised facilitate basic needs for survival such as clean water, education, Hepatitis awareness and medical treatment.