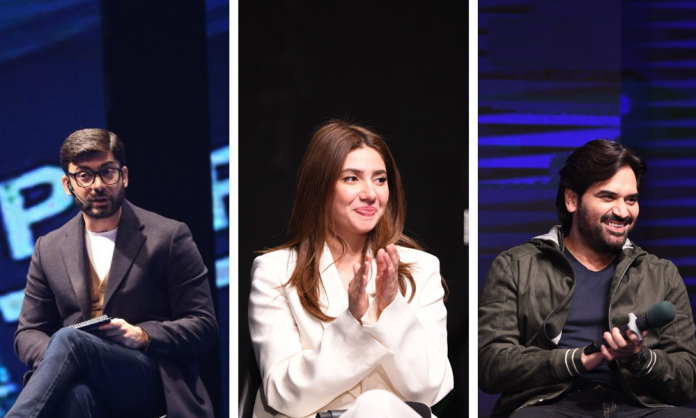 The Next Big Story's launch event was held at Ali Auditorium in Lahore, where Fawad Khan spoke to Mahira Khan, Humayun Saeed, Ahmad Ali Butt, Vasay Chaudhry, Asim Raza, and Navid Shahzad about what makes a good script and announced the competition for the next big screenwriter.
The Next Big Story is a platform for content writers in order to encourage, motivate, and recognize aspiring writers in the country. It aims to bridge the gap between writers, directors, and producers. The overall idea is to improve the quality of content in the industry.
The Next Big Story's launch event was attended by the crème de la crème of the film industry and Lahore, including Nadeem Baig, Ehtesham-ud-din, Behroz Baswari, Seemi Raheel, Farhad Humayun and many more.
At the event guest speakers, Mahira Khan, Humayun Saeed, Ahmad Ali Butt, Vasay Chaudhry, Asim Raza, Navid Shahzad, along with Fawad Khan, interacted with the press and guests at the experience zone.
Later, Fawad Khan introduced the platform and spoke about what it means to be a writer in today's day and age. He then invited the guest speakers on stage and opened the panel on a discussion about what makes a great script and what they individually look for in a script.
Mahira and Ahmad spoke about their experience as an actor on script selection, Humayun and Asim explained their views on good scripts for producers and directors respectively, and Vasay and Navid Shahzad took on the writing aspect of it. Later, the panel opened the floor for questions from attendees.
Talking about The Next Big Story, Fawad said, said:
"It's never been a better time to be a writer – or to aspire to become one. It is an exciting new phase in screen storytelling, as writers and directors from all over the world infuse traditional forms with their own cultural values to create stories that have an international and universal appeal. With the rise in our local cinema and also immense opportunity in global digital cinema we feel there needs to be a platform for aspiring scriptwriters –

This will not only help them break into the industry but will also provide them with a platform that will recognize them and overcome some of the challenges in content writing. For years we have been hearing about problems film industry professionals encounter in finding the right stories and interesting scriptwriters to work with. At the same time, scriptwriters don't know where to go and whom to contact to present their work. And that is why we bring to you THE NEXT BIG STORY."
Fawad also explained at the event, how The Next Big Story platform will be divided into multiple phases. Aspiring writers from all over the country will be invited to take part in it. The first phase of the platform is scouting of talent in the field, through a scriptwriting competition. The scriptwriters will submit a synopsis of their stories in the first part and the winning stories will then be asked to write full screenplays. The winning screenplay will get a chance to get their film produced by Fawad Khan's production house Alteridom Films.
Dreamweaver Productions executed the Next Big Story's launch event. Dream Weaver Productions is a leading 360-degree fully serviced media and event management agency, with over 20 years of experience creating events of international standard. They specialize in organizing and producing high-quality events all over Pakistan.