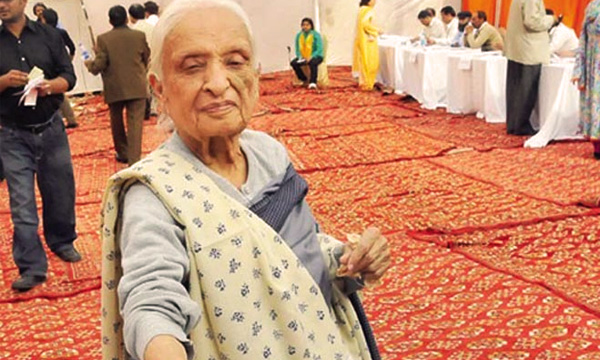 Fatima Surayya Bajia, a writer, philanthropist and feminist activist whose  novels "Ana", "Aagahi", "Aabgeenay" ranked her a prominent place amongst leading feminists in Pakistan, died on Wednesday , February 10, 2016 after a protracted illness in Karachi.
Bajia was suffering from throat cancer. She was 85 and lived in Karachi.
Interestingly, Bajia stepped into PTV Headquarters as an actress in a play in 1966 quite accidentally as quoted by the former MD PTV, Agha Nasir.
But later on she awakened an author inside her and presented more than 10 successful dramas and serials in Urdu to our state run TV channel in an era when issues-based fiction writing was not an easy task.
Though, the most popular TV drama serials produced during 70s till early 90, were adapted from already famous Urdu and Sindhi novels, the craftsmanship of veteran Bajia as TV script writer for the likes of Shama (adopted from A.R. Khatoon's novel), Afshaan (adopted from A.R. Khatoon's novel), Aroosa (adopted from Zubaida Khatoon's novel), Tasweer (adopted from A.R. Khatoon's novel), Zeenat (adopted from Mirza Quleech Baig's Sindhi novel) was simply amazing.
Great Bajia has also authored historic, musical, cultural plays and drama serials in which lead characters were always women. Her characters belonged to our society who signified struggling women not subjugated by men rather respected and revered due to their sacrifices for the family and self-esteem.
Even her male characters were also a manifestation of belief that there was always a woman behind every successful man. Look at her serials, such as Babar, Tareekh-o-Tamseel, Ghar aik Nagar, Faraz Aik Karz, Phool Rahi Sarsoon, Tasveer-e-Kainaat and Asaavari are just few examples.
Despite her illness, she remained vocal for women rights and never missed an opportunity to highlight problems faced by today's women.
Just few years ago, she penned a stage play "Khali Goud" portraying a woman's ordeals in Japanese society after the World War II.
The stage drama was produced by Pakistan Japan Cultural Association Sindh (PJCA) and Japan Cultural Centre (JCC) in collaboration with Arts Council, Karachi. The play was applauded overwhelmingly and conveyed its message very effectively.
Fatima Surayya Bajia has won numerous awards in recognition of her services to the nation such as the Pride of performance Award, the Hilal-i-Imtiaz award as well as Japan's highest civil award.
All these accolades were rightly conferred upon her because of the sheer brilliance of her work and the effort she used in creating refined pieces of scripts and writings. She also remained Advisor to the Chief Minister of Sindh province in Pakistan.
Most recently she appeared in The Big Show on CNBC alongside another legendary writer Haseena Moin.
In 2012, she was awarded Hilal-i-Imtiaz by President of Pakistan.
On 22 May 2012, the biography of Bajia titled Apki Bajia (Your's Bajia) written by Syeda Iffat Hasan Rizvi after six years of research was released.
Who says Bajia announced her retirement couple of years ago? Who says she is no more?
Bajia has the three S's as called by American writer Lawrence Clark Powel: power to see, to sense, and to say. In other words, she was perceptive, she was feeling, and she had the power to express in language what she observed and reacted to. Because she's the good writer, the great writer.